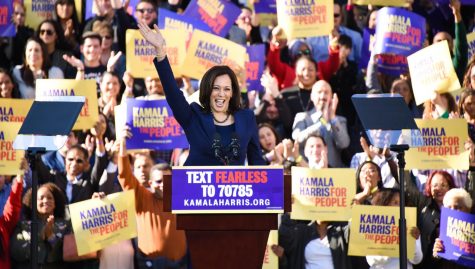 by Kathy Fang, Managing Editor

January 28, 2019

Filed under Editor's Pick, News, Online Exclusive, Showcase
Sen. Kamala Harris (D.-Calif.) announced her bid for the 2020 presidential election this afternoon at a launch rally in the Frank Ogawa Plaza of her hometown, Oakland. Standing at a podium beneath the towering city hall, Harris addressed a large crowd of people waving yellow and blue "Kamala Harris...
by Ryan Guan, Executive News Editor

November 11, 2018

Filed under News, Online Exclusive
Eagle Update presenters congratulated girls volleyball on their successful CCS run. Girls golf placed seventh in NorCal and second in CCS, and Natalie Vo (10) qualified for the state tournament. Rohan Arora (11) spoke for the year's first community service spotlight. He described how his mother's...