Walking around Harker today, you wouldn't guess that 2024 marks the school's 130th academic year. It is easy to forget that Harker started as Manzanita Hall in 1893, but even if our school's history lies hidden away during the school day, it is proudly on display at Harker's digital archives. 
The website showcases past publications, including newspapers from 1924 and brochures from 1900. Still, the digital collection is only a select portion of the larger physical archives stored near Mr. Hull's classroom, Main 1.
"When we first started doing this a couple years before COVID, we [had to decide] what it is that we want to digitize," said Lauri Vaughan, Harker's library director who manages the archives. "What we decided to do is to digitize student publications. So, we've digitized all the school newspapers that we can find… yearbooks as far back as we can get them, [and] literary magazines."
The digital archive's already vast collection will likely expand. Currently, yearbooks date back to 1930, when Miss Harker's School and the Palo Alto Military Academy had not yet merged. The scans are currently not accessible because the copyright still belongs to the companies that created them.
"We have to work out with them what we can put on a publicly available website or the digital archives," Vaughan said. "We want to make sure that we're doing things the right way, so our plan is once that gets worked out, we would just unlock that."
Although the Office of Communications will have to reach agreements with multiple different companies, Vaughan still expects the collection to be unlocked "sooner than later." In the meantime, over a century's worth of other documents is open for all to see.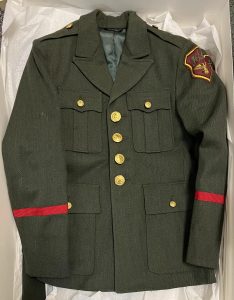 In a 1943 issue of the middle school newspaper "Gold and Gray," then-sixth graders Elizabeth Hamilton and Joan Halford write in support of the American troops fighting in World War II.
"We are calling this issue of the 'Gold and Gray' the Buy Bonds number," they wrote in the newspaper. "The girls are buying stamps every month in order to get the treasury flag. It will show that Harker's School is 100% in buying war stamps."
Harker began in 1893 as Manzanita Hall, an all-boys boarding and preparatory school in Palo Alto. In 1895, the school relocated to Alba Park in Los Altos, where a certain all-girls school called Miss Harker's School would later be established. Palo Alto renamed the street where it was located to Harker Avenue in 1923. The name lasts to this day.
Before these two schools merged to become Harker Academy and later the Harker School, Manzanita Hall was bought and transformed into the Palo Alto Military Academy in 1919. Contemporary brochures describe the Academy as a school emphasizing "military drill and discipline" without "[throwing] away the traditions, the memories [and] the history of Manzanita Hall."
In 1950, Major Donald Nichols became the superintendent of the Palo Alto Military Academy and purchased Miss Harker's School, turning it into the co-ed Harker Day School. The two merged as Harker Academy in 1972 and moved to its current location, 500 Saratoga Ave.
Under the former Heads of School Howard E. Nichols and Diana Nichols, Harker Academy became the Harker School. The upper school started in 1998. Nichols Hall, the science building, named in their honor, opened in 2009.
Throughout all these changes, the archives have preserved documents and memorabilia. "Winged Post" issues from 2003 are vastly different from what you see today but still feel vaguely familiar. You can even find the "Winged Post's" predecessors, the "Screamin' Eagle" or "Harker Barker." It's all worth taking a look for yourself.