Former plaintiff Cathy Kuhlmeier spoke to Introduction to Journalism classes over Zoom about her experience fighting for student press freedom in the landmark Supreme Court case Hazelwood v. Kuhlmeier on Sept. 21.
In 1988, the Supreme Court ruled 5-3 in favor of Hazelwood East High School and upheld the right of school administrators to prohibit student journalists from publishing articles deemed inappropriate. As part of the Introduction to Journalism course, students examined the case and its continued relevance to student-run publications today. 
"Our textbook cuts to the chase and just says what happened and what the case was about," Introduction to Journalism student Ethan Liang (9) said. "But it doesn't really tell you the other side of the story, about who lost and the smaller details. I think smaller details are very important when [studying] a specific case."
During her visit, Kuhlmeier shared her perspective as one of three high school students who sued the school for violating the First Amendment rights of freedom of speech and the press. When her school principal Robert Reynolds censored articles discussing teen pregnancy and divorce, Kuhlmeier and her classmates contacted the American Civil Liberties Union, leading Hazelwood v. Kuhlmeier to reach the Missouri and United States Supreme Courts.
"The reason that I [talk to students] is because it's still happening," Kuhlmeier said. "Censorship is happening everyday across the country … I want to make things better for you all, for the future students, for, at some point, my grandkids, [so] that they're not going through the same thing that I did."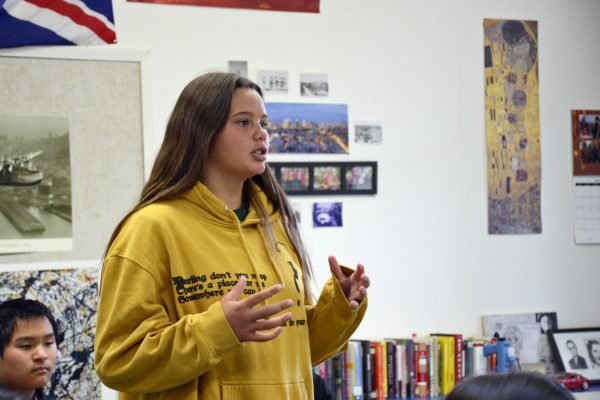 Following her presentation, Kuhlmeier answered questions from Introduction to Journalism students. Period four students Zoe Cammer (9) and Samaara Patil (9) asked Kuhlmeier how being involved in a landmark court case as a high school student impacted her relationships with classmates. 
"I never really thought a whole lot about [how] I was doing anything of that importance because I just felt like I was fighting for my other friends in school," Kuhlmeier said. "[Some of my classmates] now have kids that are going through this; they're learning about the case. They reached back out to me through Facebook, saying, 'I really appreciate and now have a better understanding of what you were doing.'"
Introduction to Journalism students are currently learning about their First Amendment rights and studying past censorship cases, such as Tinker v. Des Moines and Hazelwood v. Kuhlmeier. Freedom of the press closely relates to their work as student journalists, and Kuhlmeier's speech furthered their understanding of censorship in the media.  
"It was a great experience hearing from someone who was actually part of the case," period four Introduction to Journalism student Claire Xu (9) said. "I definitely learned from her experience and what she felt, and I also learned different details of the case that weren't covered in textbooks or online."
Kuhlmeier signed off the Zoom call with a final message for the student journalists: "Stand up, speak up and be the change!"