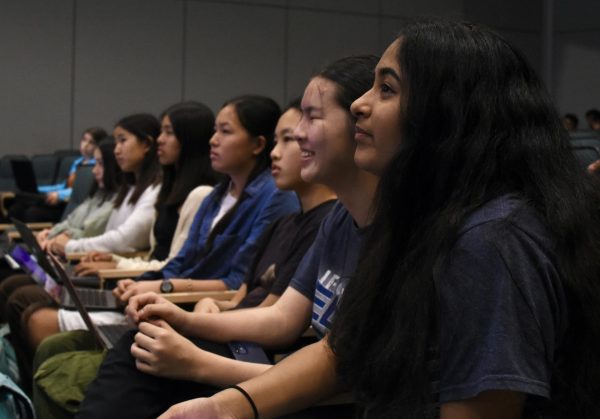 Around 80 upper school students attended the Synopsys information meeting in the Nichols Auditorium on Aug. 25 to learn about the application process and guidelines for the science fair. 
Upper school science department head Anita Chetty and research teacher Chris Spenner hosted the meeting, which covered notable dates, necessary forms and a breakdown of the research proposal outline that students will submit for Harker to review. 
Students who conducted research at a regulated research institution (RRI) attended the first half of the meeting from 3:15 p.m. to 3:45 p.m. An RRI research project is one that is conducted at a university or college with supervision from a mentor. To be considered for Synopsys, RRI students must submit their proposals by Sept. 22 at 8 a.m. 
Students conducting independent research or research at Harker attended the second half from 3:45 p.m. to 4:15 p.m., when Chetty talked about the non-RRI procedure. Projects in this category must receive endorsement from a faculty member by Sept. 25, and students must complete their proposal by Oct. 6. A committee of science department teachers will review and evaluate proposals for both RRI and non-RRI projects.
"Harker is limited in the number of projects it can send," Spenner said. "The science faculty selection committee tries to admit a mixture of projects [from different scientific fields]."
The Synopsys Championship gives middle and high school students the opportunity to showcase their STEM research, encompassing diverse categories ranging from animal sciences to environmental engineering. This year's event, scheduled for early March, will be hosted in person in downtown San Jose. Winning projects may have the opportunity to qualify for the California Science and Engineering Fair (CSEF), with top projects invited to the International Science and Engineering Fair (ISEF).
"I have always been passionate about doing science fair[s] and have been doing Synopsys for the past four years," Victoria Ma (10), who conducted a non-RRI project last year, said. "I found the experience to be incredibly rewarding and very encouraging."
Claire Tian (9) participated in Synopsys last year as a middle schooler, where her research was accepted into CSEF. Claire plans on maintaining her involvement in Synopsys as a high schooler. 
"Since I got a taste of research in middle school, I've been interested in continuing," Claire said. "Doing research in school is a good way to get some experience with not only science and engineering topics but also having a stepping stone for doing a higher level of research in the future."