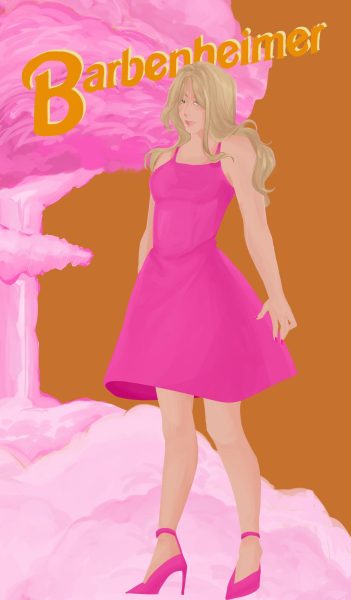 A gaggle of teenagers, dolled up in head-to-toe pink, rush the ticket booth. "Tickets to 'Oppenheimer,' please." The ticket agent looks them up and down, questioning. "It's for a bit," they explain. The agent sighs, waving them in. The next group? Full suits, with porkpie hats and wayfarer sunglasses to boot. "'Barbie?'" The agent resignedly asks.
The two films seem starkly at odds with one another: "Barbie," a whimsical comedy directed by Greta Gerwig, centering around the iconic fashion doll created by Mattel, against "Oppenheimer," a gripping biographical thriller by Christopher Nolan, delving into the life of physicist J. Robert Oppenheimer and the development of nuclear weapons during World War II. Both were scheduled to release on July 21. 
Initially designed as counterprogramming, a marketing strategy used in promoting content that appeals to different target audiences to maximize commercial success, the simultaneous release of "Barbie" and "Oppenheimer" intended to spark fierce competition between the two movies.  
At first, online observers on social media platforms like TikTok, Instagram or X, argued over which film was superior, or which movie they'd watch on release day. However, they soon recognized that there was no need for quarrel: they could just watch both. The fandoms for both movies united under the common flag of "Barbenheimer."
Senior Selina Chen (12) considers how different the movies are while still complementing one another. Though their friends mainly went for "Barbie," Selina saw both movies on opening weekend.
"I love thrillers, so I wanted to see how good of a thriller 'Oppenheimer' was,'" Selina said. "And the 'Barbie' movie has been hyped for a very, very long time — and it has Margot Robbie in it, so I had to watch it."
As the release date drew near, the concept of watching both films as a double feature gained momentum, and viewers promoted discussions on the order in which to view them. Proponents for "Barbie" before "Oppenheimer" argue that "Barbie" highlights the process of "growing-up" while "Oppenheimer" explores the difficulties in being "grown-up." Those who believe in the opposite order claim that one can only appreciate the themes expressed in the sugary-sweet film within the context of the apocalyptic gloom of "Oppenheimer." Cast members of both films joined in, encouraging audiences to experience both cinematic experiences on the same day.
I love thrillers, so I wanted to see how good of a thriller 'Oppenheimer' was, and the 'Barbie' movie has been hyped for a very, very long time — and it has Margot Robbie in it, so I had to watch it
— Selina Chen (12)
Junior Gabe Sachse (11) attended the Barbenheimer double feature on opening night along with two of his friends. He and his friends dressed up for the two films, in pink button-ups beneath suits. 
"My friends and I are all into films," Gabe said. "Two of my friends are super big on Christopher Nolan movies, and I grew up watching the 'Barbie' movies with my little sisters. I love everything Greta Gerwig has ever done, from 'Frances Ha' to 'Little Women.' We decided one night to join forces and go to [the double feature] — and it was a trend on TikTok."
Although the initial humor behind Barbenheimer lay in the differences between the two productions, one seeming all things sparkles and pink polka-dots while the other about a bomb — and not of the glitter sort — the films draw striking parallels. 'Barbie' acknowledges the bitterness of womanhood and femininity while celebrating every step through. Oppenheimer, an atomic-era Frankenstein, embodies devastation so desired by, and so detrimental to, mankind. Beneath distractingly dissimilar color palettes of fuschia against grays, both films explore the difficulties inherent in learning one's humanity.
Sophomore Brenna Ren (10) did not watch both movies on the same day, instead opting to watch one on Saturday and the other on Sunday of release weekend. 
"Both movies were good, but 'Barbie' especially exceeded my expectations," Brenna said. "I thought it would be a fun film, but I really didn't expect the themes it explored. [Both movies] were really interesting, individually and together."
Barbenheimer's unexpected success provided much-needed revitalization to movie theaters post-pandemic and demonstrated the power of cross-promotion marketing, debunking the notion of bitter rivalry between competing blockbusters. "Barbie" earned 1.03 billion dollars at the box office, making Greta Gerwig the first solo female director with a billion-dollar movie. "Oppenheimer" grossed over 500 million dollars at the box office, already surpassing the lifetime grosses of Christopher Nolan's previous two movies, "Tenet" and "Batman Begins."
Both movies are phenomenal individually, but when you put them together, it's such a unique experience
— Gabe Sachse (11)
The Barbenheimer trend's popularity caught the attention of Hollywood executives, who are attempting to recreate such a success. "Paw Patrol" and "Saw" share a release date on Sept. 23, 2023, a thinly veiled attempt to urge viewers into "Saw Patrol." Nevertheless, it is undeniable that the effects of Barbenheimer are unique to its circumstance, as a revival of the recreational theater-going experience, especially after the stagnation experienced by cinema during the pandemic.
"Watching the double feature was the best night of my summer; I'd recommend it to anybody." Gabe said. "Both movies are phenomenal individually, but when you put them together, it's such a unique experience. It's fun for almost anybody, whether you're into movies or not."