18 new and returning members of the Harker Spirit Leadership Team (HSLT) bused to Santa Cruz on Aug. 16 to get to know each other and plan events for the upcoming school year. 
The retreat began at 8 a.m. on the Upper School campus with bagels provided by the kitchen staff. After brief introductions, HSLT spent time painting welcome-back posters for the first week of school while the HSLT retreat leaders, Arjun Moogimane (12), Chayce Milheim (11) and Anish Jain (12), practiced their speeches. Afterward, they came together again for a game of Guess the Song in their separate retreat groups. 
At 10:15 a.m., HSLT set off for Twin Lakes Beach, arriving in time for lunch and some games of tag football before the structured activities began. HSLT Adviser and Director of Student Organizations Eric Kallbrier led the group in a mindfulness activity to "remove their emotional armor," which allowed them to share deeper and more personal parts of themselves. 
"It's always really cool to see people being open and feeling comfortable [being] open," HSLT President Arjun said. "And then how that causes other people to also feel comfortable to share something."
HSLT members received a talk from Arjun about discovering interests and his advice for enjoying high school. Then, the groups broke apart to fill out a related conversation prompt sheet and discuss their responses to Arjun's talk.
Before the next speech, the groups competed in a Protect Your Castle challenge where they built sand castles near the shoreline and waited to see which groups' lasted the longest. After the competition ended with a win for Anish's group, Team Green, HSLT Athletic Committee Head Chayce spoke a speech about finding one's place and overcoming challenges.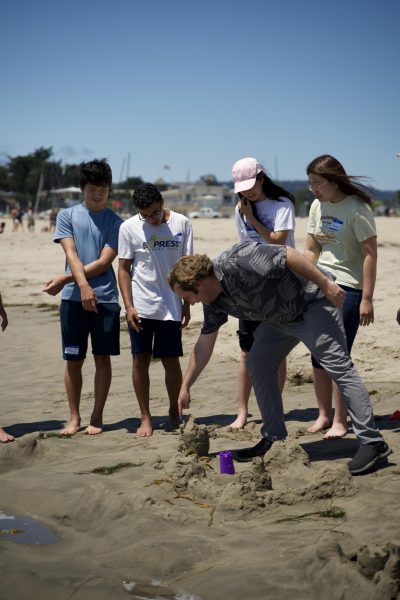 "My favorite part was hearing the speeches because it was really cool to see everybody's different perspectives [and] the way that you could clearly see everyone had a specific motive on what they were talking about," new HSLT member Kashish Priyam (11) said. "And then after that, the discussions just helped it sink in even further and made it more applicable to each person individually."
At 4 p.m., Kallbrier gave an unprepared talk about his experiences with unique people throughout his time at Harker, including the exchange program with educators from schools all over the world. 
To care for Twin Lakes, their annual retreat location, the HSLT members spent time cleaning up trash they found on the beach, as they have been doing all the years HSLT has been using the beach. After a dinner of Pizza My Heart, the group came together for HSLT Community Events Committee Head Anish's speech about the weight of a title and improving self-confidence. Many participants made comments about how they resonated with Anish's speech.
"My favorite part about this year's retreat is at the end of the day when everybody is feeling more comfortable and trusting of each other, and you see students opening up and making new friendships," HSLT Adviser and Director of Upper School Community Service and Student Activities Coordinator Kerry Enzensperger said. 
To end the day, HSLT roasted s'mores around a fire that Enzensperger built in one of Twin Lakes' fire pits. After sharing their favorite takeaways from the experience, the members boarded the bus for the trip back home.
"Now we have the number of people required to make some new things possible or to have multiple things going at once and have that effectively being done versus if we have fewer people, we can only do so many things," Arjun said. "So that's [why] I'm very excited to see the size and scale of things we can do this year."