Class of 2023 culminates with Senior Brick Ceremony and Baccalaureate
The Class of 2023 and their families gathered in front of Graduates' Grove for the annual Senior Brick Ceremony and Baccalaureate on May 12 at 5 and 6 p.m.
Director of Annual Giving Jun Wang presented each student in the Graduates' Circle donation group with a name-engraved brick carrying the Class of 2023 label. The students and their families entered Graduates' Grove and took pictures with Head of School Brian Yager before laying the bricks in the ground alongside previous alumnus' bricks. Hors d'oeuvres and refreshments were present during the ceremony, including wraps, caprese skewers and brownies.
The school's tradition of the Senior Brick Ceremony began in 2002 and has continued over the past two decades, cementing each graduate's legacy in Harker history. Upper School Math Department Chair and Class of 2023 Advisor Anthony Silk attended this year's ceremony, finding value in the annual ritual. 
"It's a formal way of [commemorating the seniors], and in education that formality is an important part of what we are," Silk said. "Ceremony really marks these beginnings and ends. So I like the ceremony of this to mark the occasion." 
After the Senior Brick Ceremony, parents, seniors, juniors and faculty headed towards the quad to attend Baccalaureate. Next year's elected Associated Student Body (ASB), juniors Cynthia Wang, Daniel Lin, Gordy Sun and Luke Mehta handed out Baccalaureate program brochures when the program started promptly at 6 p.m. Students entered the quad alongside their respective class deans, with history and social science teacher and junior class dean Carol Green leading the juniors from the outside of the Rothschild Performing Arts Center (RPAC) after the seniors were seated.
"[Baccalaureate] allows juniors to celebrate these people who were the leaders before them," Green said. "[The seniors] really set the stage, but [Baccalaureate] allows the juniors to also acknowledge and learn advice from them because now the 11th graders are going to be the 12th graders."
Students listened to a message from Honor Council representatives Margaret Cartee (11) and Austina Xu ('23), reminding them to continue to support and uphold tenets of the Harker's honor code: honesty, respect and accountability.
Following the Honor Council, Assistant Head of School Jennifer Gargano acknowledged the senior class's accomplishments, describing them as "resilient" yet "unique." Ending the speech, Gargano declared that "you are the Class of 2023" and how each student's unique journey through high school will leave an undoubtedly exceptional legacy to the Harker community. Finally, Gargano introduced the chamber orchestra before they performed "The Fairy Garden" from Maurice Ravel's "Mother Goose Suite". Audience members then heard a performance from Cantilena as they sang an acapella version of Rosephanye Powell's "Still I Rise."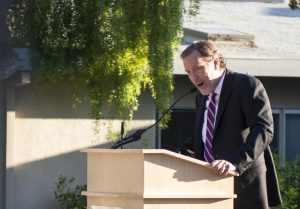 In accordance with tradition, each senior class elects a faculty and student speaker to address the graduating seniors' accomplishments and to inspire the rising class of juniors. College counselor Martin Walsh, the elected faculty speaker for this year's baccalaureate, started his speech by congratulating the seniors' successes, and acknowledging the Class of 2023's uniqueness and brilliance. Walsh recounted personal stories and moments for many members of the senior class, even cracking personal jokes about the Class of 2023's attendance record and the absurdity of some of their attendance excuses. In the end, he complimented their ability to tap into their distinctive personalities, finishing by reminding them to "look after each other."
Subsequently, student speaker Dyllan Han ('23) addressed the Class of 2023 and 2024 by opening with humorous jokes and mirroring the format of a wikiHow article of how to speak at a baccalaureate event. 
"I was very, very excited to be selected, it felt like I was given a final opportunity to leave an impact on Harker," Dyllan said in an email interview." I found Baccalaureate exciting, then nerve-wracking, then incredibly cathartic. Afterward, the things people told me about my speech made me feel proud and fulfilled, like I had embraced that final opportunity."
Han later went on to provide his insight on the "pseudo-intellectual, cliche-hating cynicism that comes at the intersection between teenage rebelliousness and anxiety." His critique helped remind the audience to drop this toxic mindset of fearing cliche moments. He reflected on his own high school experience to share his sentiment that these cliche moments of embarrassment should be valued, and how his own fear of the cliche held him back from making new relationships, expressing an interest in a niche topic or even showing his love and gratitude to his parents. Han concluded his speech by addressing the Class of 2024 and advising them to take his advice earnestly to lead the high school next year.
"I want you to know that these concepts are valuable, beyond buzzwords or slogans," Dyllan said. "And you might know the words but you won't truly learn them if you think your knowledge of them makes you above them."
About the Contributors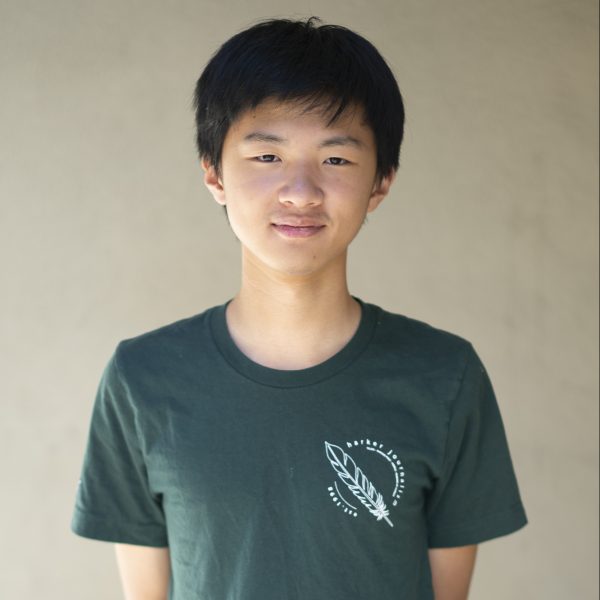 Jonathan Xue, Humans of Harker Co-Managing Editor
Jonathan Xue (11) is a co-managing editor for Humans of Harker, and this is his second year on staff. This year, Jonathan hopes to connect more with journalism...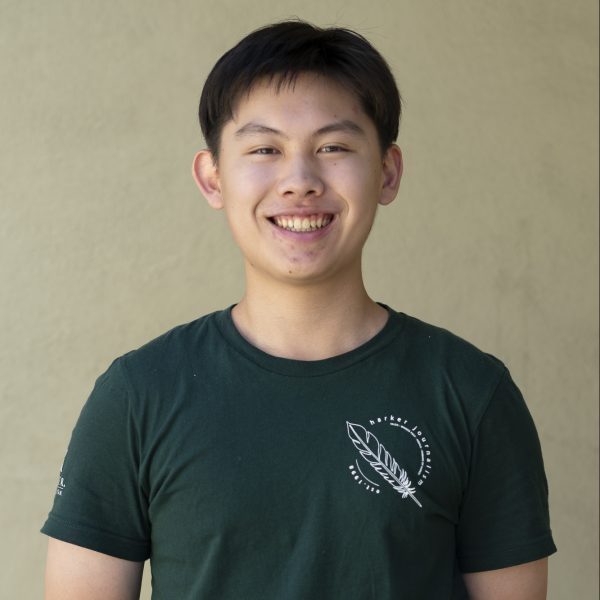 Brandon Zau, Photo Editor
Brandon Zau (12) is the photo editor for Harker Aquila, and this is his fourth year on staff. This year, Brandon hopes to celebrate his senior Class of...