Former Stanford Dean speaks to upper school students in LIFE assembly
Former Dean of Freshmen at Stanford University and TedX speaker Julie Lythcott-Haims presented to upper school students about living with purpose in a Living With Intent, Focus and Enthusiasm (LIFE) program assembly in the Athletic Center on April 19. 
She began her speech with personal anecdotes about raising her children and how she helped them pursue their dreams and aspirations despite her own qualms about the career paths they chose for themselves. 
"[At Stanford,] I tried to ask other people's kids, 'Who are you? What do you know to be true about yourself so far? What are you good at, and what do you love, and what do you think you might want to make of this life?'" Lythcott-Haims said in her speech. 
The author of The New York Times bestseller "How to Raise an Adult: Break Free of the Overparenting Trap and Prepare Your Kid for Success," Lythcott-Haims' recent work centers around her experiences working with young adults at Stanford and raising her own children. She emphasized the realization that her kids did not need to live up to her parental expectations to be happy, a statement that especially resonated with Stephanie Bossolina (10). Stephanie found Lythcott-Haims' advice profound and noted that her lessons about avoiding burnout and following one's passions struck home, especially as a student attending an academically rigorous institution. 
"She was really insightful and kept everyone's attention," Stephanie said. "I thought a lot of us could really listen to [her speech], and I feel like a lot of us could connect to it as students ourselves."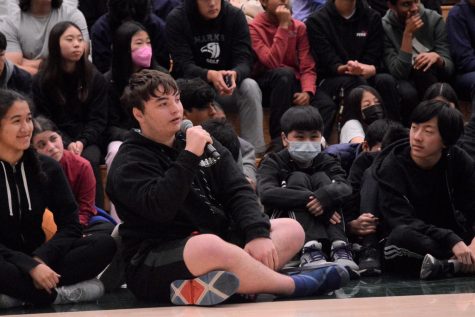 Lythcott-Haims also shared various pieces of advice for students as they transition into adulthood, like reevaluating how to measure success. She recalled her time at Stanford working with students and how it influenced her perspective on her own children. Angelina Hu (11) observed that Lythcott-Haims offered particularly valuable counseling to students about the significance of exploring new fields of interest and pursuing futures they would enjoy. 
"I think a lot of people, especially at Harker, struggle with finding something they want to do necessarily and not what their parents just tell them to do," Angelina said. "[I learned that] sometimes it's not your fault if you're struggling, but some people around you need to take responsibility and also take part in supporting you, too."