Student athletes sign off to future in ceremony
Nine seniors were honored by the upper school athletic department during the college signing ceremony in the Zhang Gymnasium at 12:45 p.m. on April 25. 
Upper School Athletic Director Dan Molin started the ceremony by commending the seniors for their devotion to their respective sports and noting the significance of their recruitment.   
"We all admire any individual that pursues a passion in life," Molin said in his speech. "These young men and women are fortunate enough to be able to pursue their athletic passion at the collegiate level next year. At this point in their young lives, they will get to experience something not many are able to do, which is to compete at the collegiate level."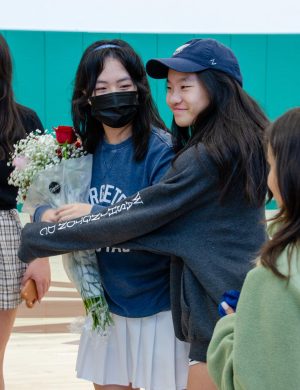 Following his speech, each of the seniors announced their names and the school they were signing to. They also thanked the various individuals who helped them along their athletic careers. Claire Chen expressed her gratitude to those who helped her achieve her goal of furthering her golf career beyond high school.
"Playing D1 golf is a dream come true," Claire said during the ceremony. "And I owe all my thanks to my parents who have fully supported me the entire time, my sister who reminds me of all the good, Harker girls golf [who] taught me what it feels like to be part of a team and lastly, my friends for always being there for me even with all the countless times I've had to say 'sorry, I can't go, I have to golf.'"
Kyra Hawk noted her excitement for starting college, as she will continue lacrosse and also form new relationships along the way. 
"I'm really excited to further my lacrosse career at Smith College and continue to participate in something I enjoy deeply," Kyra said. "I'm also looking to meet new people who have different interests as me."
To end the ceremony, each senior signed a piece of paper to represent the official shift from high school to college athletics. The seniors will officially graduate on May 18th. 
Below are the recruited seniors, their sports and their universities:
Claire Chen will play golf at Georgetown University.
Andrew Fu will run track at Yale University.
Kyra Hawk will play lacrosse at Smith College.
Abhi Namala will play basketball for the Pomona-Pitzer Sagehens.
Emily Novikov will play tennis at Georgetown University.
Amrita Pasupathy will play soccer at Caltech.
Arman Thakker will run track at Columbia University.
Thomas Wisdom will play water polo at Santa Clara University.
Lexi Wong will play soccer for the Pomona-Pitzer Sagehens.