Varsity girls lacrosse team triumphs 8-7 on senior night
Varsity girls lacrosse defeated Notre Dame 8-7 during their senior night at home on April 17 with a crucial defensive stop to secure the victory.
Prior to the game, the team held a ceremony on Davis Field honoring their three seniors: Kyra Hawk, Katelyn Abellera and Jessica Zhou. Head coach Lauren Brown introduced each of the seniors with a brief recap of their lacrosse journeys. 
Coach Brown commended Kyra for her career statistics, which include 185 goals over two seasons of lacrosse at Harker. Kyra will continue to play lacrosse beyond high school at Smith College. Then, Brown gave her speech on Katelyn, who transitioned from softball to lacrosse in her junior year and has scored 33 goals in this year alone. Brown continued on to present newcomer Jessica, who joined lacrosse in her senior year after finishing her season with the golf team. She thanked Jessica for the uplifting spirit she brings to the team.
"Jessica has always been a positive and energetic person when it comes to lacrosse, and her presence has been made well aware [in] the weight room and the field," Coach Brown said in her speech. "There's never a dull moment with Jessica and she will be greatly missed next year."
Although the Notre Dame Tigers won the coin toss for possession, Kyra scored a goal in the first five minutes of the game. Shortly after, she scored another goal while driving and spinning past defenders, bringing the Eagles to 2-0. Despite back and forth possessions between the two teams in the next 15 minutes, Harker remained mostly on the offensive end of the field, constantly pressuring Notre Dame's defense.
With seven minutes left in the half, Katelyn scored a goal, followed by another from Chayce Milheim (10). With Harker in the lead 4-0, Notre Dame called a time out. Notre Dame proceeded to score their first goal soon after, but Katelyn scored another goal to compensate. As the clock counted down to just six seconds remaining in the half, Kyra scored once more for the Eagles, bringing the score to 6-1.  
In the second half, Kyra started off with a goal, giving Harker a six point lead over the Tigers. Notre Dame scored a penalty goal in return, putting them at 2-7. A long scoreless period followed until 14:14 when Notre Dame scored another goal off a penalty, bringing their side of the score to 3-7. To break the Tigers' momentum, Katelyn scored her third goal of the game with a bounce shot.

Attacker Christina Rex (11) suffered a hand injury toward the end of the game and temporarily checked out of the game to meet with athletic trainer Wes Howard for treatment and rest.
Katelyn later received a yellow card for defensive blocking across the body, which forced her to sit out of the game for two minutes. Notre Dame took advantage of the situation and came back, challenging the Eagles' lead by scoring two goals in a row. To the Tigers' advantage, Gen Malinen (10) was issued a yellow card as well. With another goal from the Tigers two minutes before the end of the quarter, Harker and Notre Dame were neck-and-neck 8-7.
In the final minute, Notre Dame fought hard to tie the game and force overtime, but Harker goalie Suhana Bhandare (9) successfully blocked their attempt, retaining the Eagles' one point lead. After the match, Kyra reflected on the result of the game and noted how the team's consistency could be improved. 
"We started out really good in the first half but the second half was not as good," Kyra said. "It was seven [to] three at halftime and it ended up being eight [to] seven, so I think we kind of went downhill from there. Part of it was just we got tired, and when we get tired we make a lot of stupid decisions and get a lot of calls, especially on our defense."
Coach Brown acknowledged the positive aspects of their performance and also spoke about how far the team has grown over the past season. 
"[Over] the course of the season, they have drastically improved," Brown said. "Day one, we had some girls who have never played and now they're some of our starters. In general, the team has become more dedicated and excited for lacrosse and put their efforts forth."
Afterward, the team congregated with Harker students who attended the game in support of the seniors, and they took photos together with their senior posters. Team parents also brought snacks for the players and audience members to enjoy after the game. 
Jessica recalls how experiences with her teammates on and off the field made this lacrosse season so special to her. 
"The memories and all the relationships with the girls, every little moment like our secret handshakes with the sticks and practicing on the field during lunchtime, and even just the banter and memories formed with all these girls […] I think it's really really bittersweet," Jessica said. "It's really a surreal moment."
The varsity girls lacrosse team currently stands at an overall record of 13-1 after a victory over Sacred Heart Cathedral Preparatory on Friday. 
About the Contributors
Emma Milner, Co-Sports Editor
Emma Milner (11) is the co-sports editor for Harker Aquila and the Winged Post, and this is her second year on staff. This year, Emma wishes to maintain...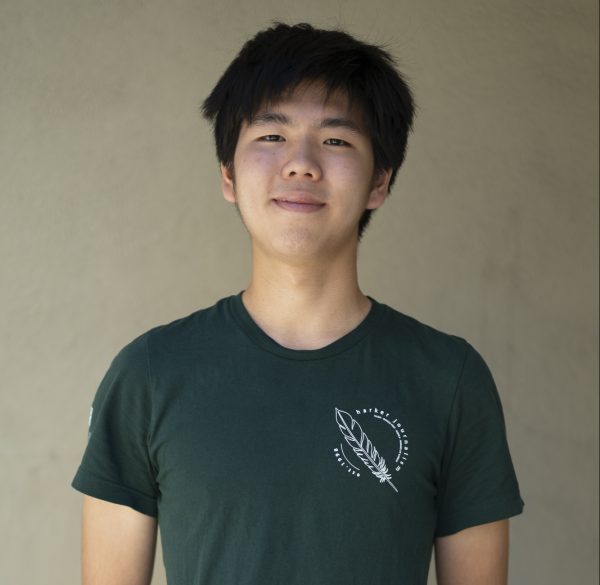 Kevin Zhang, Aquila Co-Managing Editor
Kevin Zhang (12) is a co-managing editor for Harker Aquila, and this is his third year on staff. This year, Kevin hopes to expand the scope of sports content...