So you wanna be a board game designer?
When Motti Eisenbach created The Crimson Scales, a custom fan-made expansion to one of the most well known board games in the industry, Gloomhaven, he never imagined that it would become so popular that he'd soon become an original game designer.
Near the beginning of the pandemic, Eisenbach bought the board game Gloomhaven, a euro-inspired dungeon crawler, for over 100 dollars. After just a few months, he started to dabble with custom content, creating his own classes for the game and sharing them online, following the advice of the designer of Gloomhaven, Isaac Childres, who encourages fans to create their own content for the game. Eisenbach's project grew and grew until it eventually became an expansion around two thirds the size of Gloomhaven, with his project, The Crimson Scales, quickly containing around 150 hours of scenarios.
"As time went on, I got into the community of other creators, and I decided to make a mini-campaign of 10 scenarios and four classes," Eisenbach said. "Then as I was doing that, I got more ideas for classes, and then it just piled on and on. I never expected it to blow up the way it did, but once it got a lot of positive reception from the community, we grew the project to where it came to be."
Gloomhaven is already a niche game since massive board games that require large time commitments often prove difficult for many groups, so a custom expansion for such a game may seem inaccessible to most. Yet, The Crimson Scales defeated all odds and raised over $400,000, all of which went to the print shop PrintNinja for making the game's materials. Eisenbach originally intended to simply release the files to the community to let them print on their own, but many people wanted to have the game mass-produced.
After the popularity of the first printing of The Crimson Scales, Eisenbach decided to host a second printing of the game, for those who missed out on the first one.
"As I went through that process, I really enjoyed it," Eisenbach said. "It was exciting for me to see everything come to life, and I really enjoyed the process of [designing] Crimson Scales too. Based on that experience, I realized that I got this experience of creating a game, developing it and getting the word out there, so I wanted to take a shot at my own game."
After the successful printings of The Crimson Scales, Eisenbach founded Addax Games earlier this year. The Addax Games Team are currently working on Rove, a dungeon crawler board game that will come to Kickstarter, a crowdfunding platform, in August 2023.
When Eisenbach started Addax, he recruited Charles McCloud, who he met through the Gloomhaven Custom Content Unity Guild (CCUG), an online community which creates high quality custom classes for Gloomhaven, and helped him on The Crimson Scales and later became Addax Games' Lead Writer, creating all of the game's story. McCloud enjoys working with Eisenbach and appreciates the freedom he has in his work.
"Working with Eisenbach is frighteningly liberating," McCloud said. "Eisenbach knows what he has hired us for and trusts us fully to accomplish those ends. This being my first professional project, that's terrifying to me. Here I am, what we would classify as an amateur, and he just swept me up and said 'I'm not going to ask any questions, you're just going to do the job, and I'm going to trust you.'"
Although he had not worked in the game industry before then, McCloud had many years of education in literature and has also played many board and video games with thought-out narratives. He strives to write stories that are engaging for the consumers, which Eisenbach has allowed him to do.
"It's very much the expectation when you get into a big project like this that you're going to have a manager who tells you to cool your jets," McCloud said. "Eisenbach is 'pedal to the medal.' We'll figure out if there are any problems along the way, which there haven't been. Every detail that I do or do not wish to put in is all on my personal whim, but it's not like he's not paying attention."
McCloud also appreciates Eisenbach's organization of the company. While working as a playtester to Gloomhaven's sequel, Frosthaven, an even bigger endeavor than the original game which raised nearly $13 million on Kickstarter in 2020, he noted that it was fairly disorganized, even though the company, Cephalofair Games, had been around for nearly eight years. Addax, despite being less than a year old, was much more organized according to McCloud, as Eisenbach had been managing businesses for a long time.
When creating Addax, Eisenbach also hired Tyvan Grossi as Addax Games' Lead Designer, who he met through the CCUG, just like McCloud.
"[Eisenbach] reached out to me, as he had seen my work at the CCUG," Grossi said.  "I guess I made an impression on him. [Eisenbach] must've liked the work I did [for the Crimson Scales]. He asked me if I wanted to do what I do for Gloomhaven, but at a bigger scale, and I can't say that was an unattractive offer."
Although Eisenbach is one of the designers of the game, he focuses more on the big picture aspects, while Grossi creates the cards and makes changes based on playtester feedback.
"Eisenbach, being the creator and owner, and Charles, being the writer, definitely give me a lot of ideas," Grossi said. "And the playtesters help a lot, telling me what's fun. I definitely synthesize a lot of ideas from a lot of different people. I have to decide, 'I want this class to be defensive [and] this class to throw spells,' and I have to figure out how Rove does these things."
Comparing Rove to other similar board games, Eisenbach noted that they tried focusing on making the game more skill-based rather than luck-based. As Rove has no dice in the game, the outcomes of fighting will be much more controlled, which gives more emphasis on player's choices.
"People who want that tabletop dungeon crawler experience will still have that gameplay," Eisenbach said. "[However], it has a unique thematic and class event system, which distinguishes it from other games, but it's not too different where it loses the appeal for people who like these kinds of games."
After about half a year of designing, Addax brought Rove to Origins, a yearly board game convention that hosted around 12,000 people this year. Being the first time they had publicly revealed the game, the team was nervous about the response, but the reception led to them continuing to design the game.
"We went in thinking, let's show this to everyone, and if they don't like it, we'll go back to the drawing board," Eisenbach said. "The positive reception confirmed for us that we have a great thing going here. It was very positive, and people who playtested the demo really liked it, and people who stopped by the booth seemed very interested."
At Origins, many of the largest board game companies in the world host multiple stands, which makes it difficult as a small company like Addax to attract board gamers according to Grossi.
"There was a lot of nervous energy there because you don't quite know what to expect," Grossi said. "We were going up against some other big guys, like Final Fantasy and Cephalofair. And there we were with our four man team without a self-publishing title. It was a little intimidating, but people showed genuine interest, and seeing people's reactions made me less nervous."
When it comes to Kickstarter at the end of 2023, Eisenbach plans to price Rove at $100 on Kickstarter, a large discount to what he believes will be $160 when the game goes to retail. Although this may seem much more expensive than simpler games like Monopoly or Sorry, many dungeon crawler board games cost more than $100, which makes Rove one of the cheaper games of its genre.
"On the spectrum of heavy games like this, we [will be] purposefully priced very aggressively on Kickstarter," Eisenbach said. "Because I want to have a long term plan with building a world, I'm not trying to milk this for as much money as I can and run. It's very important for me that if someone wants to play Rove, they can do so affordably."
About the Contributor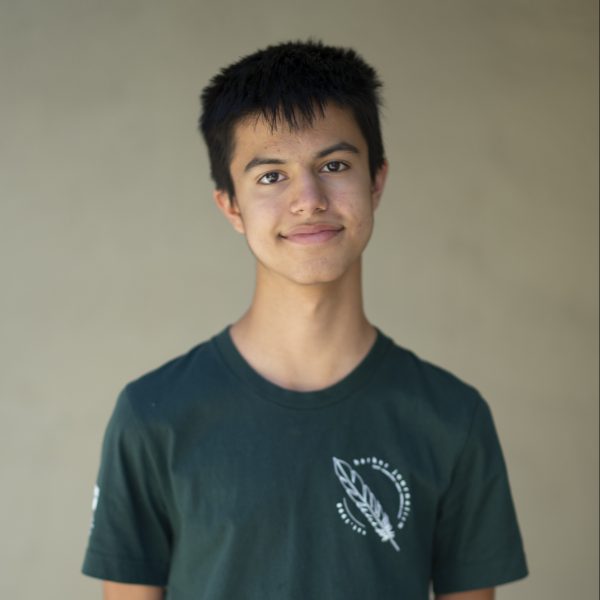 Saahil Herrero, Copy Editor
Saahil Herrero (11) is the copy editor for Harker Aquila and the Winged Post, and this is his third year on staff. This year, Saahil wishes to write more...