Humans of Harker: Orchestrating community
Jacob Huang applies lessons from music to life
Staring intently at a small triangle, Jacob Huang (12) strikes it with a metal rod, sending a rich, resonant ring throughout the orchestra room. He wears a look of concentration as a mellifluous rhythm of cymbal crashes and reverberating thuds fills the room. From the largest timpani to the smallest bell, Jacob puts forth his utmost effort as a percussionist to make a beautiful sound. 
Jacob has played percussion since fourth grade, beginning at first with the drum set. He diversified his instrumental experience with the marimba in fifth grade and a plethora of other percussion instruments when he joined the middle school orchestra in sixth grade. Close friend and fellow orchestra member Sawyer Lai (12) traced his more recent journey in the upper school orchestra and as a musician. 
"He's a very musical person, and I feel like he doesn't consider that enough," Sawyer said, "He's actually incredibly musically talented. He's really grown as a musician, knowing how to play the different instruments, picking up stuff really fast and being a great section leader for percussion. It's really great to have seen him grow since ninth grade as a person and how he's followed his passions to where he is today."
While he originally decided to play percussion on a whim, Jacob's commitment to his passions led him to become the percussion section leader in the school orchestra. Beyond his musical achievements, Jacob also found community and forged friendships through orchestra. 
"Music really gave me a platform to get to know more people and develop closer bonds with those I previously wouldn't have met in the first place," Jacob said. "Especially with orchestra being such a large group, it's an endless possibility of what you can do, people you can meet and people who can become your friends."
As a naturally social person, Jacob places great value on his connections with individuals around campus. Though he faced challenges during the COVID-19 lockdown, he worked to maintain his social connections and stayed in contact with his friends to retain a sense of community despite physical separation.
"Over quarantine, everyone in the percussion section tried to maintain our connections with each other," Jacob said. "Even though we were still physically separated, our section was able to maintain a close relationship and remain quite tight."
Jacob's dedication to his friends and those around him also led him to become a member of student leadership. He currently serves as a class officer and last year held the position of ASB Student Events Committee head. 
"What's really valuable about student council is that each person on student council is given the opportunity not only to serve the community but also connect with people," Jacob said. "You get to really understand and have a finger on the pulse of the people and become an integral part of it. There's a sense of belonging that comes from it."
His desire to benefit his peers does not go unnoticed. Close friend Tiffany Chang (12) noted his industriousness and commitment to the community. 
"He's very altruistic, in the sense that he always puts other people and the community before himself," Tiffany said. "When Jacob commits to something, like a student council initiative, he wholeheartedly dedicates himself to seeing it through to fruition, no matter what it takes to get there. He also has this remarkable ability to listen to others and take their perspectives into account, which I think really allows him to thrive in student council and beyond."
As a member of the student council, Jacob has worked to organize events such as Hoscars and led his class as a class representative. Senior class dean and technical theater production manager Brian Larsen, who worked with Jacob on student council both this year and last year, commented on his leadership skills and experience. 
"He's approachable, he works well with groups, he's very communicative," Larsen said. "He has great leadership potential in a variety of industries. The things that he's establishing now — his affability, communication, and organization — will serve him well in being able to collaborate with other people and lead groups."
Throughout the past four years, Jacob's musical experiences have played an integral role in shaping who he is today, defining both his strengths and weaknesses. Music has offered Jacob insight into other aspects of his life, and has taught him multiple life lessons which he has taken to heart. 
"A lesson I've learned is to be open-minded to new things," Jacob said. "My percussion journey started with an impulsive decision, so without that urge, I would not be where I am today. Thanks to becoming more open to new things, I've been able to grasp many opportunities and find new hobbies as well." 
In addition to teaching Jacob about the importance of remaining open-minded, music has helped him become more confident and willing to make mistakes in order to improve. This shift in perspective has allowed him to tackle once intimidating challenges with newfound courage, transforming what were previously sources of anxiety into experiences he can draw upon to improve himself.
"A big challenge that I had to overcome for percussion was becoming less afraid of mistakes," Jacob said. "When you're the loudest in the room, every mistake you make is going to be amplified a hundredfold. But in order to play your part, you're going to have to just go for it. That spirit has really developed because of percussion, but has carried over to other areas of my life."
About the Contributors
Felix Chen, Co-News Editor
Felix Chen (11) is the co-news editor for Harker Aquila and the Winged Post, and this is his third year on staff. Felix hopes to diversify this year's...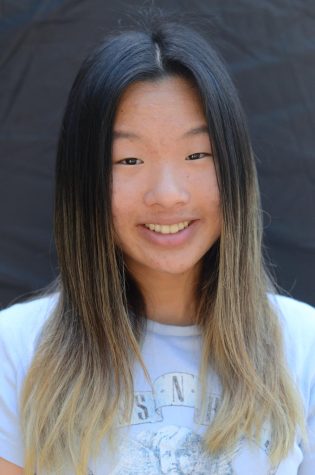 Tiffany Chang, Humans of Harker Editor-in-Chief
Tiffany Chang (12) is the editor-in-chief of Humans of Harker, and this is her fourth year on staff. She's looking forward to telling the story of the...