Humans of Harker: A journey through time
Rupert Chen takes inspiration for the future from the past
Flipping through yellowed pages, reading words written hundreds of years ago and leafing through archival sources, Rupert Chen (12) peruses the lines of faded print. As he peers through this written window, he ruminates over the thoughts and contemplations of the denizens of the past, and their struggles with issues of their day.
Rupert's interests are many and varied, from running to reading, from literature to lexicons. In sixth grade, when he elected to take Latin as his language requirement, Rupert quickly discovered a deep appreciation and respect for a language many consider dead. Through his initial forays into Latin and the Junior Classical League (JCL), a national organization for middle and high school students studying the classics, he has kindled a burning love of languages, recognized by upper school history and Latin teacher Clifford Hull.
"Rupert obviously has a knack for language and an innate interest in Latin, or languages, per se," Hull said. "What Rupert brings to class is an interest in the language and the mechanics of the language. He's really interested in how [words] fit into the big picture."
Languages have entranced Rupert since his early youth, when he studied French and German. His deep dives into linguistics and history led him to explore Esperanto, a constructed language designed to span international borders and engender peaceful interactions between states.
"Esperanto isn't a universal language today," Rupert said. "But I believe that it, or something like it, has great potential. That's why I am so interested in Esperanto. Although it doesn't have as much utility as a modern language, I support its ambitious ideals."
Esperanto interests Rupert not only on social and political levels. From switching his computer language settings to Esperanto, to interviewing Esperanto scholars and community leaders regarding the history of the movement, Rupert has engaged with the language in many levels of his life. He learns from and is inspired by the example of humans struggling to better the world.
"All of that hope makes me feel better about the time in which we live today," Rupert said. "That belief in internationalism, that trust that humans are net-good and that everybody together can do great things has influenced my own philosophy."
Rupert's interest in languages is deeply intertwined with their historical contexts, be it the spreading nationalism of the early 20th century or the social upheaval of the burgeoning Roman Empire. Upper school history teacher Dr. Chuck Witschorik, who taught Rupert in AP United States History in junior year, was quick to note Rupert's love of learning. 
"He went out of his way to stay after class to ask questions about content, to share his own interests in history, classical languages [and] Esperanto," Witschorik said. "It's inspiring, as a teacher, to find a student who is both dedicated to doing well in this class, but who is passionate about learning, and wants to advance in their learning in high school, their career and beyond. It was a privilege for me to work with Rupert and to witness his intellectual growth."
Rupert does not limit his dedication to his wide-ranging activities to the classroom. Fellow senior and close friend Tiffany Chang quickly described his commitment to his favorite interests.
"A lot of the things [Rupert is] into aren't what you would expect a high schooler to be into, but he pursues his passions regardless," Tiffany said. "When it comes to the activities he's passionate about, like JCL, history or marathons, the amount of effort he dedicates to those pursuits is very admirable."
As a member of the JCL for six years, Rupert has cultivated a passion for leadership on local, state and national levels, holding offices ranging from Harker JCL president to National JCL first vice president. More personally, Rupert has gained friends and acquaintances both at Harker and from all over the country. Close friend and former Harker student Nicholas Wei recalled Rupert's support and encouragement throughout the pandemic years and beyond. 
"I feel like I can always talk about things that are on my mind with Rupert, whether that's something exciting and good or something that's not so great," Wei said. "Especially over quarantine, Rupert was one of the few people that I consistently still talked to over messages, and that helped me stay connected to people while I was stuck at home."
Throughout his years-long journey in history and language, Rupert has learnt more than just dates, places and names. From his experiences and research, he has grasped important life lessons and philosophies by which he lives, and strives to make a positive impact on the world around him. 
"In Esperanto, you have the example of a group of people who have an amazing idea and want to share it with the world," Rupert said. "Regardless of the obstacles that they face along the way, regardless of the challenges that they encounter, they continue believing in Esperanto's mission and they continue working towards their goal. I find that really inspiring. Optimism and hope have a lot of power."
About the Contributor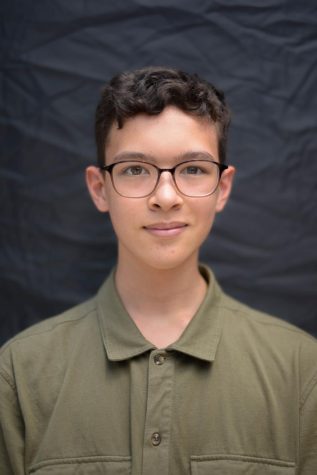 Felix Chen, Assistant News Editor
Felix Chen (10) is an assistant news editor for Harker Aquila and the Winged Post, and this is his second year on staff. This year, Felix hopes to explore...