Global Headlines (Issue 4)
Pope Benedict XVI dies at 95
Former Pope Benedict XVI passed away in the Vatican at the age of 95 on Dec. 31 last year. Benedict, who assumed the papacy in 2005, resigned in 2013 due to poor health, becoming the first pope in over 600 years to do so. His body lay in the St. Peter's Basilica from Jan. 2 to Jan. 4, during which almost two hundred thousand people paid their respects. Current Pope Francis presided over his Jan. 5 funeral ceremony, where he and tens of thousands more bid farewell to him.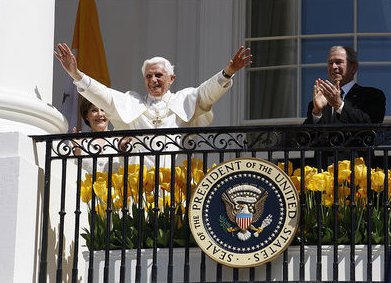 Benedict XVI, born Joseph Ratzinger, grew up in interwar Germany. Following World War II, he began to study Christianity, eventually ascending Church ranks to become Pope. During his pontificate, Benedict XVI promoted discourse with Eastern Orthodox and Muslim scholars. Although numerous sex and clerical abuse scandals marred his pontificate, he worked hard to rid this corruption. The Catholic Church will continue to recognize Benedict for his unwavering faith in his religion.
"Holding fast to the Lord's last words and to the witness of his entire life, we too, as an ecclesial community, want to follow in his steps and to commend our brother into the hands of the Father," Francis said.
China opens its borders to travel without quarantine
After three years with a zero-COVID policy, China reopened its borders to the world on Jan. 9. In particular, travelers can now enter the country without quarantining as long as they test negative for COVID-19.
However, just as China is relaxing its policies, a lack of herd immunity from earlier infections and inadequate vaccination levels has led to a surge of new coronavirus cases, with 60,000 reported deaths as of Jan. 12. Those numbers are regarded as a severe undercount due to China's policy of only counting the deaths directly caused from respiratory failure. In addition, according to Wu Zunyou, the chief epidemiologist at China's Centers for Disease Control, 80% of the population was infected during the recent surge.
In addition, Chinese officials recently reported an over 70% decline in severe COVID cases on Jan. 25 after Lunar New Year on Jan. 22, the first major holi- day after zero-COVID.
Russian forces claim to have captured Soledar
The Russian Defense Ministry said that it had captured Soledar, a salt-mining town in eastern Ukraine, with Ukraine immediately rejecting that claim, saying that their troops were still holding on as of Jan. 13. After multiple setbacks for Russia, gaining Soledar would be their biggest success in months.
In capturing Soledar, Russia would acquire new locations for artillery as a way to put pressure on Ukraine's supply lines in the east. However, according to Western analysts, control of Soledar and Bakhmut is not likely to make a huge impact on the war, with the victory more symbolic than strategic.
Peru protests paralyze country, leave almost 50 dead
The death toll in Peru rose to 49 by Jan. 12 as protestors congregated in the capital city of Lima. The protests in Peru began in December when supporters of former President Pedro Castillo demanded his reinstatement and current President Dina Boluarte's resignation. Congress attempted to impeach Castillo on Dec. 1, and Castillo was arrested for attempting to dissolve Congress a week later. 
As of Jan. 13, strikes and roadblocks had occurred in 35 provinces, mostly concentrated in the south of the country, where a number of major cities are. Since the protests began, the Peruvian government has violently pushed back protestors, drawing criticism from human rights organizations. In an attempt to appease protestors, Boluarte proposed moving 2026 elections to 2023 and called for investigations into whether the military used excessive force.
American, Canadian, Mexican leaders meet to address issues
President Joe Biden, Canadian Prime Minister Justin Trudeau and Mexican President Andrés Manuel López Obrador met in Mexico City for the North American Leaders' Summit from Jan. 9 to Jan. 10. At the summit, the leaders of each country promised to cooperate towards the same goals, including helping to increase prosperity, combat climate change and address migration issues. 
"We're true partners, the three of us," Biden said in his joint meeting with his counterparts. "We share a common vision for the future, grounded on common values."
However, despite the conciliatory tone the leaders struck during the meeting, there were signs of friction among them. Although Biden has not pursued Trump's harsh policies against migrants crossing the U.S.-Mexico border, Obrador has urged Biden to push Congress to regularize Mexican immigrants working in American industries. In their talks on Jan. 9, Obrador accused the U.S. of neglecting the Caribbean and Latin America, while Biden countered by pointing to the "tens of billions of dollars" spent on the Western Hemisphere.