So you want to be a … sports photographer?
Photographer Ben Green captures intimate moments in sports
Sports: one of the most ubiquitous and well-known forms of entertainment filled with action, tension and drama. But behind-the-scenes of each game and event is a dedicated group of people pursuing to capture the emotion-packed moments of the sport. From local pee-wee scrimmages to the largest stadiums broadcasted to millions of viewers around the world, sports photographers like Ben Green aim to preserve the decisive moments of games through their pictures.
After picking up a camera in his junior year of high school, photographer and Bay Area native Ben Green fell in love with photography because it felt "natural" and "fun." While in his sophomore year of college, Green took a job with the University of Oregon's student newspaper after noting a lack of staff photographers. From there, Green quickly climbed the professional photography scene. He interned at Indiana University at the end of his senior year, moved to intern for the Kansas City Chiefs NFL team in 2019 and worked at Harker in 2020. 
Now, Green is based in Buffalo, New York working as the team photographer for the NFL team Buffalo Bills, NHL team Sabres and NLL team Bandits, and has also covered major sports events including the Tokyo 2020 Olympics, 2022 Pro Bowl and more. Green takes a special focus on sports photography, hoping to capture professional athletes heroically by incorporating unexpected and unique angles while shooting, such as from below, this season.
"One of the things that I really love is making people look great," Green said. "Not as in, 'Oh, you've got a great smile,' but more as in the hero aspect of it. Especially when we're talking about professional athletes, [I try to] portray them as what they're built up to be, but at the same time show that they're human."
When Green eventually covered his first NFL Super Bowl for the Kansas City Chiefs in 2019, it caught him off guard. A wave of stress from the unfamiliar environment of the Hard Rock Stadium and the pure emotion of the biggest game of the year threw him off at first, causing him to fumble with camera settings and autofocus. But the stumbles did not stop him and instead helped him realize an important lesson in getting back up.
"You make a lot of mistakes [in sports photography]," Green said. "[But] every time you handle something that's high stress, you get better at it."
Green notes that taking photos is not the only part of the job, as he also supervises the process of providing an accessible and searchable place to access digital files.
"I pride myself on being more than just a photographer," Green said. "There's a lot that goes into it that's not just taking photos with digital asset management being the biggest thing. Where do you store the photos? How do you search for them? How do you make it so that everybody else can?"
During his time at Harker in 2020, Green appreciated the Harker community for helping him grow as a photographer. Shooting school events and games across all campuses for Harker's parents and marketing, Green honed his craft for something larger but critical to sports photography: interacting with the athletes and forming meaningful bonds.
"Even though I had a very quick route to professional sports, taking that step back and working at Harker taught me how to work with athletes better and how to relate with them," Green said. "90% of my job is communicating with them and building trust. Being able to do that at the high school level with full access and really focusing on making art and connections with the athletes of the fans and whatnot, I was able to do the learning that I needed to do without the high pressure and stress that comes with professional sports."
Despite his love for photography, Green acknowledges the challenges in his career. Often, Green has experienced imposter syndrome, or the feeling of self-doubt in skills or accomplishments. Yet he attributes overcoming doubt with constructive criticism from peers and finding the style of photography that made him happy. Noting the difficulties in the photography business, Green expresses gratitude for the unique opportunities the once-hobby, now career, has provided him with.
"
One of the things that I really love is making people look great. Especially when we're talking about professional athletes, [I try to] portray them as what they're built up to be, but at the same time show that they're human.
— Ben Green, professional sports photographer
"It's definitely fun," Green said. "You learn to handle it [and] learn to thrive under it. It'll take you places [like] the biggest sporting events in the world. When we played the Chiefs last year in the divisional round, I got a front-row seat on the field to the best sporting game I've ever seen in my life of any sport."
Throughout his career, Green noted the importance of continuously trying to grow by reaching out to mentors. Support from other fellow photographers helped Green improve his portfolio and build meaningful connections.
"I'd say [one of the] biggest pieces of advice that I have is you need to build your network," Green said. "While people are going to ignore you and are going to say no, the amount of mentors I have never stops growing. If it weren't for those people, I wouldn't be where I am today."
About the Contributors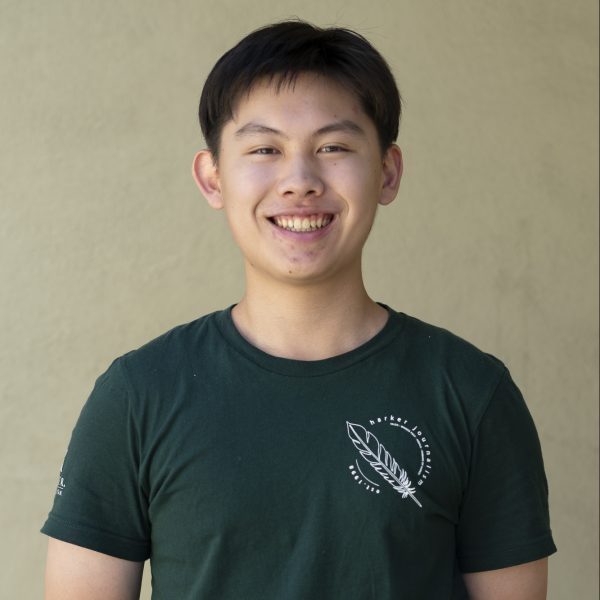 Brandon Zau, Photo Editor
Brandon Zau (12) is the photo editor for Harker Aquila, and this is his fourth year on staff. This year, Brandon hopes to celebrate his senior Class of...
Alena Suleiman, Aquila Co-Editor-in-Chief
Alena Suleiman (12) is the co-editor-in-chief of Harker Aquila, and this is her fourth year on staff. Alena wishes to interact with new people and work...