Girls volleyball promotes breast cancer awareness through Dig Pink fundraiser
The girls volleyball teams held their annual Dig Pink fundraiser on Thursday alongside its junior varsity and varsity volleyball games against Priory.
Admission to the games cost five dollars, and players sold baked goods, lanyards and stickers to raise money for the fundraiser during lunch and afterschool. 
The fundraiser, held in support of the Side Out Foundation, aimed to raise awareness for breast cancer. The overall proceeds from the bake sales and ticket admissions raised more than $3000, which will go directly towards the foundation. 
"I just love that It's raising awareness for breast cancer for women," fundraiser volunteer and lower school English teacher Elise Robichaud said. "I love that all of the proceeds from the admissions and from the bake sale is going to charity, and that it's being supported by both men and women."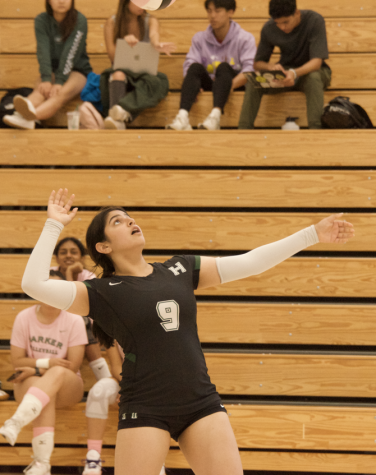 Players wore pink attire during their matches, and the coaches also donned cancer awareness ribbons on their shirts. The junior varsity and varsity teams both won their matches against Priory and remained in the lead throughout their games, with the junior varsity team ending their last set 25-12, and the varsity team ending 25-10. Throughout the games, volunteers continued to collect donations and sell goods to those attending. 
"I think [fundraising is] really a fun experience and you feel accomplished because you're helping other people," junior varsity volleyball team member Sophia Roufas (10) said. "All of the money we raise is for the breast cancer fundraiser, and we don't keep any of it." 
Between the games, the main organizer of the fundraiser and varsity girls volleyball head coach, Theresa "Smitty" Smith, delivered a short speech, thanking the crowd for their support for the cause and acknowledging the various activities occurring throughout the afternoon. 
"Thank you all for coming out to support this cause," Smitty said in her speech. "We have a lot of fun things going on here — they're selling food, we have a raffle and there's a volleyball game down here, so thank you all for coming out."