Humans of Harker: Dribbling with drive
Kate Leafstrand reinforces team spirit not only in soccer, but also among women athletes
Illuminated by the warm glow of the bedside lamp, Kate Leafstrand ('22) sits surrounded by her friends on the bed of her hotel room. In the distance, waves crash onto the shore of Santa Cruz Beach as the group of friends talk deep into the night. Bursts of laughter from everyone in the room punctuate their conversation as they share their best stories with each other.
Kate's value of fostering a welcoming community stems from her experiences in soccer, which created a strong foundation for her relationships with the people around her. At the age of 3, Kate began playing soccer alongside her twin sister Sarah Leafstrand ('22). Six years later, they started playing club soccer, where they were part of the first girls soccer team organized by the club.
Yet, Kate immediately noticed a disparity within the club. Without access to the same resources as the boys soccer teams, the members on the girls soccer team found it difficult to make progress at the same pace as the boys.
"We were not given coaches with a lot of experience, and we had late practice really far away," Kate said. "It was hard to improve when there was nobody on the team. At that point, you have to take things into your own hands and work hard by yourself and motivate yourself rather than having coaches who do that [for you]."
Now, as co-captain of the varsity girls soccer team, Kate continues to advocate for gender equality within sports. Looking to connect with more female athletes within Harker, Kate founded the Women in Sports Club (WiSC) with Sarah and close friend Ashley Barth ('22) to facilitate communication between female athletes.
"As a female soccer player, you learn that support is a really important thing to have," Kate said. "We created Women in Sports Club to [build] this web of support [and unite] all female athletes no matter what sport they play. We hosted an Olympic athlete who spoke to us about her experience [with mountain biking] as a female in a male-dominated field."
Kate's experiences in being part of club soccer's close-knit community aids her in her mission to extend that same encouragement to other women in sports. Kate would often study, eat dinner and go to practice with her teammates several times a week. Ashley, who played club soccer with Kate and leads the soccer team with her, recalls how their friendship developed in the following years while they continued to play on the same teams.
"When we first met, we did a lot of the same activities, and because of that we spent a lot of time with one another," Ashley said. "As we've grown older and had more time together as friends, we've started to rely on each other more. When you're friends with somebody for that long, they're more than just friends — they're family."
Both on and off the field, Kate uses her energetic personality to support the people around her. Close friend Riyaa Randhawa ('22), who met Kate on the lacrosse team their freshman year, describes how their interactions affect her on a daily basis.
"Every time I see her, it brightens my day," Riyaa said. "She's someone you want to surround yourself with, and when you actually get to know her and become her friend, she's one of the most comforting people you'll ever know. Even if she's not in a great place, no matter what, she will always put her friends first. That's the most genuine thing a person can do."
Kate helps to brighten the atmosphere and make the people around her feel more comfortable through humor. Ashley describes Kate's witty comments, which she has grown to appreciate in the past few years.
"Sometimes she's a little bit sarcastic, but her laugh is so contagious, and it immediately makes me happy hearing her giggle across the room," Ashley said. "If I start laughing in class uncontrollably, it's most definitely because of something she said."
Kate's ability to empathize with others allows her to connect with and empower the people she surrounds herself with. Sarah shares how their relationship has positively impacted her mental health.
"I really think that Kate's one of the best people in the world," Sarah said. "Whenever I go to her in any bad mood, she's always there to sit down and listen [to me]. She's kind and caring about everyone in her life, [and] she pushes me to be a better person."
Kate carries her positive mindset with her every time she steps on the field, supporting the people around her no matter the circumstances. From her initial experience playing soccer, she has developed the resilience and compassion required to motivate her team members in each game.
"When you play soccer, you have more of a team mentality," Kate said. "You learn to accept people's mistakes and keep moving forward from that, even though they might lead to [the other team's] goal. [To me,] that is a good foundation for any friendship."
About the Contributors
Shinjan Ghosh, TALON Co-Editor-in-Chief
Shinjan Ghosh (12) is the co-editor-in-chief of the TALON Yearbook, and this is her third year on staff. This year, she hopes to provide a welcoming environment...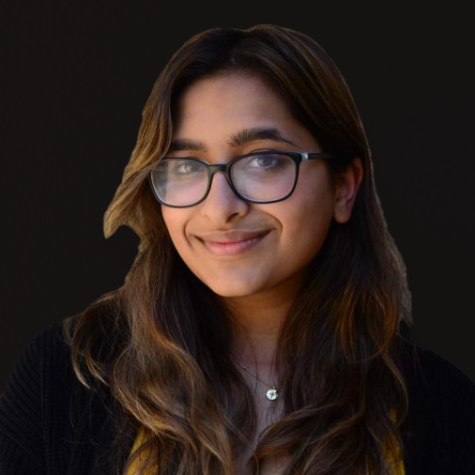 Esha Gohil, HoH Co-Editor-in-Chief and Aquila Photo Editor
Esha Gohil (12) is the co-editor-in-chief of Humans of Harker and the photo editor of Harker Aquila. This is her fourth year on staff, and this year she...