Humans of Harker: Keystone of the community
Anika Mani finds joy in the people around her
The sun beats down on the pavement as Anika Mani ('22) places a pile of yearbooks down on a table outside of the journalism room on a warm May afternoon. With a spreadsheet of the entire student body pulled up on her laptop and a pack of pens next to her hand, Anika settles down in her seat. The bell echoes. Swarms of students file out of their classes, the atmosphere buzzing with energy and excitement. As the first student approaches the table, Anika greets them with a welcoming smile. With that, the annual yearbook distribution begins.
In her sophomore year, Anika joined the yearbook staff to pursue her interest in digital media and photography. After completing interviews and covering school events as a reporter, she hoped to broaden her impact on staff, reaching out to older staff members to offer her support in any capacity possible. Throughout the pandemic, she continued to dedicate time to the publication as the co-student life editor, covering community events and school traditions in the context of remote learning. Director of Journalism Ellen Austin noted how Anika has grown in her leadership roles, especially throughout the pandemic.
"In junior year, what I saw was an ability to pivot and ability to say that we have a really big challenge to overcome — we've got to cover the most important section of the yearbook without ever being able to touch our campus," Austin said. "I really appreciated Anika not giving up, and I watched her become such a poised, mature, fearless young woman."
After interacting more often with the staff, Anika developed better connections with her peers and learned to support them. In her senior year, she led the TALON yearbook staff as a co-editor-in-chief.
"I did not expect to become an editor, but aside from the label, I learned along the way that there are so many more things than just getting your pages done that add to the yearbook," Anika said. "One of the main things that I had to learn was that the book is not just one person or two people. It's not just the editors. It's really everyone, and no matter what your position, your part matters."
Outside of the journalism room, Anika has also built strong relationships with the people around her, specifically with friends who share similar interests with her. Close friend Nikki Kapadia ('22) recalled how she and Anika became closer while taking Study of Dance in their freshman year and participating in the annual dance production together every year since.
"What I really like about our friendship is that when it came to dance, we did different stuff — I did more jazz and contemporary on school teams, and she did more hip hop on outside teams," Nikki said. "That was really nice because we never had to compete with each other for a spot when it came to our passions. We had something we could bond over without seeing each other as competitors."
Outside of her extracurricular activities, Anika has also made an active effort to connect with and support the people around her. Close friend Arkita Jain ('22) appreciates how Anika has always been there for her throughout high school.
"She's the kindest person I've ever met," Arkita said. "If you need something from her, she will drop everything and she will listen. If I ever need to talk to someone about something, I will text her. She's a great listener and an amazing person to have in your life."
Just as Anika provides support for both the yearbook staff and her friends during challenging times, she also brings that same unifying energy when spending time with her extended family at home. Throughout quarantine, her family continued their annual traditions and began hosting regular gatherings to support each other through the difficulties of the pandemic.
"Recently, we've been hosting Thanksgiving, which has been super fun, and I always look forward to events like that," Anika said. "My family members are the people that I feel the most comfortable with because I've been around them since I was a child. I'm honestly so grateful that I have such a close and tight-knit extended family where I can be myself."
Anika's desire to connect with others expands past the boundaries of her personal life. As the president of the Stanford Hills chapter of National Charity League, she has spent years contributing to the benefit of both her local community and other communities across the world. She especially enjoyed hosting a book drive to send books to students in Uganda through a nonprofit organization called the African Library Project.
"We have all of these things in our house that we take for granted, so I decided to help conduct the drive and send them out," Anika said. "I got an email this year saying the books had finally arrived, and it was the best feeling in the world. The library in Uganda emailed me saying the kids are loving them, so that was a full circle moment for me."
Anika's charismatic personality also serves as a source of comfort for her friends in times of need. Close friend Nageena Singh ('22) shares many of the qualities of Anika's personality that she has admired most as they have become closer in the past year.
"She knows who she is and who she's trying to be, and that shows in her thoughts and her actions," Nageena said. "She always puts family first, and she's a very caring person. Even when I'm stressed, she's able to talk me down and help me out with fear and annoyance, and it's a really nice quality to have in a friend."
After starting out high school as a shy freshman, Anika learned to venture outside her comfort zone and gained more confidence through each of her experiences. She reached out to people in all aspects of her life, becoming a pillar of strength for her community.
"I'm definitely a people person," Anika said. "It started from a fear of being alone, but once I got to be around people that make me happy — whether it's people in the journalism room, or whether it's friends outside of school or whether it's family — I never wanted to get rid of that feeling."
About the Contributors
Shinjan Ghosh, TALON Co-Editor-in-Chief
Shinjan Ghosh (12) is the co-editor-in-chief of the TALON Yearbook, and this is her third year on staff. This year, she hopes to provide a welcoming environment...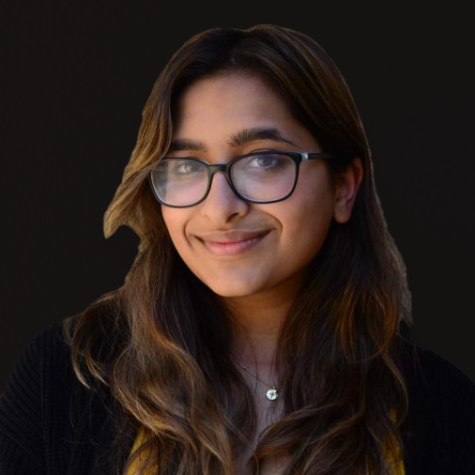 Esha Gohil, HoH Co-Editor-in-Chief and Aquila Photo Editor
Esha Gohil (12) is the co-editor-in-chief of Humans of Harker and the photo editor of Harker Aquila. This is her fourth year on staff, and this year she...