Upper school track and field athletes clutch top awards at State Championships
Andrew Fu (11), Rigo Gonzales (11), Alexa Lowe ('22), Armaan Thakker (11), Zain Vakath (11) and Anjali Yella (10) participated in various track events at the State Championship Finals on May 28.
The six athletes earned spots at the state finals after participating in Central Coast Section (CCS) finals and State trials on May 21 and May 27 respectively.
Alexa, who will attend Carnegie Mellon University as a long-jump member of the track team in the upcoming year, finished her final track season at Harker with a personal and school triple jump record of 35 feet, 10.25 inches, allowing her to finish in second place at CCS. Continuing on, she placed 20th at States with a jump of 34' 11.75.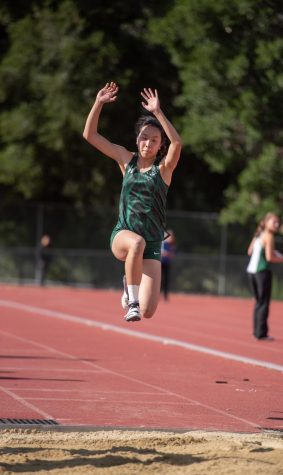 At the trials on May 27, Anjali ran 400m with a time of 56.31 for a new personal record at preliminaries, which was 0.6 lower than her state bid qualifying time at CCS. Having placed ninth at States, she remembers how intimidating yet exciting the final race turned out to be compared to the trials.
"I felt good because I had a good lane placement and fast people to catch up to, so I was able to gauge how fast I should go through pacing myself," Anjali said. "The finals was a new race for me [since] I was running against the top runners in the nation. That unfamiliarity made me run slower, since I pushed myself too hard against those girls who were running fast [but] at a different pace."
Andrew competed in several events at CCS including the 200m and relay and received state bids for long jump, with a top jump of 23' 2.5," as well as for the 100m with a time of 10.82. He ended his individual events placing 17th for the 100m and 13th in long jump.
The boys 4×100 relay team consisting of members who each run 100m finished with a gold medal at CCS. Andrew, Armaan, Rigo and Zain set a new school record for the first relay gold with a time of 42.11, which drew them a states berth. The boys missed their personal best by 0.4 seconds at States and placed 17th.