Humans of Harker: From the heart
Elizabeth Fabel fearlessly advocates for change on a personal level
How does our world change for the better? How do we fight injustice? How do we make an impact?
For Elizabeth Fabel (12), the answer lies in the motto that she lives by: "Be the change you wish to see in the world." It's not about grand gestures or bombastic speeches. Instead, she ceaselessly takes the needed actions on a personal scale that will create a real difference over time.
As the treasurer of Female Empowerment (FEM) Club, Elizabeth strives to address issues of sexism. In FEM club meetings and discussions about dress code, she doesn't hesitate to share her opinions and engage in constructive debate. Although convincing others of her perspectives can sometimes prove challenging, Elizabeth has discovered that practicing empathy breaks through ideological barriers.
"A lot of [the conversation] is establishing a trusting relationship with [those who have a different perspective] and putting aside your own beliefs for that moment and your own experiences," Elizabeth said. "When you try to understand someone and remember where they're coming from, it's a lot easier for them to feel heard. Then they trust you more and then they're more willing to change their [views]."
Elizabeth cites attending the Student Diversity Leadership Gathering (SDLG) in her sophomore year as sparking her interest in Diversity, Equity and Inclusion (DEI) issues. Listening to her fellow students discuss their unique experiences inspired her to take action.
"When I went to that conference, and I heard the different injustices that people face being [people] of color, it made me realize, 'Oh, I have this privilege,' and I'm not doing something with that for the greater good," Elizabeth said. "I'm not doing something negative with it, but that's just a neutral, and I should be taking that and educating other people or supporting other people who are people of color in their needs and what they're trying to make change."
On a personal level, Elizabeth hopes that she has left a legacy of empathy. Throughout her time at Harker, she has aimed to provide a comforting and compassionate presence when helping her peers through difficult times.
"[I hope people knew] that, if something was going on, they could always talk to me about it and that I would never judge someone and that I would always come from a place of empathy and understanding," Elizabeth said.
Although Elizabeth has always possessed a drive for progress and a profound way of thinking, in previous years, the shyer aspects of her personality meant she spoke up less about these beliefs. Upper school history teacher Mark Janda, who taught Elizabeth history in freshman year and ethnic studies in junior year, noticed a marked difference in her over the two years he knew her. In freshman year, although Elizabeth rarely spoke up in class, Janda still recognized in her work the richness and complexity of her thoughts. In junior year, she gave those opinions a voice.
"While still a very reserved person, she's no longer silent," Janda said. "Now she speaks up when she has to speak up, and she speaks up out of a sense of passion, a sense of empathy, a sense of social justice. When she has to speak, she will. And when she does, it is always worth listening to."
Janda also notes the way Elizabeth's example of enthusiastic participation inspires those around her, especially more quiet students, to take actions of their own. For Janda, Elizabeth exemplifies his belief that true activism involves persistently taking the little steps that will accumulate in the long run.
"The work is way more than just who's at the microphone," Janda said. "It's the people who are going to write the letters, it's the people who are going to find the organizations, it's the people who are going to make connections and quietly make a difference within their circle of friends. That's the stuff Elizabeth does. It's not glamorous; it doesn't get a spotlight. And Elizabeth does not want the spotlight: she wants to just do the work."
Close friend Sriya Batchu (12), who met Elizabeth in sixth grade, also acknowledges her shy and quiet personality yet highlights that her calm exterior obscures several of her other distinctive qualities. Sriya recalls instances where Elizabeth boldly confronted those who expressed homophobic or racist viewpoints.
"Her passion for what she thinks is right is so big, it has inspired me to also be passionate about the things that I'm passionate about," Sriya said. "That fire that she has has definitely influenced me to also try to be as passionate about things I'm passionate about."
Elizabeth's empathy extends to her interactions with friends as well. Close friend Bailey Castle (12) explains that Elizabeth willingly sacrifices her own time to help out her friends. He also describes the atmosphere her compassionate spirit creates for the people around her.
"[The atmosphere] is very safe and calming," Bailey said. "She's very understanding. She's always willing to help, and it's never nervous around her."
Through her empathetic approach to activism as well as her proactive mindset, Elizabeth takes charge of her beliefs and channels her strong sense of justice into making a tangible difference.
"Sometimes it can be overwhelming when you hear about the injustices and it can be easy to sit there and feel bad about what's going on," Elizabeth said. "But when you think about an injustice that's happening and you see it [in terms of] taking action on it rather than sitting there in your negative emotions, it can also help you process what's going on and can make you feel more in control of the situation."
About the Contributor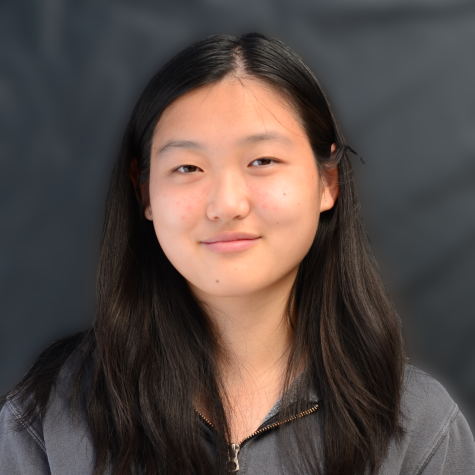 Emma Gao, Reporter
Emma Gao (10) is a reporter for Harker Aquila, and this is her second year on staff. This year, she hopes to explore writing a variety of articles as well...