Humans of Harker: Teamwork and tackling
John Zeng works to foster positivity both as an athlete and as an individual
Recalling one of his favorite memories with football, John Zeng (12), the offensive and defensive lineman and captain of the football team, recalls the Harker seven on seven tournament. The competitive atmosphere combined with the adrenaline rushing through all of the players as they faced each other on the field encapsulated what John likes about football.
"That whole tournament was one of the best things that I've experienced personally playing football because you could tell everybody on the field and on the bench wanted to win so badly," John said. "The competitive spirit and competitive fire, combined with our teamwork, and how we've spent every single day with each other for the entire summer and a little bit of the spring in the past year — it was really nice to see everything come together finally."
Football has been a major part of John's life since sixth grade, and early on, he dedicated many hours to practice and improve. He pushed himself to become a better player and person, which helped lead to his success as an athlete.
"Even if you don't want to run that extra sprint and practice, taking those little decisions has really helped me build up myself as a person and player," John said. It has helped me learn to put in effort even if I think I'm not going to be able to accomplish something. That culminated in my first big play as a running back, a position people told me I'd never be able to play."
As John grew into his role as a running back, he realized that he needed to confront his insecurities as a player and overcome them. The confidence he gained allowed him to reach new heights in football.
"I thought to myself that I had to suppress that fear or face that fear and realize that if I focus on the task at hand, focus on doing what I've set out to do, that's far better than just focusing on any fear and insecurity of what I can and cannot do," John said. "It was terrifying when I saw the defense converging on me, but I committed and trusted myself, and I ended up running 60 yards, which was a turning point for me."
While John has significantly grown as an athlete individually over time, he attributes successes to the support from his football team. He demonstrates his personality and community-oriented nature, discussing how the atmosphere in a strong team translates to stronger results in games, such as a game against Woodside Priory.
"Players make plays, but teams win games," John said."[We] really came together in our game against Woodside Priory and I think that was our best game where everyone did their job and played as hard as they could. That's the epitome of playing football, is that you have all 11 people working together."
Teammate and friend Maddux Carlisle(12) shares his favorite memory of John and appreciates John's supportive nature. John's encouragement helped Maddux get a sack in a football game, which is when a player tackles a quarterback for a loss of yards.
"The first game this year, where we ended up coming back to win against San Jose High School, [John] was motivating me to keep playing [even though] it wasn't my best game," Maddux said. "He was saying, 'Just keep playing; you're going to have the next game, the next play.' I ended up getting a sack thanks to his support."
Nicholas Delfino (11) further discusses John's personality and cherishes the bond they have formed over playing football together.
"As a person, he's very open, compassionate and understanding,"Nicholas said. "I feel like when there's been big events for me, I've always been able to go up and talk to him and vent what I feel to him, and he would be there for me."
Beyond physical or athletic skills, football also taught John skills that have allowed him to grow as a person. Through his time as a football player, John has extended his compassionate nature towards others, while learning to be a strong leader. He has started small internal initiatives, such as bettering the football team culture, to create a more positive environment for everyone.
"The biggest thing I've learned is how to effectively communicate with everybody and balance, such as having fun and goofing around, but also being serious at times," John said. "A big part of being captain of the football team for three years and captain of the basketball team this year is being able to talk to everybody on the team on a deeper level. That allows you to bring everybody together towards the common goal, which would be winning."
About the Contributors
Medha Yarlagadda, Co-Video and Podcasting Editor
Medha Yarlagadda (11) is the co-video and podcasting editor for Harker Aquila, and this is her third year on staff. This year she hopes to grow as a journalist,...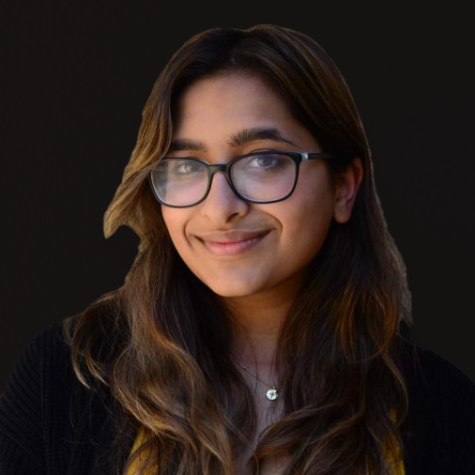 Esha Gohil, HoH Co-Editor-in-Chief and Aquila Photo Editor
Esha Gohil (12) is the co-editor-in-chief of Humans of Harker and the photo editor of Harker Aquila. This is her fourth year on staff, and this year she...