Global Reset: Upper school campus continues conservation efforts
Upper school uses solar energy, reduces water consumption to minimize waste and carbon footprint
Water droplets on a native Californian cactus. Dark gray moisture meters sticking out of wet soil. Glistening solar panels on the roof of the Rothschild Performing Arts Center (RPAC). These are all symbols of an aspect of our school: a long-standing and enthusiastic dedication to conserving resources and lessening our carbon footprint.
California has endured a state of drought almost nonstop for the past decade, and its 37.3 million inhabitants feel its effects every day. Eighty-seven percent of California land is classified under "Severe Drought," according to the National Oceanic and Atmospheric Administration's (NOAA) National Integrated Drought Information System (NIDIS), signifying inadequate grazing land for animals and wild plants, as well as trees, feeling more stress. The remaining 13% is in "Extreme Drought," where the land is especially prone to wildfires, and hydropower use is restricted.
Santa Clara County is now classified as a  "Severe Drought" county, currently in its driest year of the past century. The upper school campus has a variety of systems in place to discourage unnecessary water waste. For example, the grounds staff have recently been switching from using traditional sprinkler heads that spray water in vast areas that may not require moisture to bubblers, which water individual plants, helping to conserve water.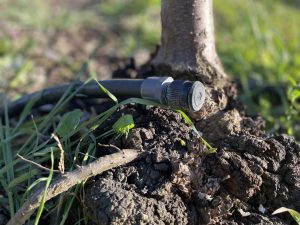 "Every new plant that we put in now has that system in place to eliminate just spreading out the water," Director of Grounds Steven Pacheco said. "It helps us conserve water and eliminate a lot of the weeds."
In addition to bubble sprinklers, the artificial turf on Davis Field conserves water usage. Even the living plants around campus consume little water. Moisture meters are used to monitor conditions like soil temperatures and fog levels in the air, helping the grounds staff to avoid over-watering plants. Finally, the school takes advantage of advanced technology systems in their conservation efforts.
"[Our irrigation systems] are now going to be Wi-Fi enabled so [Pacheco] can control the irrigation right from his phone," Director of Facilities Shayne Hale said. "From home or from another school site, if it's raining, for example, he can turn the irrigation off [and conserve water]."
Last year, the grounds staff planted dozens of drought-tolerant, native California plants, including cactuses and grasses, in the areas surrounding the RPAC, Athletic Center and art building. These shrubs require much less water as they are better adapted to California's warm and dry climate, and they also promote natural wildlife diversity on campus.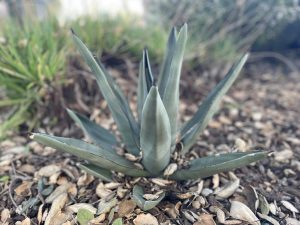 Beyond water consumption, however, recent climate change has devastated local habitats and populations. Wildfires raze through California forests, decimating native redwood trees, and warming Pacific waters mean coastal wildlife suffer from ocean acidification and plastic pollution. 
"Since there is a lack of water, there are a lot of plants dying," Green Team member Sophie Degoricija (9) said. "In certain areas, with the increase of heat, some animals are dying off, including the coral reefs."
In an effort to reduce our carbon footprint, the school has searched for sustainable energy sources and aims to minimize electricity use. The upper school campus has solar panels installed on the roofs of the RPAC, Athletic Center and Nichols Hall, according to Hale and Pacheco, which provide energy to the buildings. Solar energy is much more sustainable than conventional fossil-fuel sources. These buildings also have advanced monitoring systems that lessen the campus' footprint by turning off electricity and circulation when there are no people around.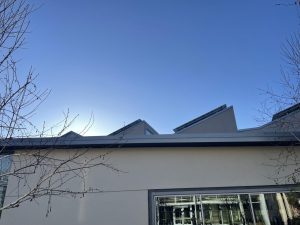 "Most of our buildings have management systems, where the heating and air is controlled for holidays and weekends," Hale said. "It shuts off when school's out, and it shuts off for holiday breaks from school."
Although campus conservation efforts greatly reduce the upper school's effect on climate change, community members can pursue individual actions to control their own impact.
"[To the community], I would say to be more aware of their footprints, where they're walking and the trail that they leave behind," Pacheco said. "If one person steps on a plant, then the next 20 people are also going to. So, we'd like our students and staff to be aware of their footprint and where they're walking on the grounds."
About the Contributor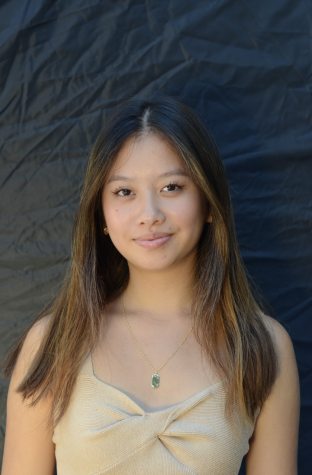 Sabrina Zhu, Winged Post Co-Editor-in-Chief
Sabrina Zhu (12) is the co-editor-in-chief of the Winged Post, and this is her fourth year on staff. Sabrina hopes to capture more campus life through...