'Red (Taylor's Version)': Bringing back a true breakup album
Sitting in a vintage red car, Taylor Swift gazes thoughtfully into the distance as her hand grasps the burgundy velvet fisherman cap on her head. A diamond-shaped ring with the word "Red" spelled out in crystals adorns her finger. Her trademark scarlet lips stand out against the neutral tones of her trench coat and the muted olive green and brown hues of the blurred trees behind her. This is the cover of Taylor Swift's long-awaited "Red (Taylor's Version)" album, which was released Nov. 12. Even three months later, I'm still obsessed with the songs in the album.
The album includes 16 tracks from the original version of "Red," Swift's fourth album, as well as the three additional songs and an acoustic version of the opening track "State of Grace" from the deluxe edition. It also contains the single "Ronan." Swift also newly released nine tracks "From The Vault," which Swift wrote for "Red" but never revealed to the public, including a 10-minute edition of the fan-favorite "All Too Well." 
"Her songs have been such an entrenched part of American pop culture, that I just grew up listening to her," said Michelle Jin (11), a long-time listener of Swift's music. "So now that it's been around eight years later, and she's re-recording these, it just feels like something that I like to listen to."
Swift attempted unsuccessfully to buy the masters, rights to the original recordings, of her first six albums from her former label, Big Machine Records for years before they were sold in 2019 to Scooter Braun, a record executive whom Swift has accused of "incessant, manipulative bullying." Braun later sold Swift's catalog to investment firm Shamrock Holdings, again without Swift's knowledge, although the firm later sent Swift a letter claiming they had wanted to reach out before the sale but could not do so under the terms of the deal. After learning that Braun would continue to profit from her music for years to come under the deal, Swift opted not to support the firm as her musical legacy would still bring profits to Braun and not just herself. 
In a move to regain ownership of her music, Swift is re-recording each of her albums one by one. "Red" is the second full album on her list, after "Fearless (Taylor's Version)," which Swift released in April 2021 and the single "Wildest Dreams (Taylor's Version)," released in September 2021.
"I would never have thought it was possible to go back and remake my previous work, uncovering lost art and forgotten gems along the way, if you hadn't emboldened me," Swift wrote in an Instagram post on Nov. 12.
With her masterfully crafted lyrics, Swift uses her experiences through a breakup as an anchor for her songwriting, artistically conveying the pain associated with falling in love and then ending the relationship. The album is widely rumored to be about actor Jake Gyllenhaal, containing many references to details of the relationship between the pair.
"I look back on ["Red"] as my true breakup album, every other album has flickers of different things," Swift said in a teaser for Rolling Stone's "500 Greatest Albums of All Time". "But this was an album that I wrote specifically about pure, absolute, to the core, heartbreak."
In the re-recorded songs, Swift's voice carries a more mature, crisp sound, although I feel that it has lost some of its passion and naked fragility in the near-decade since Swift originally wrote them.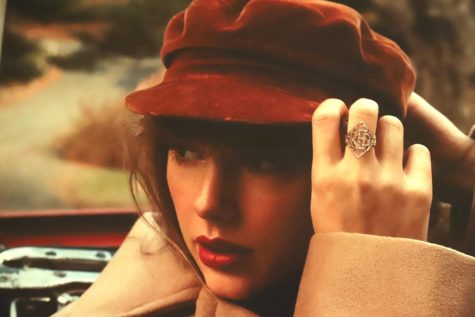 "Each of the [versions] have their own charms because the old one is in a way more authentic because it was actually her emotions she felt at that time she was recording," said Emma Gao (10), an avid fan of Taylor Swift. "The way she's recording right now feels retrospective. How it has already happened and she's seeing and revisiting these emotions has a different feel to it." 
In the new "From the Vault" tracks, Swift combines the feel of the original "Red" era with her contemporary musical style, experimenting with new sonic textures in addition to the more standard instruments she used earlier on in her career. The songs vary in tone, with some expressing heartache and grief while others communicate more lighthearted and rebellious messages, reflecting the conflicting emotions and different manners in which people respond to breakups.
In "I Bet You Think About Me (Taylor's Version) (From the Vault) [feat. Chris Stapleton]," track 26, Swift pokes fun at an ex-boyfriend who bears similarities to Gyllenhaal, sarcastically referencing his affluent upbringing and his "cool indie music concerts every week." She infuses her personality into the lyrics, one of her most unique talents, which never fails to bring a smile to my face; her voice drips with playful, almost lazy scorn as she sings in the outtro, "I bet you think about me when you say / 'Oh my god, she's insane, she wrote a song about me.'" In the music video accompanying the song, Swift crashes the wedding between an ex-boyfriend and another woman, then ripping out a chunk of the wedding cake and stuffing it into her mouth, grimacing as if to say "Oops!"
Some of the more melancholy, vulnerable songs in the album speak to me more deeply, reflecting Swift's raw emotions untainted by the formulaic approach many mainstream songs follow that feels shallow and manufactured in my opinion. The long-awaited extended version of "All Too Well," which also comes with a short film that Taylor wrote and directed, began as a recording of Swift ad-libbing lyrics about a recent breakup to the same four guitar chords after showing up to a rehearsal sad and downhearted, Swift reveals. She later edited it down to a standard length for its release in 2012. Allegedly about her past relationship with Gyllenhaal, the 10-minute version invokes old heartbreak but reveals real-life details of the relationship in its verses that were cut out of the 2012 version. Swift recalls watching the door during her 21st birthday party, waiting for him to show up, when her dad says, "It's supposed to be fun turning 21." With heart-wrenching lyrics such as "You kept me like a secret, but I kept you like an oath," Swift conveys the pain of feeling like she held someone in a place of importance while he wanted to keep her a secret; she appeals to the human experience of feeling insignificant in a relationship.
"Nothing New" is by far my personal favorite of the "From The Vault" songs. The heavenly voices of Swift and her collaborating singer Phoebe Bridgers blend melodiously to tell the story of an artist's journey through becoming older and the accompanying fear of losing relevance in the music industry to younger and newer artists: "How can a person know everything at 18 / but nothing at 22?" The gentle guitar music and harmonies reflect Swift's more recent musical tastes, resembling the meditative feel of her indie albums "folklore" and "evermore," released in 2020.
"I was really excited for the Phoebe Bridgers song, which was so, so good. It was everything I wanted and more," Ashley Ma (11) said.
When I listen to Swift's music, I like to just close my eyes and absorb each subtlety in her voice, the tension, the emotion it conveys. As I delve deeper into her lyrics and melodies, each time I discover something new among the many easter eggs and hints she leaves behind. She truly has stood the test of time with her unmatchable ability to express feeling through her music, and I look forward to her next surprise in her project to re-record her music.