Humans of Harker: Team, thinking and tenacity
Victoria Han finds community within seemingly individual activities
Victoria Han (12) recalls the 2020 DECA State Career Development Conference, from watching movies over Thai takeout in her hotel room with friends to practicing her presentation with her event partner and close friend Catherine He (12) on the mile-long walk to the conference center. For her, the most special part of that trip was going onstage with Catherine to accept their Hospitality and Tourism Operations Research event award, a moment of gratification after months of hard work.
"Being able to go onstage and be rewarded for work was really fulfilling, and it was a great way to end an amazing conference," Victoria said.
Victoria initially joined DECA in freshman year to simply try it out and improve her public speaking skills and has continued to attend conferences since. She likes Hospitality and Tourism events the most because of all the creative opportunities for exploration within this industry.
"It's really fun to be able to market restaurants," Victoria said. "For example, in 10th grade, my partner [and I] did a plan for Sul and Beans. For a lot of our roleplays, which are impromptu presentations, we get prompts about theme parks, so it's really fun to apply business to those kinds of things."
Despite the individual nature of most DECA events, Victoria sees the overall team spirit within the Harker chapter. She enjoys being part of this supportive environment where members encourage each other to succeed.
"Everyone's really encouraging, and although people compete individually, everyone is rooting for each other," Victoria said. "The Harker chapter feels like a family because we're always there for each other at conferences, and we always want to meet other schools and get more awards."
Catherine appreciates Victoria's dedication and collaborative efforts that make their partnership complementary. In particular, she values Victoria's innovation for the ideas they then execute as a team.
"She's really great at thinking of ideas, she's a great improviser, and that's why we're together because I'm more of a creative design person," Catherine said. "She's a really hard worker and a great writer because in a lot of our written [events], she's usually the one who's writing a lot and researching a lot."
Close friend Syna Gogte (12) also observes Victoria's motivation to achieve her goals in other parts of her life.
"She's very hardworking, and she puts a lot of time and energy into projects to make sure that they are very good," Syna said.
Victoria applies her quick thinking and team mentality from DECA to tennis, a sport she started in fourth grade. The mental tactics needed to play the sport successfully stand out to Victoria, and her time as a tennis player has allowed her to become stronger as a whole.
"[Tennis] is a really cool sport because it's more about your mental strength than your physical capabilities," Victoria said. "Over the years, learning how to play without getting down or getting angry at yourself, it was a good life lesson. I also learned a lot about resilience and staying positive."
Although most would classify tennis as an individual sport, Victoria notes that individual matches all contribute to a team effort. Additionally, tennis has allowed her to befriend and become closer to various teammates who all support each other in tournaments.
"Being on a sports team is really fun — you meet a lot of people that you wouldn't have met otherwise, and I met some of my best friends through tennis," Victoria said. "Even if you're playing singles, you have to remember that at the end of the day, you're a part of a team, and whether you win your match or not is part of the team's overall score and not just for yourself."
Outside of school, Victoria demonstrates her commitment to others through the Toiletri Project, an organization that donates spare hygiene and personal care products to homeless shelters. As part of her work for the organization, Victoria goes around neighborhoods to ask residents for donations of toiletries during the holiday season. Victoria values her volunteer work with this organization because it allows her to help homeless people in an often overlooked way and combat prejudice against them.
"A lot of people, because the way our society is, have this unfounded fear of homeless people," Victoria said. "Whenever they walk past a homeless person, they want to take the long way around or walk faster, instead of maybe stopping to help them or just acting normal. Most people don't think of donating hygiene products to homeless shelters, and it's also reducing waste."
Victoria translates her empathy and kindness into her relationships, from small daily gestures such as offering help for classes to larger ones like putting together birthday videos and thoughtful gifts for her friends.
"She's a very good listener," Catherine said. "I would classify her as somebody who's very thoughtful and definitely very willing to help her friends out." 
Close friend and tennis teammate Anishka Raina (12) expresses gratitude for Victoria's ability to solve problems and her willingness to help others with academic or personal struggles.
"Especially in [computer science], she's able to figure out any bugs in my code," Anishka said. "And also [for] giving me advice in my own life, she has unique perspectives."
As Victoria looks back on how her time in high school has shaped her, she notes how many of her activities have allowed her to determine her interests for the future, as well as to learn more about issues she didn't pay much attention to before.
"A lot of [my activities] have made me care more about things I wouldn't have thought of before — for example, the Toiletri Project and a [computer science] project where I helped develop a speech therapy game for children with cleft lip," Victoria said. "Other activities like DECA have shaped my interests and what I want to major in in college or what careers I want to pursue in the future."
About the Contributor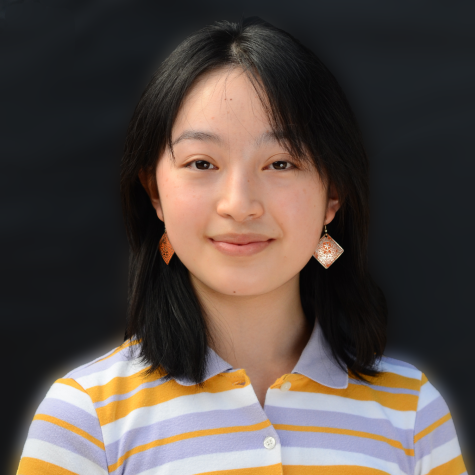 Arely Sun, Aquila Co-Managing Editor


Arely Sun (12) is the co-managing editor of Harker Aquila with focus on longform writing. This is her fourth year on staff, and she hopes to work with...