Humans of Harker: Wisdom in WiSTEM
Emily Zhou empowers other women in STEM
Gesturing with her hands, Emily Zhou's (12) eyes light up as she raves about the boundless beauties and mysteries of outer space with animated passion. Occasionally studying something in the distance or flashing a smile and breaking into bubbly laughter, even sitting there, Emily emanates a warm aura of kindness, passion and leadership.
After joining an astronomy project by a stroke of serendipity, although apprehensive at first, Emily not only thrived but also discovered her love for astronomy, leading to her being the co-president of the astronomy club. A jack of all trades, Emily not only flourishes as a leader and source of strength for others, but also excels in everything she puts her mind to, from tennis to research. Along the way, she's also discovered new passions.
"It was like another door that opened, and being a part of the astronomy club has been a big gift for me," Emily said. "It's fun and so cool to wrap your head around the fact that there's crazy things. It's really interesting to think about how even beyond the Milky Way, there are so many galaxies that we have yet to discover; it's like how we have yet to explore a lot of the ocean. I find it really fascinating."
Among her various interests, Emily strives to inspire other girls to participate in STEM, which she has done through the Women in STEM (WiSTEM) club for all four years of high school.
"It's a mission; it's something that I'm super passionate about," Emily said. "Growing up, I was always interested in STEM. I think it's really important for more girls to be represented in STEM."
Emily's compassion and reliability also extends to her friendships. Friends Clarice Wang (12) and Melody Luo (12) affirm this feeling, expressing deep appreciation for Emily's ability to create "this safe space" for people to be comfortable with sharing anything.
"[Emily's] always there to help," Clarice said. "She's always a shoulder to lean on. She's very reliable. You have some friends where you can have deep conversations with, and you have some friends where you can talk about classes or coursework. She's both. I can talk to her about anything. And that's what I really like about her … She is so responsible and such a great leader, and she still manages to make everyone's day better."
Emily's compassion also drives her to be a great source of strength for others as the co-president of WiSTEM and as a Harker DECA mentor. Emily is always willing to share her expertise, staying humble and heartfelt no matter the situation. Through her positions of leadership, Emily not only helped countless others through her time at Harker, but also spurred her own personal growth.
"Going to these clubs and having these positions in the clubs has allowed me to grow in many different aspects, [like] public speaking … as well as organizational skills," Emily said. "Being able to be open to other people's ideas and take their ideas and mix them with yours or think about whose ideas we should be comparing are all valuable lessons that are really important for me."
Another factor that makes Emily a natural leader is her maturity. Always humble and down to earth, Emily's passion and energy remains steady no matter her workload, a trait she attributes to her motivation to give back to others the same experiences she gained from clubs.
"All these clubs provide you the opportunity to explore your own passions outside of taking set classes that take up a period in your schedule," Emily said. "Clubs provide both social and academic aspects that enrich your high school career. Particularly for me, I feel like it has enriched my experience at the upper school."
Emily explains that after achieving something, she tends to compare herself to others and belittle her own achievements even though she knows she should be proud of her work. Knowing this, her friends hope that Emily can not only inspire confidence in others but also herself.
"With Emily, sometimes she doesn't have enough confidence in herself and that is not a bad thing because she is so humble," Melody said. "I want to tell her she is one of the most amazing people I know, and that is not a cliche because it truly is. She has done so much that I know no matter what happens in the future, she will thrive."
Although it is an ongoing process, Emily strives to process her achievements more healthily and grow to love herself by seizing chances to rest and reflect.
"I have major imposter syndrome, but then I find that time to rest and reflect, like on the weekends, like opening my windows sometimes and looking outside," Emily said. "And then it's a beautiful day and it reminds me of all the stuff that I've already done. That's when I feel most proud about myself: those pockets of time where I can take the time to reflect."
Using her own struggles with self-esteem as reference, Emily acknowledges that many others cope with similar feelings of imposter syndrome, and she strives to help others on their journey to success whether it be as a leader or as a friendly shoulder to lean on.
"Sometimes I feel like it's inevitable for everyone to think in some way they're inferior to everyone else, but for me, success is more [of] being satisfied with what I've done and what I have accomplished to get to where I am at that moment and overall being happy and joyful," Emily said. "I don't know when that time will come, but when it does, I'll know that I've achieved some kind of success."
About the Contributor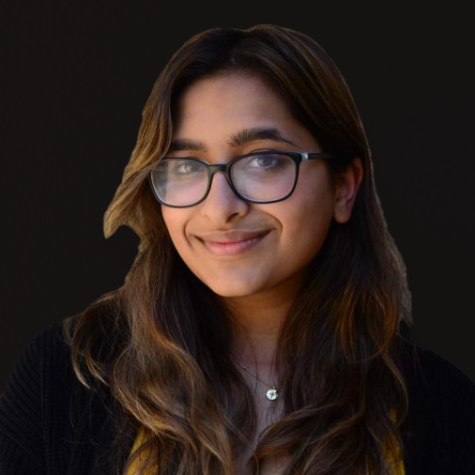 Esha Gohil, HoH Co-Editor-in-Chief and Aquila Photo Editor
Esha Gohil (12) is the co-editor-in-chief of Humans of Harker and the photo editor of Harker Aquila. This is her fourth year on staff, and this year she...