Humans of Harker: Investing towards more
Ethan Huang's experience with finance extends beyond the numbers
For many high school students, the daunting and complex finance world of stocks and investments seems light years away, an issue to tackle as adults. But Ethan Huang (12) has immersed himself in this world since the age of 11, and since then, he has not only developed his skills, but also extended this interest further.
Ethan's first exposure to investing came from his father, and he began to build experience by investigating companies whose products and services he commonly used. Although the current state of the market makes it difficult for Ethan to evaluate the success of his investments, he has garnered valuable insights over the years through his triumphs, but even more so through his losses.
"For me, [investing] is more about learning lessons and getting experience," Ethan said. "I advise everyone to get in early, get in something that you won't lose your money in like secure stocks or any other securities. A lot of memorable moments were the failures, the large losses that we take."
One such loss for Ethan came from Uber shortly after the company's initial public offering (IPO). Although he lost 40 to 50% on his stocks, he focuses on the lessons he learned instead, such as needing to consider the public's perceptions of a business as well as the fundamentals when investing.
At the start of his junior year, Ethan realized that, although the school's business and entrepreneurship program had an investing branch, not enough students knew about and engaged with it. This observation inspired him to co-found Harker's Investment Club, as he believes that all high school students should start learning investing.
"Even now, [investing] is essential because your money's not going to grow," Ethan said. "It's something necessary for people to know about and understand. The earlier we start, the more knowledge we have in the future, the more of a leg up we're going to have [and] the more prepared for the world [we will be]."
Ethan's work with investing extends past the realm of business and into his daily life, as he observes that the rationality that investing requires shapes his decision-making process.
"[Investing] allows me to think a lot more through my decisions, and it's given me a lot of restraint in decision making," Ethan said. "[In investing,] you can't be too emotional about your decisions: you have to look through things very analytically. That also transfers to my everyday life, where I try to think things through very thoroughly."
This past summer, Ethan interned at a Taiwanese startup accelerator called SparkLabs, where he worked in the marketing department to process and visualize data from the company's social media. Ethan had previously taken the Introduction to Business and Entrepreneurship course at Harker, and this opportunity allowed him to implement his knowledge from that class as well as the experience he gained with investing in a real-life setting.
"I didn't go to the internship expecting to make a huge change at the company, but I walked in with an open mind and wanted to learn more about how business worked in general," Ethan said. "There I was able to learn a lot more about the business scene in Taiwan and how business worked, and [I got] to know each of the entrepreneurs and the people."
These friendships he formed with his coworkers are a testament to Ethan's growth over the summer. Because working in business requires frequent communication with colleagues, Ethan believes that the internship changed him to be a more outgoing person.
"[Before], I didn't participate in school events that much; I didn't engage with the community at school," Ethan said. "This year, I'm more interested in getting to know people, talking more with people [and] experiencing more things with my friends especially. Talking with my friends a lot more [and] spending more time with them outside of school is something that I value a lot."
Upper school economics teacher and Ethan's adviser Sam Lepler has noticed this change as well. In freshman year, Ethan rarely spoke up in advisory meetings, but Lepler expresses his wonder at the way Ethan actively participated in advisory even when he was living in Taiwan during remote learning.
"He had to be independent in doing that [and] incredibly mature," Lepler said. "He worked hard and he participated in our advisory from [thousands] of miles away. I've really seen him come into himself, find out who he is and what he likes and be confident in who he is."
Even as Ethan has grown into a more outspoken individual through his experiences in Taiwan, he embraces stepping into the less-spotlighted yet crucial roles in life.
"I'm not the type of person to stand out or be remembered in a way, but I like working in the shadow," Ethan said. "I enjoy helping other people and seeing them succeed. That's what I want to be remembered for — helping other people, [not for] any specific achievement, but [for] being someone that you can depend on."
Because of his involvement with investing, Ethan developed a fondness for spreadsheets, which he now applies to his daily life, as he finds that these portable tools allow him to organize better than writing down the information. He recalls the day he stayed up until 3 a.m. to transfer his entire stock portfolio, or collection of investments, into spreadsheets and create formulas to track information about the companies and his gains.
"[The contents were] information about the financials of the company [and] you could find it anywhere, but I wanted to have it for myself, and I wanted to create it myself," Ethan said. "They give me a greater understanding of financials and it also was a way for me to channel my interest in spreadsheets."
Close friend Allen Boyce (12), who has known Ethan since middle school, admires Ethan's ability to apply his knowledge to real-life settings. Whenever their friend group plans to meet, the outpouring of ideas can lead to disorganization, but Ethan quickly manages the situation using tools like spreadsheets to form a concrete plan.
"There's definitely an 'Ethan-ness' to everything that he does that I don't think anyone else can replicate," Allen said. "He does things in a very methodical way but still is able to thoroughly enjoy the things that he does."
Co-founded of Investment Club Zevan Drozda (12), who met Ethan in sixth grade, explains that his friendship with Ethan has allowed them to build a unique dynamic.
"It can be quiet at times, but it's nice that we've built that comfort around each other that I feel comfortable being quiet around him," Zevan said. "In a lot of my other friendships, I feel a pressure to perform."
Close friend Kai Due (12) describes the playfulness that ensues when he and Ethan spend time together.
"We like to crack a lot of jokes [about] anything we can find funny and even things we don't find funny we'll try to make those funny too," Kai said. "[My favorite memory is] all the random shenanigans we did in our off time."
After graduation, Ethan knows he will continue pursuing his passion for finance and business, and he has considered returning to Taiwan as well. Regardless of what path he chooses, Lepler urges Ethan to continue following his passions.
"He doesn't need to be the loud and boisterous one," Lepler said. "He can be thoughtful and make, when he speaks up, his words have weight. I don't think he needs to change any of that, so I want him to have fun and don't be afraid to do what he loves."
About the Contributor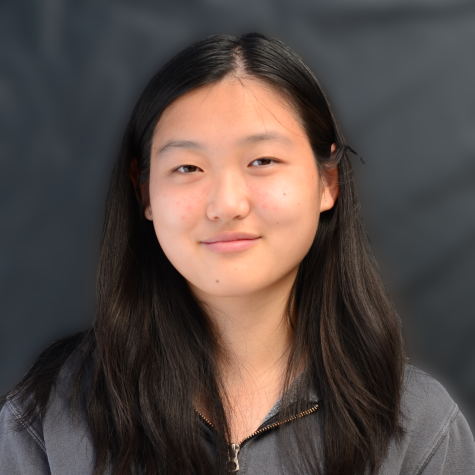 Emma Gao, Reporter
Emma Gao (10) is a reporter for Harker Aquila, and this is her second year on staff. This year, she hopes to explore writing a variety of articles as well...