2021 Spotify Wrapped summarizes users' listening experiences over past year
Spotify released its 2021 Spotify Wrapped feature, which allows users to explore their unique listening patterns and statistics over the past year, on Dec. 1.
According to Spotify's website, the personalized version of Wrapped, "inspired by the millions of weird and wonderful ways [users] listened this year," reveals the highlights of a user's listening experience over a tracking period from Jan. 1st to Oct. 31. Through a multi-slide story format accompanied with a soundtrack of a user's favorite tunes, Wrapped reveals several user statistics, including the total number of minutes listened and the number of genres and artists streamed. Additionally, Wrapped ranks each listener's top five most-streamed songs, genres and artists. With an introductory screen proclaiming that "This year was anything but normal," 2021 Spotify Wrapped adopts a theme of "embracing the unknown and championing all the things that make each of us unique." The final slide includes a summary of the top five artists and songs along with the minutes listened and top genre. 
Katerina Matta (9), who often listens to Spotify music while studying, streamed about 50,000 minutes over the past year and appreciates the retrospective quality of the Wrapped feature. Towards the beginning of 2021, she mostly listened to contemporary musical theatre, but she transitioned to 60s and 70s rock as well as other subgenres of rock over the course of the year.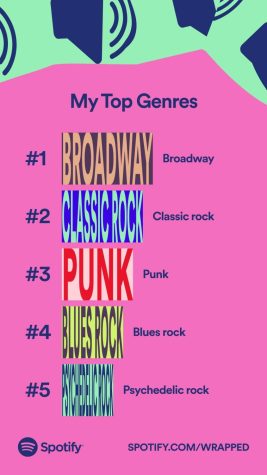 "I think [Wrapped] is interesting because everyone's music taste evolves a lot throughout the year, so it's fun to go back and see what we had been listening to previously and how much our music taste had changed over the [twelve] months of data," Katerina said.
Aniketh Tummala (10), who listened to over 5000 minutes on Spotify, also appreciates that Wrapped allows him to see the way his music taste changed. He switched from mostly listening to songs from popular culture to exploring less mainstream artists later in the year. He also echoes this year's Wrapped theme of consuming music in a year full of surprises.
"I think it's a nice feature to wrap up the year especially since 2021 was such a weird year," Aniketh said. "It's nice to see how far you've grown in music tastes."
Wrapped also allows users to see how their numbers compare to other listeners in the U.S. Kathy Xu (11) amassed over 300,000 listening minutes over the year. According to Spotify, Kathy's number was "more than 100% of other listeners in the United States." She has also listened to over 3000 artists, with her top being Slowdive.
"I play [Spotify] at all times," she said. "I got used to it playing so much [that] I tune it now. I also fall asleep to it pretty often."
This year, Wrapped added multiple new features to their story. For example, imagining 2021 as a movie, Wrapped picked three of the listener's top songs as the soundtrack to stereotypical movie scenes such as a scene of "proclaim[ing] your love in the rain." In addition, a new "audio aura" slide describes a listener's music vibe with words such as "empowering" and "confident" along with a colorful visualization. Other new features include "Playing Cards," a sharable two-truths-and-a-lie game using the user's data and "Wrapped Blend," which matches a user's song tastes with friends.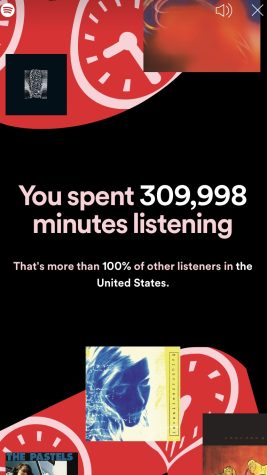 Wrapped also provides each listener with a "Your Top Songs 2021" playlist of their 100 most-streamed songs and a "Your Artists Revealed" playlist that allows listeners to interact with more content from their top artists. 
In addition to personalized information, Spotify also releases general playlists featuring the top songs and artists of 2021. This year, "SOUR" and "drivers license" by Olivia Rodrigo were globally the most streamed album and song, respectively, and Bad Bunny was the most streamed artist.
Released in the first week of December every year, Spotify Wrapped first launched in 2016, with new features introduced annually. Since 2019, users have experienced Wrapped in a social media story format. Listeners can share their Wrapped stories with friends via social media, and with the increased popularity of the feature, they began trending on Twitter soon after their release this year. As an active Spotify user, Aniketh explains why he enjoys listening to music daily.
"Most of the time I would say [music] is more of a distraction from what you're doing but I feel like that can be good sometimes," Aniketh said. "It makes you focus on less of [what's] annoying you and more that you find happy in your life."
Additional reporting by Sally Zhu.