Music Creation Club hosts student musical showcase event
Music Creation Club hosted an open showcase event on Friday during long lunch to present the musical compositions and works of five different students. 
During Friday's school meeting, Richard Zhang (11), co-president of the Music Creation Club, invited school members to attend the event. Music Creation Club is a new club started just this year, and the event consisted of both virtually presented recordings as well as in-person performances by club members to an audience of around a dozen students. Prior to the event, club members could request to perform or send in recordings. 
"[The event] was rather successful, especially as something that we rather rushed," Richard said. "People were able to showcase what they've done, and the positivity was great."
The event featured performances ranging across a variety of instruments and styles. Sophomore Shayla He sent in an audio of her vocal cover of "Avalanche" by James Arthur. Shayla specifically chose this piece because of the contrast between Arthur's vocal tone to her own. Next, the club showed a YouTube video from Iris Cai (9), who played "Fantasia in E Flat Minor" on the piano, which she composed by herself as part of the San Francisco Conservatory of Music's pre-college composition class.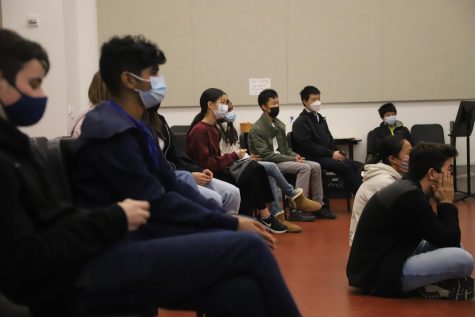 Following Iris, freshman Pranav Sukesh presented a brief introduction about his first-ever composition of an "anime series intro" style song, which he made after deciding to start music creation this year. Pranav chose an upbeat tone and built his song with mostly trumpet instrumentals. 
"There was decent turnout, and I liked the structure," Pranav said. "Everyone was really nice during the [event]. It wasn't super formal either, we just got to go around and talk about the songs. I thought that was really cool."
After each student's performance, the audience members took a few minutes to discuss their reactions to and thoughts about the song, with general feedback and praise.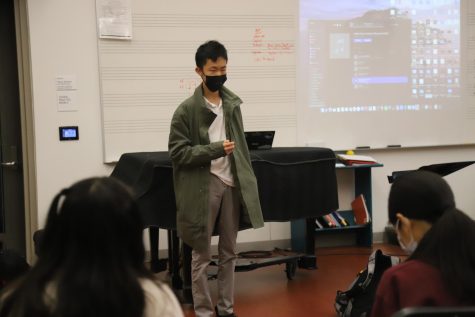 Ethan Guan (9) then shared a music video of the Korean-pop song he wrote called "Pemberton." Ethan, who uploads his music to a YouTube channel under the stage name "Be The Future," released "Pemberton" online on April 10 earlier this year after he started exploring music creation in late 2019. 
Finally, though not on the original set list, senior Spencer Cha ended the performances with a piano piece he previously composed called "Rhythmic Etude No. 5". Richard hoped to bring together music composers and share their songs and creations with the school public through the event and future Music Creation Club activities. 
"Most of the independent musicians are in their small groups," Richard said. "In broader terms, what the club meant to do is connect the independent musician community of Harker, so this event was showing how everyone has their own style and to show off their amazing time commitment and effort into their work."
Currently, Music Creation Club holds informational meetings almost every B-day, teaching attendees about making music, and they also offer a mentorship program to pair newer composers with more experienced mentors with meetings to work on songs together. Music Creation Club plans to hold more music discussions and potential contests as well as another showcase next semester. Interested students can contact Richard, Shayla or Spencer to join the club or its activities.