'Transcending Boundaries': TEDxHarkerSchool hosts annual TEDx event
Nearly 200 people attended the upper school's annual TEDx event on Saturday, Nov. 20, from 9 a.m. to 12:40 p.m. in the Rothschild Performing Arts Center (RPAC).
This year's event, themed "Transcending Boundaries," featured restaurant-owner, chef, and author Alice Waters, best-selling author Dan Roam, MasterChef contestant and author Hetal Vasavada and student speaker Aaron Tran (12). It was the first in-person TEDx event after almost a year and a half of online school following the pandemic.
"Being in person and seeing everyone come together, enjoy the event and interact with booths has been such a rewarding experience," TEDxHarkerSchool Director of Marketing Andrea Thia (12) said. "I think we all appreciate it way more."
The event started with a variety of booths open to students to explore in the Donor Plaza and RPAC lobby. This year's booths included Petoi: Programmable Robotic Pets, Eyevan Tumbleweed Found Wood Sculpture, MuteMe, Vinci, Slimeecoffee and Harker Art Club. 
Students learned about and played with Petoi's futuristic programmable robotic pets, decorated cards and bookmarks with Harker Art Club, played with a variety of slimes from Andrea's small business Slimeecoffee and rode Vinci's ergonomic electric bike. MuteMe, featured on ABC's Shark Tank, introduced its mute button for virtual calls that ensures users always know when they're muted. Bennett Ewing, known by his artist name "Eyevan Tumbleweed," displayed his wooden facial sculptures, a craft he has honed for the past 20 years. He reflects on his growth as a sculptor through the challenges he has faced and from where he draws inspiration.
"The first 11 or 12 years were me trying to improve upon my methods and learn new tricks, mostly by failing, mostly learning through failure," Eyevan said. "I'm inspired by the mystery of how these random things kind of come to me, complete chaos, seemingly random, and then how they all come together perfectly."
"
Being in person and seeing everyone come together, enjoy the event and interact with booths has been such a rewarding experience.
— Andrea Thia (12), TEDxHarkerSchool Director of Marketing
Alice Waters, who delivered her TEDx talk over Zoom, discussed school-supported agriculture, advocating for health through food and supporting the farm-to-table movement. She proposed a solution to both bettering the climate and public health through the procurement of food.
"We must change our habits to address climate, and that's why I'm thinking about food," Waters said in her speech. "This is a delicious solution, to buy food, get to know the farmers and ranchers, go to the farmers market and really eat the food that is seasonally delicious."
Dan Roam, author of five international bestselling books on visual storytelling, then spoke about the impact and influence of visual media in telling stories.
"More of the human brain is dedicated to processing vision than any other thing that we do by orders of magnitude," Roam said in his talk. "For the vast majority of us, we are profoundly visual creatures. When you have something to share, the more visual you can be, the more you're going to tap into that."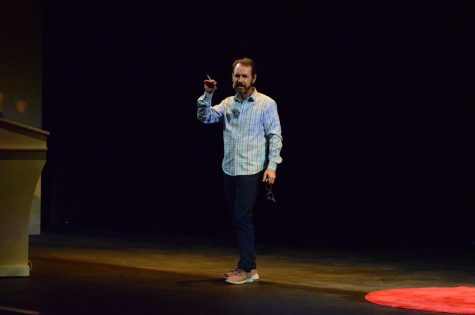 Roam's work has helped leaders at Google, Allbirds, the U.S. Navy and President Obama's White House Communication Team clarify complex problems. In an interview with Harker Aquila, Roam reflects on how living in Moscow and having to adapt to a new language and culture shaped his inspiration and passion for the topic. 
"I was trying to explain complex ideas to people with whom I didn't have a common language," Roam said. "Over time, I learned to speak Russian, but the commonality of the visual language is what made it possible for us to understand each other. And I realized, across culture, across language, the pictures are universal."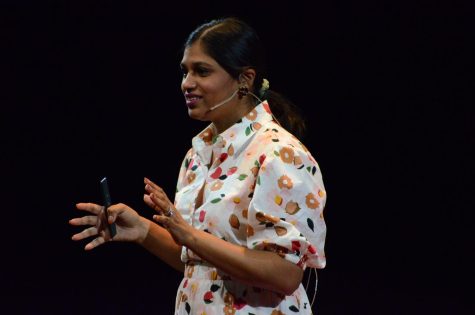 After a 30-minute break in which students reconvened to explore the booths and discuss the speeches, Hetal Vasavada, founder of the blog Milk & Cardamom and former contestant on Season 6 of MasterChef (U.S.), came to the stage to give her talk. She discussed her transition from working a traditional Silicon Valley career to pursuing her passion in cooking, despite having Biochemistry and Sciences degrees and facing familial pressure as an Indian American.
"My parents were not exactly thrilled that I decided to give up six years of an education and get bound tens of thousands of dollars in debt and give that all up to pursue a blue-collar career in food, but when they saw me on the show, they couldn't ignore my passion," Vasavada said. "After I got off the show, I had something that I didn't have: confidence." 
Aaron ended the speaker segment with a speech on the philosophical underpinnings of scientific misinformation. In his talk, he proposed solutions to tackling misinformation and constructing communities in a way that makes them work more resiliently together after the pandemic.
"We need to stop thinking about science communication specifically as an intellectual thing where, if you're smart enough, you know the facts," Aaron said. "The reality of things is more complicated, and I want us to be more global citizens, more aware of our surroundings and more aware of the systems that structure the kind of society we live in."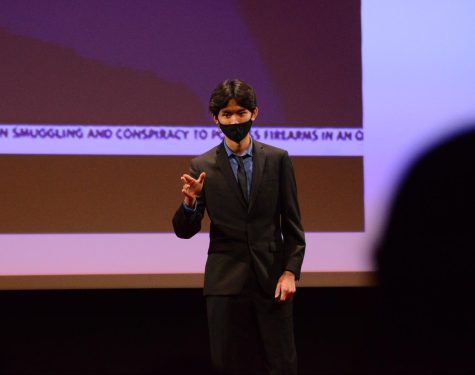 After the speeches, students were dismissed to a mentor luncheon from 11:40 a.m. to 12:40 p.m. Students chose to sit at a table with one of seven mentors, whose career backgrounds ranged from software engineers to CEOs.
"It's a good experience to have the students know the backgrounds of the mentors that are coming in so they can find someone who matches up with their interests," said Renee Rashid, a software engineer at Facebook and one of the mentors at the luncheon.
Anwen Hao (9), who attended the TEDx event for the first time, explains his change in perspective after listening to the talks.
"[Aaron] changed how I perceive misinformation, especially with the pandemic," Anwen said. "[The speakers] provide a lot of interesting questions for the audience to consider, but not only that, they offer solutions. A lot of these problems that they mention are actually relevant issues, and I feel like they empower us as students to solve these problems."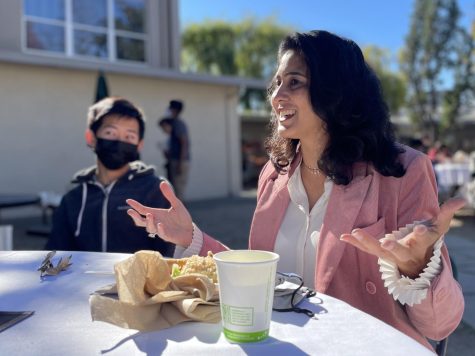 Additional reporting by Alysa Suleiman and Emily Tan.