Campus Compass: Manzanita Hall's new and improved vending machine
With a sleek white design and modern finish, Manzanita Hall's new vending machine sits proudly adjacent to the lunch tables under the back awning. Fluorescent light illuminates the colorful packaging of chips and granola bars stacked inside. Students gather excitedly around the vending machine, pointing out their favorite snacks and drinks.
Manzanita Hall's old vending machine was replaced with a new vending machine in late September. The new vending machine is larger and capable of storing more items. In addition, while the previous vending machine only accepted payment in the form of cash, the new machine is also compatible with Apple Pay, providing hungry students with a more convenient alternative to quickly pay for their snacks. 
"I really like it — it's really convenient, much more than just going off campus," Ishaan Parate (12), who enjoys the machine's Pop Chips, said. "I've found that I had to do that less now if I just need a quick snack."
The vending machine contains a total of 35 different items for students to snack on, from trail mix and baked potato chips to fig bars. It also has drinks such as Gatorade, chocolate milk and La Croix sparkling water. The snacks and drinks each cost around one to two dollars. In light of the COVID-19 pandemic, the vending machine also stores hand sanitizer, which students may purchase for $1.
"There's a lot more variety of snacks," said Sasha Masson (10), a fan of the machine's Cheez-its and chocolate milk, who visits the vending machine with her friends around once every other week. "It's never messed up yet and not given me what I wanted."
Harker relies on Me Fit Vending, a vending machine supplier, to restock the machine weekly with strategically chosen snacks.
"We want to make sure that the snacks are healthy, but we also track sales," Sarah Wollbrink, assistant to the executive chef at Harker, said. "Depending on what items are most popular, we stock [the vending machines] with that."
Me Fit collects and analyzes vending sales data each day in order to identify the snacks often bought and the snacks left untouched. A Me Fit employee then restocks the machine weekly with a selection of snacks that both cater toward student preferences and maintain a supply of nutritious options. Because the new vending machine has been installed only recently, not enough sales data on student preference is available. 
During the pandemic, the vending machine remained empty throughout the lockdown. With the reopening of campus this year came the revival of the vending machine, which was restocked with snacks. As student life begins to return to normal, the revitalized vending machine once again becomes a convenient snack option to fuel students through their day.
About the Contributor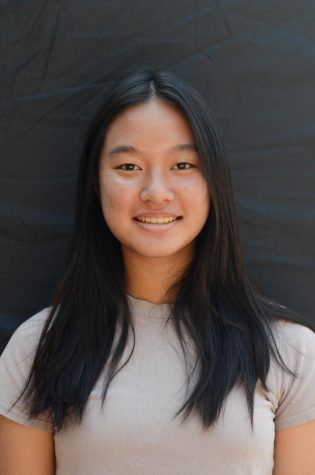 Michelle Wei, Humans of Harker Co-Managing Editor
Michelle Wei (11) is a co-managing editor for Humans of Harker, and this is her third year on staff. Through her writing, she hopes to explore topics in...