Teeming with tech: Harker community's favorite gadgets
Apple Watch:
Panting as beads of perspiration trickle down her face, Ishani Sood (10) pushes through the last few seconds of her fencing practice, prompting her Apple Watch to vibrate in response as she finishes the session. Her completion of her daily exercise delivers a notification to close friend Eira Saraff (10), who jokingly responds with auto-generated motivational phrases such as "Nailed it!" and "You're fire, fire extinguisher!" As a fencer, Ishani finds the product practical and effective.
"If I track how much exercise I do, I can figure out how many calories I burn and then how many calories I need to eat, so that's what I mainly use it for," Ishani said. "During tournaments, I don't use my phone that much just because it's sometimes distracting, so if you just have a small gadget on your wrist, it's really useful."
FitBit: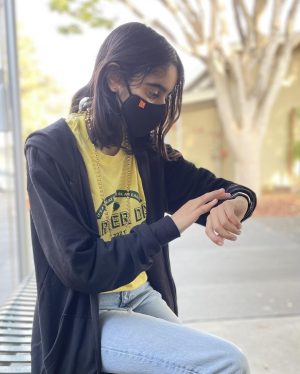 Similar to the Apple Watch, FitBits track steps, sleep, blood oxygen levels, respiratory rates and calories burned. FitBits even display "Active Zone Minutes" which computes exercise points based on the intensity of the user's exercise: a minute burning fat is equivalent to one active zone minute while a minute of cardiovascular activity or exercise at peak heart rate is two. This concept is similar to closing fitness rings on the Apple Watch, but both implementations of this idea ensure that users reach their personal exercise goals each day. While the Apple Watch has cellular abilities such as texting, FitBits provide more insight into sleep patterns and statistics in addition to measuring the user's skin temperature. For Ananya Bammi (11), her FitBit Charge 4 incentivizes her to exercise more and improve her sleeping schedule.
"Since school started, it's good to see that I'm walking more, and I usually compete with my friends and parents to see who gets more [steps]," Ananya said. "My mom always beats me, like she crushes me completely."
From watches to classroom projectors and from home to school, gadgets and devices surround us everyday. Technology has become fundamental to our lives, especially over the past decade. For instance, 85% of the United States currently owns a smartphone compared to 35% in 2011, and internet utilization, at 76% in 2011, rose to 93% in 2021.
Apple Airpods:
A popular gadget on the Harker campus is the Apple AirPods, which Alicia Ran (9) uses to listen to pop music on Spotify. She appreciates how comfortable they are and sometimes even forgets that she is wearing them. Despite these features, Alicia is frustrated with the pairing and connecting process.
"It connects to my phone easily, but that comes with its downsides because my friend wanted to use my AirPods one time, so she had to go through the pairing process, but now it sometimes  automatically connects to her phone," Alicia said.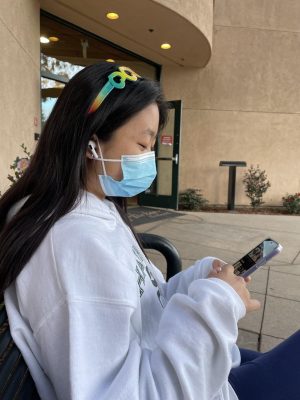 iPad Pro:
Another electronic device is the iPad Pro, which proved handy in remote learning, as it assists with the note taking process and reduces paper waste. In 2020, iPad sales surged by 19.8% due to these functions.
"It's convenient because I have all my notebooks basically in one small device," Nageena Singh (12) said. "I went to [Philadelphia] for a couple of weeks and instead of having to bring four or five different notebooks, I just had my iPad. It's really easy to download a document and then write directly on it."
The Apple Pencil is often purchased alongside the iPad due to its convenience for notes as well as other appealing features such as wireless charging and magnetic attachment to devices.
"Since I have an Apple Pencil, being able to not type it, have all my notes be my handwriting and change colors and everything is definitely something I enjoy," Norah Mehanna (9) said.
Ring alarm system and Amazon Echo:
Dr. Eric Nelson, upper school computer science and physics teacher, often uses his Amazon Echo as a timer and as a notifier for when packages arrive at his house. He also commands the Echo to complete jobs such as muting the television, but he hopes that device can soon comprehend shorter commands. The current order is "Echo, mute the media room," which he believes is laborious compared to just picking up the remote. Additionally, he owns a Ring alarm system, which he deems effective and reassures him of his house's safey and surroundings when he is away. 
"We've picked up mountain lions, coyotes, two different types of foxes, bobcats, quail, turkeys, deer, skunks, raccoons and possums," Dr. Nelson said. "I like the alerts because that way, for example, I can tell when my wife leaves in the morning or when she comes back."
Roomba:
Dr. Nelson also has acquired a hoard of defective Roombas to dismantle for parts if his functional Roomba has an issue.  
"I do like the Roomba vacuums," Dr. Nelson said. "I have about a half dozen of them in my Roomba graveyard that I collected. I've only bought about three over the decade or more they've been around, but I have one that's still working and then I have a graveyard of others that I use to keep the other one alive like Frankenstein Roomba with parts from the dead ones."
3D printer:
April Sun (12) purchased a Creality Ender 5 Pro 3D Printer two years ago and has been using it to craft small objects such as pencil holders. She hopes that future 3D printers can process cheaper materials to create the customer's desired products.
"I can make stuff at home without having to go out and buy something," April said. "I've heard that some people are exploring using 3D printers for construction. There's a pretty wide extensive application for it, but in a domestic context, I can only use it to print the small stuff."
Virtual reality headset:
She also owns an Oculus Quest 2 Virtual Reality (VR) headset which she plays games on, but a downside to the product is the dizziness that ensues after playing on it for twenty minutes. One of the device's featured games is a simulation that assuages agony felt by hospital burn patients, a preferable technique compared to injecting patients with drugs or forcing them to bear the excruciating pain. In a VR study conducted by PubMed Central (PMC), the convalescents' pain was evaluated based on a scale ranging from one to ten. Initially, the pain intensity was rated as 6.25, which dropped to 4.50, and the time spent thinking about pain fell from 76% to 22% once patients immersed themselves into the VR world.
"Technology can play an important part in health or change your life," April said. "I think that the reason why we have these gadgets is for purposes like that. Not so much for me to play with, but for the fact that you can help society step by step through small things like that."