Global Headlines (Issue 2)
Trudeau re-elected as Prime Minister in Canadian federal election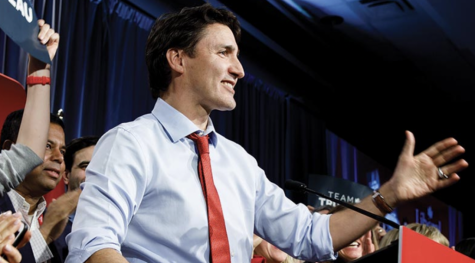 Canadian Prime Minister Justin Trudeau won in the federal election on Sept. 20, earning a victory for the Liberal Party, yet failed to secure the number of seats needed to win the majority vote. Trudeau, 49, is the son of former Prime Minister Pierre Trudeau and has served as Prime Minister since winning the election in 2015. The opposing Conservative Party, led by Erin O'Toole, consistently criticized liberal progress and succeeded in preventing a majority Liberal vote. The Liberal Party won 156 out of the 170 seats required to secure the majority, with the Conservatives winning 121, the New Democrats with 27, a gain of three seats, the Bloc Québécois with 32 seats and the Greens with two. During the COVID-19 pandemic, especially in recent months, the government spent over 500 billion dollars towards distributing vaccines and maintaining the economy during lockdown. He campaigned with goals of overcoming COVID-19 and distributing vaccines. Former U.S. President Barack Obama and former presidential candidate Hillary Clinton, both Democrats, supported Trudeau's victory.
Brazilians protest against President Jair Bolsonaro and call for impeachment
Protests occurred throughout Brazilian cities on Sept. 12 as part of the impeachment push against President Jair Bolsonaro, who has faced widespread scrutiny for his mishandling of the COVID-19 pandemic. The government's negligence led to widespread COVID-19 outbreaks and inflation in Brazil, drawing public criticism, and a March 2021 survey of 2080 voters across different sexes, age groups and educational levels show that 49% of surveyed voters disapproved of Bolsonaro's administration. Lawmakers viewed Bosolnaro's refusal to comply with the rulings of Justice Alexandre de Moraes of the Brazilian Supreme Court as unconstitutional. Despite the protests, Bolsonaro retains high chances of remaining in government. According to AP News, Bolsonaro's supporters continue to attend rallies in high numbers, and recent protests lacked radical parties. The influential Workers Party, led by their President Luiz Inácio Lula da Silva, did not participate in the protests.
Typhoon Chanthu surges through Taiwan and eastern Asia
Typhoon Chanthu poured torrential rains on eastern Asia as it traveled through cities in Taiwan, China, South Korea, and Japan on Sept. 11, cancelling airplane, train, and boat trips. After briefly passing by Luzon, an island located in the Philippines, without causing damage, Chanthu traveled through Taiwan's coast and left up to eight inches of rain. Cities on Taiwan's east coast had already suspended flights and train services and evacuated its citizens. Shanghai also cut off its transportation as Chanthu approached; according to AP News, the Ningbo airport in China cancelled 41 flights, and officials issued warnings throughout the city.
Japan reaches 50% vaccination rate
The Japanese government reported that over 50% of the population of Japan received a form of the COVID-19 vaccine by Sept. 11, yet the government continues to extend its ongoing state of emergency in cities until Sept. 30. Japan began administering vaccines to the elderly in April, compared to early March in the United States. The country faced vaccine shortages at the time but have since then vaccinated half of its population. Prime Minister Yoshihide Suga pledged in an online message to distribute 60 million vaccines. In the meantime, restrictions are expected to be eased soon to allow vaccinated people to gather in larger groups and travel without quarantining. As of today, Portugal has the highest percent of population vaccinated of all countries, with a vaccination rate of 84.37%. The United States has a vaccination rate of 56.24%. 
Catalan separatists rally against Spanish government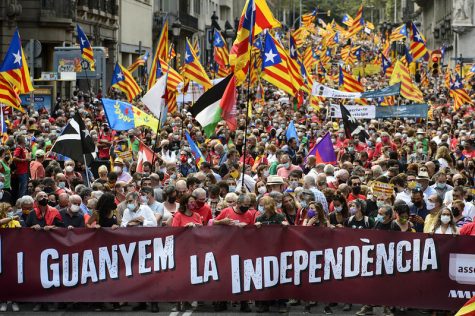 Thousands of Catalan separatists rallied against the Spanish government and clashed with police in Barcelona on Sept. 11 to advocate for Catalonia's secession from Spain preceding talks on Sept. 15 between the Catalan and Spanish governments. Representatives of each government will meet for the first time since October 2017 to continue their negotiations of a bilateral commission on Aug. 3 that will primarily address Catalan demands regarding its sovereignty and economy. Talks will likely continue until February 2022. Separatists, who make up 52% of the Catalan population, unanimously believe that Spain benefits more than Catalonia in the two countries' partnership yet have divided views over negotiations with Spain. Regional Catalonian president Pere Aragonès, who leads the Republic Left of Catalonia party, believes that negotiations are necessary to resolve disputes, while The National Catalan Assembly, the largest party which organized the rally, and Together for Catalonia are doubtful of whether talks with Spain will prove useful.