Kathy Hochul replaces former NY governor Andrew Cuomo, who resigned amid 11 sexual harassment allegations
Former Lt. Gov. Hochul sworn in as New York's first female governor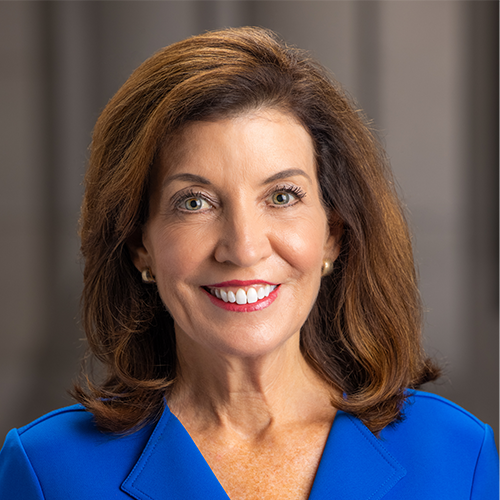 New York Gov. Andrew Cuomo announced on Aug. 10, that he would resign as governor due to sexual harassment allegations made against him by 11 women. Former Lt. Gov. Kathy Hochul was sworn in today as the 57th governor of New York and the state's first female governor. 
The official investigation, which was led by New York Attorney General Letitia James and released on Aug. 3, concluded that Cuomo engaged in sexual misconduct with 11 women and that his administration encouraged a "toxic" workplace culture in which sexual harassment was normalized.
Cuomo's resignation became effective today. The Assembly Judiciary Committee will continue the impeachment investigation and release a final report despite Cuomo's resignation, backtracking on a decision to abandon the investigation after receiving bipartisan backlash from legislators calling for the Assembly to release their findings. 
Cuomo's personal lawyer Rita Glavin, who has been publicly defending the governor since the release of the attorney general's investigation on Aug. 3, said in a briefing last Friday that the investigation included multiple errors and excluded exculpatory evidence to paint a "false narrative." 
"
Impeachment means that there is accountability. There are consequences.
— Karen Haley, upper school history teacher
According to the Assembly Judiciary Committee, other investigations on whether Cuomo's reporting of nursing home data during the pandemic was misleading and whether Cuomo used state resources to secure his book deal will continue as well. At least five different counties are investigating Cuomo's alleged sexual misconduct, and he could face criminal charges. 
"Those 11 women that came forward, they're definitely very brave to tell the story," Karen Haley, upper school history teacher, said. "There's a lot of courage there, so I definitely want to acknowledge that because a lot of women experience that and they experience that in silence. In line with that, impeachment means that there is accountability. There are consequences."
The same investigation released Aug. 3 into the sexual harassment allegations against Cuomo led to calls from political allies, including President Joe Biden, for the governor to resign.
"It was unfortunate [that the decision had] a lot to do with political agency and the votes within the New York assembly, but I think it is still a very powerful victory for the accusers and also for holding people in power [accountable]," Rahul Santhanam (11), secretary of FEM Club, said. 
The sexual harassment allegations and allegations of a toxic workplace environment began in December of 2020 and continued until April of 2021, with support for Cuomo's resignation increasing as more women came forward. Although Cuomo apologized for "offending" the 11 women in his resignation speech, he denied the sexual harassment allegations, stating: "In my mind, I have never crossed the line with anyone, but I didn't realize the extent to which the line has been redrawn." 
"When I heard [Cuomo's resignation speech], honestly, I thought that was disturbing, because no lines have been redrawn," Haley said. "Sexual assault, sexual harassment, that was wrong in the past, [and it is] still wrong. So I do think he was trying to shape the narrative to fit his situation." 
Hochul will serve for the remainder of Cuomo's third term and will run for a full term next year, according to Associated Press. As Hochul prepares to become governor during a time of crisis, she promised to diverge from the previous administration's "toxic" workplace reputation, continue the battle against COVID-19 and strengthen New York's eviction moratorium, among other issues.  
Lindsey Boylan was the first woman who came forward, and she spoke to Harker's FEM Club last year on a panel of women who were involved in politics.
"I remember from the meeting that she was always very supportive of females going into the political field, and she seemed very supportive of the other panel members as well," Carol Wininger (11), Vice President of FEM Club, said. "I'm really proud that she decided to be the first person to speak out, since I'm sure that's the hardest to do."
This article's featured photo was revised on Aug. 25, 2021 to maintain consistency with the headline.