Celebrating Asian American and Pacific Islander Heritage Month
Throughout history, the experiences of Asian Americans and Pacific Islanders (AAPI) have been surrounded with grief, loss and violence. But there have also been moments of joy, resilience and progress that we celebrate today during the month of May.
To honor Asian American and Pacific Islander Heritage Month, here is a look back at their history in the United States. Books and movies can introduce us to new perspectives and experiences, from the life of an expatriate after the Vietnam War to the stories of four young Chinese American women in San Francisco. AAPI Heritage Month celebrates the leaders who are shaping change today, breaking barriers of Asian American representation in business, the movie industry and Congress.  
Remember the difficult history of Asian Americans and Pacific Islanders in this country, but also see the beauty in the millions of people, stories and cultures within it. Here, Aquila has carefully selected our reading and watching recommendations, choosing works that accurately represent and honor their narratives. By cracking open a new book or pressing play to a new movie, we can allow ourselves to empathize with the history of pain but also feel the hope and the strength of AAPI experiences.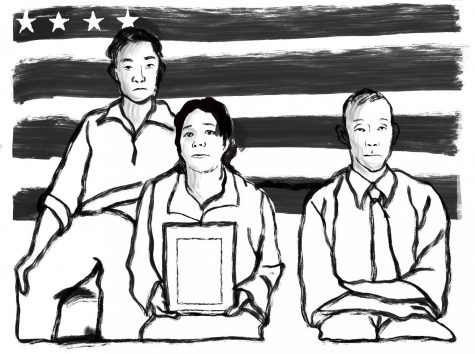 Why May? 
May was chosen for its significance due to two reasons. On May 7, 1843, the first Japanese immigrant arrived in the United States. More than 20 years later, on May 10, 1869, the first transcontinental railroad was completed, a project more than 20,000 Chinese workers participated in.
May was officially designated as Asian American Pacific Islander Heritage Month in 1992, after Public Law 102-42 was passed unanimously by Congress and signed by President George H.W. Bush.
Learn the history:
How to Celebrate:
Films to watch:
1. "The Joy Luck Club" (1993)
Based on Oakland-born writer Amy Tan's 1989 novel, four young Chinese women born in America and their respective mothers, born in feudal China, explore their pasts and their identities.
2. "The Farewell" (2019)
Chinese-born, U.S.-raised Billi reluctantly returns to Changchun to the family's beloved, dying matriarch Nai-Nai, uniting family members scattered among new homes abroad.
3. "Minari" (2020)
A Korean American family moves to an Arkansas farm in search of the elusive American dream, discovering the resilience of family and the meaning of home in the face of challenge.
Books to read: 
1. "The Sympathizer" by Viet Thanh Nguyen (2015)
A thrilling spy novel and a moving love story, "The Sympathizer" explores a life between two worlds, examining the legacy of the Vietnam War.
2. "Pachinko" by Min Jin Lee (2017)
"Pachinko" follows a Korean family who immigrated to Japan under the Japanese colonial rule of Korea, telling a raw story of love, hope, sacrifice and loyalty.   
3. "Minor Feelings" by Cathy Park Hong (2020)
Hong blends memoir, cultural criticism, and history to expose the truth of racialized consciousness in America, describing her theory of "minor feelings." 
2021: Bay Area AAPI leaders making history today:
1. Kamala Harris: first Asian American, first African American and first female Vice President of the United States
2. Eric Yuan: CEO and Founder of Zoom Video Communications, The Harker School parent 
3. Jon Chu: Groundbreaking Asian American film director known for "Crazy Rich Asians"