Humans of Harker: Creating the right vibe
Rohan Kannan uses his past experiences to mold a better future for himself and others
Heartily chuckling while in deep conversation with his huddled up friends during office hours, Rohan Kannan (12) points to another friend working alone on a lunch table nearby, checking in with him and asking if he needs any help.
Though others may not find it as easy to observe these small details, Rohan always strives to involve everyone in everything he does, whether that be conversations, video games or even walks to grab some lunch. He does these small gestures not for himself, but rather to make everyone feel included and to remind them that he is there for them if they need anything.
"In our friend group, we tend to joke around a lot even when we're talking about something serious. Personally, I think it's a great way to include people who don't feel as comfortable about speaking up and getting involved in our conversation — keeping everything lighthearted to let each person feel at ease with … speaking their mind," Rohan said.
It is this mentality that Rohan's friends appreciate. Comparing him to a "playful golden retriever" in that he is "someone who is exceptionally dependable and gregarious," close friend Krishay Mukhija (12) expresses the ease at which connecting entirely different people comes to Rohan.
"Rohan's personality is very multi-faceted — he has a great sense of humor and he knows when to apply it to lighten up situations. In a way, he's like a playful golden retriever because everyone wants to be around him to see what he does and says. He can fit into any group …  if there are two or three people who don't know each other that well, he can create this vibe that matches with everybody and get them all vibing together within 45 seconds," Krishay observed. 
Yet, Rohan confesses that this skill is one of many that did not come very easily at first for him. He recognizes that it took him years not only to find the right friend group for himself where he could be fully appreciated for who he is but also to mold himself into the person he wanted to be.
"My most defining experiences all came in middle school since I was able to explore what kind of person I wanted to mold myself into. It was a struggling process, but the effort that I was a bit reluctant to put in ended up being worthwhile. It wasn't just about finding a balance between school and leisure, but also about finding and fitting in with my own group of friends," Rohan said. "Now … I've found my crowd and I've struck that school and fun balance that's allowed me to be successful."
His transformation did not go unnoticed by his closely-knit friend group. Longtime companion Kishan Sood (12) comments on how he has witnessed Rohan's strides into adulthood.
"Especially for Rohan, he went from a bit of a wild child to super mature during sophomore year. That transformation was really cool to see because that year, he found his groove and struck that balance between having fun while also digging deep to focus on school. After that, he was a completely changed person, probably … the most responsible or motivated person in our group," Kishan said.
At the end of the day, Rohan wants to be remembered as someone who was not always focused on earning the highest grade in his classes, but rather as someone who would never hold back in giving those around him his all.
"I want to be known as someone who valued friendships above all else. If any of my friends ever need help, I'd want them to know that I'm always here for them to give them whatever they need — a listening ear …  or a laid back guy to hang out and chill with," Rohan said.
This sentiment is not just a desire. With Rohan, this determination to be this kind of person is genuinely translated over into all aspects of friendship, according to Srivishnu Pyda (12).
"Ro can literally be whoever you need him to be at any moment. We have this inside joke from this time where he said something super [smart] about a connection between Beowulf and Kant's moral philosophy. Ever since then, we've jokingly called him Beowulf, and it reminds us all that Rohan has so many dimensions to his personality. He can be funny, smart, caring — whatever you need," Srivishnu said. 
Ultimately, by molding his personality to be one that is able to stand out in a crowd in this way, Rohan hopes to live his life without having any regret looking back on past experiences.
"I want to be able to live life to enjoy it. When I'm older, I don't want to feel sad over things [just because] I never tried them," Rohan said. "I want to look back proudly at the person I am today and the balance I've struck between extracurriculars and academics and the simple [things] I do with my friends."
About the Contributors
Kushal Shah, Sports Reporter

Kushal Shah (12) is a sports columnist and podcaster for Harker Aquila. This is his fourth year on staff, and he hopes to improve as a sports writer...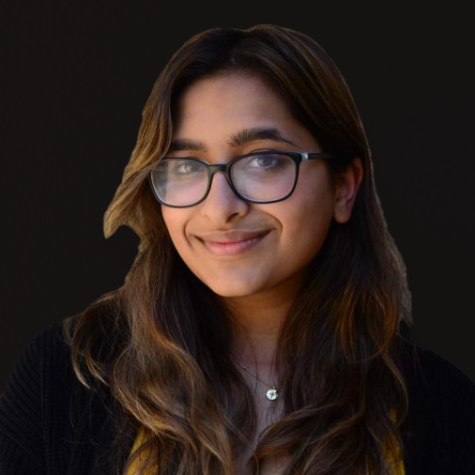 Esha Gohil, HoH Co-Editor-in-Chief and Aquila Photo Editor
Esha Gohil (12) is the co-editor-in-chief of Humans of Harker and the photo editor of Harker Aquila. This is her fourth year on staff, and this year she...