Humans of Harker: Communication and persuasion
Sophie Wang understands the value of voicing her opinions and caring for her community
Eyes gleaming, Sophie Wang (12) holds a conversation about her classes as she prepares to strike a dance pose. She places her phone down on the grass to perform various flexibility stretches. Once warmed up, she easily folds her body into a scorpion-like position. At the annual dance production, Sophie can typically be seen in multiple dances executing the leaps and turns of the choreography. For 14 years, Sophie has used dance as a way to connect with others and express herself.
From an early age, Sophie has had a desire to improve the community. Her caring and compassionate personality comforts the people around her and motivates her to seek change. Whether it is volunteering at a local library or speaking about current issues, Sophie wholeheartedly immerses herself in everything she undertakes.
"Whenever I approach anything, I always want to develop great, fantastic foundational skills first. I want to develop the technique," she said. "I always tell myself if you have something to say or something that you're passionate about doing, then go for it."
The study of astronomy interested Sophie after she learned about outer space phenomena in physics and science research teacher Chris Spenner's class. Sophie decided to join research since she was interested in how data could translate into real world solutions.
"[Sophie] has grown through a very conscious, self-aware process of sheer effort on top of talent to fill in any gaps of knowledge to completely master everything. She always has had that attitude of driven self-improvement," Spenner said.
Through one of her research projects, Sophie was determined to explore how the acknowledgement of important issues is slowed down because of romanticization in mainstream media.
"I wish others cared more about the issues that are right in front of our eyes. People [need to] discuss it on a deeper level; It's not enough to just bring their attention to it. You have to create a conversation and that's why I think that speech and journalism are such powerful platforms," Sophie said.
After realizing speaking up can have a huge impact, Sophie joined the speech and debate team so she could raise awareness on issues she thought were not discussed enough. Looking back on the body positivity movement, she admires the positive effect it had on the community.
"[The] body positivity, body confidence campaign has been around for so long and it's really done a wonderful job of creating an uplifting message for a lot of people. All these issues are everywhere and even on social media, but we [still] aren't doing [anything] to address them or change them," Sophie said.
Carrying the same energy towards other issues, Sophie was inspired to take matters into her own hands and write a piece about normalized racism and double standards of beauty. Focusing on the fox-eye trend, a fashion style that involves a combination of applying makeup and physically tugging the face to create a thin, slanted eye look.
"Skin color, eye shape and physical features make people not merely 'sensitive,' but vulnerable," Sophie wrote. "All the specific oppressions people of color have endured in history render jokes about their bodies permanently unfunny."
The article was featured in the student-run newspaper, The Stanford Daily. After national news channels started reaching out to her, she recognized the power of her words as a consensus on the racist severity of the gesture was ultimately reached.
Speech and debate teacher Scott Odekirk has watched Sophie develop her communication and persuasive skills through her time on the team. He advises her to do what she pleases without seeking the approval of those around her.
"I could tell that I was reading someone who was maturing into her own perspective on the world who had her own thoughts, ideas and vocabulary to communicate it … I think that she needs to know that she's a wondrous bright shining star, and she doesn't need to be anything for anybody," Odekirk said.
Sophie cares just as much about the people she loves, treating her friends almost as family. Friend Karina Chen (12) notices her motivational and fun loving nature.
"I've always watched her give her 100%, and no matter what she's doing, I feel like I [would] really want to learn [that skill] for myself," Karina said. "Sophie's a really great friend and listener. Whenever I need someone to talk to or ask advice from she's always the person that I would go to."
Sophie values the relationships she has created with her friends and family. She believes those memories and experiences have shaped her to be the person she is today. Sophie hopes that her decision to speak up will influence others to open up about topics important to them.
"Everything I do is worth it because it creates an impact. It brings me the greatest joy to see [my family and friends] feel heard, understood and happy," Sophie said.
Close friend Betsy Tian (12) also admires Sophie's dependability and thoughtfulness. She reflects on the many times Sophie has made it her mission to bring smiles to the faces of her friends.
"She works really hard to be genuine to other people. It's rare how authentic she is," Betsy said.
Sophie relates her family tradition of growing cucumber to her thoughts on love. She enjoys gardening with her family, which she started doing with her mother as a young child. She compares the nurturing of the produce to the smaller achievements in life.
"Love and families are like cucumber seeds. The more you spread it, the more of it grows … Growing cucumbers has imparted on me some of my most important life values," Sophie said.
Close friend and fellow speech and debate team member Helen Li (12) fondly narrates incidents that show Sophie's kindhearted nature whether it is helping others on a plane ride or remembering each and every one of her friends birthdays.
"[She] reminds me of a caring mom who is willing and flexible to take care of [all her friends]," Helen said.
Sophie's security in the love and support of her family has given her a confident outlook on life and as she steps out in the world, she plans to continue giving to the community. From a young age, Sophie's mother would spend time with her reading, nurturing her appreciation for books.
"[My family] is as close as the bindings of a book, and then having the joy to extend that to others is an even greater feeling," Sophie said.
About the Contributors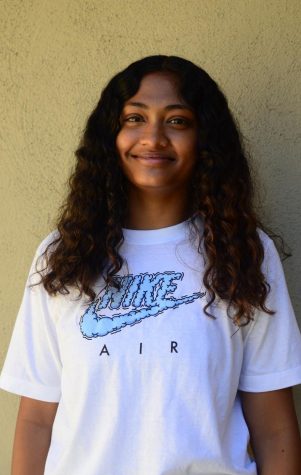 Smrithi Sambamurthy, TALON People Editor
Smrithi Sambamurthy (11) is the people editor of the TALON Yearbook, and this is her third year on staff. She is excited to create fascinating graphics...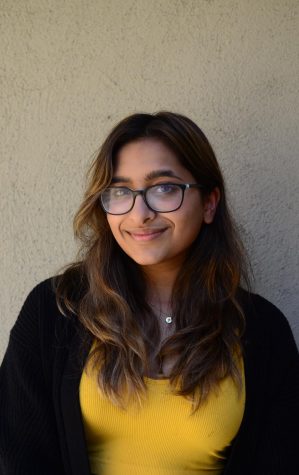 Esha Gohil, HoH Co-Editor-in-Chief and Aquila Photo Editor
Esha Gohil (12) is the co-editor-in-chief of Humans of Harker and the photo editor of Harker Aquila. This is her fourth year on staff, and this year she...