Humans of Harker: Trust the process
For Eric Zhu, the job is never finished
"Boom Boom Boom Boom!"
One of the first memories that arise when you ask varsity boys basketball assistant coach Eric Lee about Eric Zhu (12) is of him playing an entirely different game — Brawl Stars.
"When we were in Hawaii, he would ride in the SUV that I was driving and he would always play Brawl Stars with the kids, and all I would hear him saying is 'Boom Boom Boom Boom!' really loudly in the back and laughing and having a ball," Lee said. "It was great to see him have so much fun and help other kids have a lot of fun, because some of those kids were younger, quieter kids."
Now, Eric shines as co-captain of the basketball team, a tenacious point-center essential to their leadership and chemistry both on and off the court. The jokes and positive energy have always come naturally to him; but his basketball journey has been sinusoidal, his joy for the game accompanied by struggles. After picking up the sport in elementary school, playing for both the Harker team and Silicon Valley Basketball Club (SVBC), Eric began his middle school career with a broken finger that sidelined him for weeks.
"Coming back from [the injury], I suddenly went from one of the better players [on SVBC] to being on the bench all the time," Eric said. "Even my parents started telling me to consider quitting. But I decided to push through that and I felt like I could earn more playing time."
In his freshman year, history repeated itself — a dislocated finger robbed Eric of half his season. Yet, this time, he worked through it. Instead of spending his afternoons recovering on the sidelines, he continued to run with the team, participating in all the drills he could with his non-dominant left hand. He earned a promotion to varsity the following year, where a plague of injuries opened up opportunities; late in the season, after starting forward Trevor Thompson ('19) fouled out during overtime in a league game at Priory, upper school division head and varsity boys basketball coach Butch Keller called Eric off the bench.
"I [would've] understood if he hadn't trusted me in that moment. But I could definitely see that trust that he had when he put me in," Eric said. "All I did was tip the inbound pass. That basically ruined their entire inbounds play, and because the shot clock was pretty low, they had to drop a random shot. So that really sealed the game."
That single play is emblematic of Eric's playing style — unselfish and unique, loosely emulating Denver Nuggets center Nikola Jokic. He knows his contributions don't necessarily come from scoring the most or making the flashiest plays. But when he steps out onto the court, without fail, a switch flips.
"There definitely is a shift in mindset. It's something you feel. When I'm on the bench and I see him or when I'm playing with him, it's a lot different than when we're just having fun playing a video game. His competitive side jumps out," Andrew Chen (11), who has played alongside Eric on the varsity basketball team for three years, said.
Whether as an outlet for his competitive hunger, a buffer against stress or the impetus for some of his closest friendships, basketball has become a stalwart in Eric's life, teaching him lessons that transcend the sport.
"It has definitely helped me find something I'm passionate about and no matter what the situation is, always push through and keep grinding," Eric said. "There's really no end goal for me. It's continuing pushing to keep on improving, which connects to my life's goals too."
For instance, when he was first urged onto a court by his parents in second grade, he cried, scared of venturing beyond the familiar. It's the same discomfort Eric felt when initially signing up to volunteer with Friends of Children with Special Needs (FCSN) in junior year, where he later pioneered a graphic design course to teach his students to create presentations and resumés to help them in their later careers.
"I've always been too complacent with being in my comfort zone. [But] in high school is when I really started thinking about the big picture," he said. "When I thought about that decision [to join FCSN], I knew it was going to be a challenge at first, but in the big picture I knew it would be a challenge that I could handle. That struggle at first would definitely be worth the gratification from being able to impact their lives."
And Eric has never been one to shy away from a challenge. When the Eagles play teams with much taller centers, he eagerly anticipates locking down his outsized opponents. In conducting research over the summer, he dove headfirst into a complex haptics project and learned several new software programs on the fly. Even for the most insignificant of math assignments, he finds joy in grappling with the intricacies of Mathematica, simply to exercise his mind.
"In general, I value the process more than the end goal … I want to enjoy every moment and really focus on each step," Eric said. "That time I spend trying to figure out that challenging problem is always just as gratifying to me [as figuring out the solution.] That's why I set really high goals because that helps me continue reaching and always gives me room to improve. Like Kobe said, '[the] job's never finished.'"
Yet at the core of that intense work ethic lies the same happy kid who yells loudly with his teammates while playing video games and constantly roasts his friends — someone who Lee describes as an "elite flopper" and close friend Bryan Zhang (12) terms an "absolute goofball." He lives in the moment, he doesn't believe in regrets — and, at the end of the day, he stays humble.
"I'm proud of every moment I've done well, but at the same time I don't see one moment over the others. By being proud of a moment too much you're satisfied and complacent — and you can't ever be complacent. You want your proudest moment to be in your future. I feel like the past isn't important; it's about what you do in the present and the future," Eric said.
View Comments (1)
About the Contributor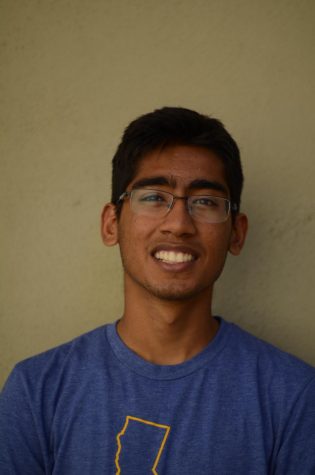 Aditya Singhvi, Managing Editor

Aditya Singhvi (12) is a co-managing editor of Harker Aquila. This is his fourth year on staff. Outside of journalism, he enjoys running and watching...