Humans of Harker: Never too many jokes
Meilin Yen uses music and humor to uplift others
Laughter punctuates the room after Meilin Yen (12) shares her latest musical pun, a play on words about accidentals. Smiles instantly appear in the room on the faces of everyone in Cantilena. As someone who comes to choir armed with a mental list of musical jokes and puns, Meilin is a never-ending source of comedic relief and fun during rehearsals. 
For Meilin, choir is her happy place, and her reason for staying in choir all four years is simple: the community. From singing in Bel Canto freshman year, Camerata sophomore year and Cantilena both junior and senior year, she's grown as a singer and as a Cantilena section leader who guides other singers.
"I really like being in that kind of group singing environment," Meilin said. "Sure, songs might be hard, we all have our disagreements, but in the end, we all get along really well and I feel like we can all let loose around each other."
For all the puns and jokes she makes, Meilin's resume as a singer is no joke: she made the California All-State Honor Choir all four years of high school, made the National Honor Council during her sophomore and junior years, and was invited to perform a solo at Carnegie Hall twice. Yet, despite her list of accomplishments, upper school vocal music teacher Susan Nace notes that Meilin stays humble as a section leader and leads by example, gently correcting others' mistakes. 
"When she works [as] a section leader in Cantilena, she always uses herself as an example," Nace said. "If she makes a mistake, she will say, 'Oh, I made a mistake. I bet you made the same mistake. Or maybe not, maybe you're better than I am.' She's always very careful to lead with a lot of humor and grace."
Nace recalls Meilin's accidental pun with a chuckle, noting that Meilin is particularly adept at reading the room and knowing when to be funny and when to be serious about rehearsal. 
"One time in rehearsal, there was an accidental that was a sharp in the section," Nace said. "And she [said], 'Oh, those pesky accidentals, and they want us to stay sharp for the entire measure, I guess I'm not so sharp. I didn't notice it.' She's always making those kinds of jokes."
With the community she's found at choir, Meilin views music as a medium for bringing people from diverse backgrounds together and bridging connections between people in a way that words cannot. When attending the Honor Choirs, which are three-day programs for talented singers who display a high level of character and discipline, she sees people from various backgrounds coming together and being united by music. She also highly appreciates meeting singers outside of Harker and working with them.
"You get to meet a variety of people and work with a different director and get that different perspective on a lot of pieces and see how they teach it differently," Meilin said. "If you see two [singers], and they're totally different, they never would have interacted otherwise, but Honor Choir, put them together. And you can see that maybe they're more similar than they would look to be."
Friend Audrey Liu (12) emphasizes Meilin's sense of empathy for others, a quality that Meilin displays in her interactions with friends and family.
"She's a really good listener," Audrey said. "If you have something that's on your mind and you talk to her about it, she's really empathetic about it. She can make me feel better on a pretty rough day."
Meilin's quick wit extends outside of the sphere of music as well. Her younger sister Meishin Yen (9) points out that Meilin loves to share memes with her family and that in conversations, Meilin frequently draws connections between unrelated subjects.
"She likes puns, and she does the classic dad jokes that make you cringe almost enough to hate it, but they still make you smile," Meishin said.
Outside of choir, Meilin also cosplays in her free time as a way of expressing herself. After realizing that sewing her own costumes takes up a lot of time, she has channeled her creativity into re-purposing simple garments and decorating them to suit her cosplay character. Over the summer, she likes to frequent cosplay conventions, which, like Honor Choir, also bring a diverse array of people together.
"There's always a ton of people [at conventions]," Meilin said. "I think everyone who goes there loves it because you get to meet other like-minded people and bond with them, when maybe when you're out of cosplay or out of convention mode, you wouldn't [bond with them as much]." 
Most of all, Meilin strives to support others with her own musical abilities, whether that be teaching sight reading to classmates who are struggling, fostering a welcome atmosphere for newer singers or providing guidance to underclassmen in choir.
"I want to be known for more than being a good singer; [I want to be known for] being a good mentor to other people in the Conservatory," Meilin said. "You can have a whole bunch of talent, but are you going to keep it to yourself, or are you going to use that to help other people? I want to be remembered for helping people get better with their own musicianship."
About the Contributors
Lucy Ge, Aquila Co-Managing Editor
Lucy Ge (12) is the co-managing editor of Harker Aquila with a focus on equity and outreach, and this is her fourth year on staff. Through journalism,...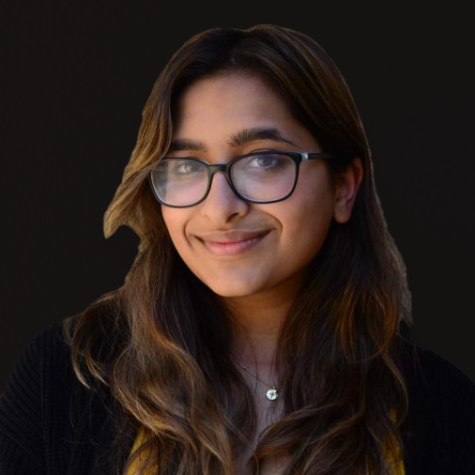 Esha Gohil, HoH Co-Editor-in-Chief and Aquila Photo Editor
Esha Gohil (12) is the co-editor-in-chief of Humans of Harker and the photo editor of Harker Aquila. This is her fourth year on staff, and this year she...