No retreat, no surrender
Kinetic Krew's "White Flag" video sets a new precedent for virtual dance
In wartime, a white flag represents an ultimate, definite concession. It calls the surrender, requests the truce and cements the defeat. But now, the pandemic has waged a war against normalcy, threatening to stamp out the flame of creativity that defines so many performing artists. 
Without a stage and without an audience, upper school dance team Kinetic Krew lost two significant aspects of their normal performing experience to the ongoing pandemic. Although it would be easy to admit defeat, Kinetic Krew refused to raise a white flag, instead choosing to remain defiant against the pandemic's limitations through the art of dance.
During a school meeting on Dec. 3, Kinetic Krew released their "White Flag Virtual Performance" to Bishop Briggs' song "White Flag." One by one, Zoom rectangles popped up on a black background, each featuring a Kinetic Krew member as they moved in, out and across the screens in synchrony. 
"Performing artists are in performing arts because they are creative," said Rachelle Haun, upper school dance teacher and choreographer for Kinetic Krew. "When you put them in a difficult situation, they're going to figure out creative ways to perform anyway. Everyone is figuring out their own way to make sure that we can perform because that's just what we do." 
Initially, Haun created the choreography without an actual performance schedule in mind since Kinetic Krew's annual performances in the Fall Picnic and Big Assembly Day (BAD) were canceled due to the pandemic. While brainstorming, Haun tried to focus on choreography that would be easier to teach sitting down, which prompted her to come up with a dance number in Zoom format.  
"
"I selected the song 'White Flag' because it was a good way to communicate how we felt at the time. Even though we're stuck right now, literally in our tiny little boxes, we were still going to figure out a way to dance and we weren't going to give up, and that's what the song is all about. We're not admitting defeat, we will keep fighting.""
— Rachelle Haun, upper school dance teacher and choreographer for Kinetic Krew
Despite virtual learning challenges, the upper school community sent positive feedback in the Zoom chat, applauding Kinetic Krew's unexpected video performance. On behalf of the dancers, who spent tireless hours perfecting movements and cohesiveness, captain Alex Kumar (12) felt that the comments were "validating" and akin to "the applause at the end of an in-person routine." 
 "We have a group chat with Kinetic Krew where we were all sending screenshots of the different things people had said, and it felt really good," Alex said. "At first, it still felt like we just recorded a video and people would watch it if they wanted to, but [the comments] made me feel like we were finally back to being dancers and performers." 
Before Kinetic Krew recorded their final video, Haun recalls the immense effort of teaching choreography online, as well as the added time commitment from editing the video afterward. An especially important factor was constantly issuing clear verbal communication, such as specifying a movement using the left hand since the dancers' screens would show the movement as Haun using her right hand. 
"The biggest difficulty for me has been the reflections on Zoom and being very specific about teaching, which makes the choreography take so much longer than if we were in person," she said. "Overall, 'White Flag' was a really good learning experience for everyone. [The dancers] also had to figure out how to learn by themselves in this [virtual] environment instead of being able to vibe off the person next to them."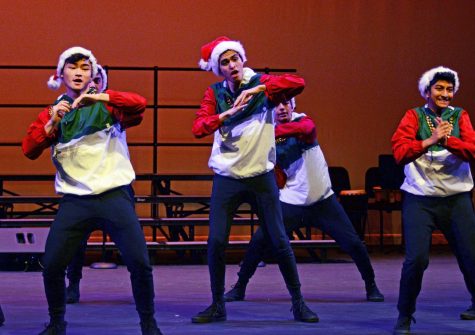 Kinetic Krew's transition into a full class period this year has also given Haun more time to teach and refine choreography, in contrast to shorter, weekly practices after school in previous years. At home, dancers send in videos of themselves practicing counts, and afterward, Haun gives them corrections and notes. 
"I watch them all at the same time by layering their videos next to each other to figure out who is off or doing things the incorrect way," Haun says. "It's time-consuming; where it takes 30 seconds watching the team [in person], the same process is now taking me multiple hours to clean. I list all the things that they need to fix, they go off on their own and resubmit the video and the process starts again."
The class periods have also provided Kinetic Krew with more opportunities to connect with one another, a welcome change since a majority of last year's team are returning members.
"Especially now, it's so important, that no one feels like they're alone," Haun said. "Being able to have that entire class with them instead of the short period that we used to have on Fridays has allowed us to foster that environment for them." 
With four new dancers on the team this year, Kinetic Krew also capitalized on welcoming and introducing the freshmen to the upper school dance community.
"It's a family bond," Luke Mehta (9) said. "We met up at a park one time, social distancing and all, and I'm really looking forward to doing more team bonding in person." 
Luke, a dedicated dancer who danced with the middle school team High Voltage, was pleasantly surprised with the end result of his first performance with the upper school team. 
"During practices, we had to be aware of natural elements filming outside, such as having the sun glaring on our faces [on the screen]," Luke said. "I initially just did not think it was going to work because it's really hard to have us all synchronized, but after finally watching the one that was shown at the [school] meeting, I was pretty surprised by what we can do as a team to showcase our skills."
Since BAD is canceled this year, recorded performances for all upper, middle and lower school performing arts groups will be made available in a virtual holiday show tomorrow during the assembly period, where Kinetic Krew's video will be displayed again.
About the Contributor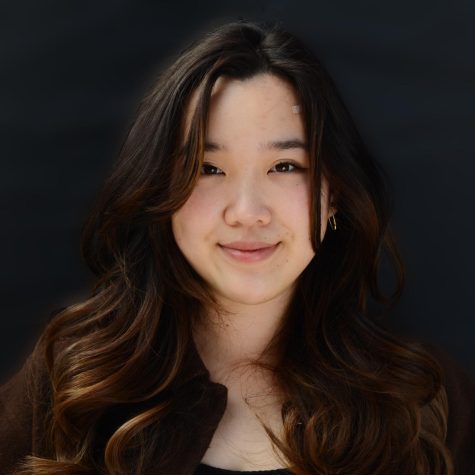 Alysa Suleiman, Aquila Co-Editor-in-Chief
Alysa Suleiman (12) is the co-editor-in-chief of Harker Aquila. This is her fourth year on staff, and she previously served as Aquila's first A&E editor,...