Humans of Harker: Step by step
Anna Weirich dedicates her time and energy to running
A school of clouds sprinkle across the sky, creating a layer of fog just thin enough to reveal the entire San Francisco Bay. Birds chirp quietly, and the dry grass sways gently in the warm afternoon wind. With a warm smile across her face, Anna Weirich (12) cheerfully leads the way on her favorite running trail in Portola Valley, CA.
After participating in gymnastics until middle school, Anna began running cross country at Harker in sixth grade. She was immediately drawn to cross country's group environment after participating in a six-week season. 
"I think I just fell in love with the team atmosphere and just running itself, how it's such a mental and physical sport," Anna said. "I just love it because I love the team and getting to know people, but I [also] love the hard workouts and getting to travel and see [new] places." 
Santoshi Tirumala (12), a close friend and former cross country teammate of Anna's, has gotten to know her both on and off the course. 
"I see how she interacts with her teammates, and she's definitely very encouraging. She's always cheering her teammates on when they're running on the track, and she's also very driven and motivated to reach her goals," Santoshi said. 
Growing up with parents who ran in high school, Anna's family inspired her to start running. She remembers watching her mom run in national parks outside of California, which prompted her to try the sport herself. 
"My mom did the ultra marathons, like the trail races, and she did a couple in Utah so we saw Zion [National Park] and Bryce Canyon [National Park]," Anna said. "I think it was just amazing to see these beautiful places."
In order to prepare for her races, Anna runs six to seven hours a week on top of strength and core training. She pushes herself by setting her own goals which she keeps in mind to motivate her to train. Her parents also motivate her to keep doing what she loves. 
"My parents have always taught me that the most important thing is to be happy, but also to work hard and all the hard work will pay off," she said. "I think that definitely has carried over to my running, because every day, doing every workout, all the hard work pays off for the big picture, like those wins [including] winning [Central Coast Section] (CCS)."
Yet, not all went as planned. In sophomore year, Anna faced an unexpected toe stress fracture. Health officials initially misdiagnosed her injury, and it prevented her from running for eight months. While it was difficult for her to take a break at the time, she feels that it had a positive outcome.
"It was sad to not get to do what I loved to do, but I think [the experience] really helped me grow mentally. When I came back [to running], I definitely enjoyed the sport a lot more, and I was a lot more appreciative of it," Anna said.
The following year, Anna returned to running and continued to train. She finished the cross country season by taking first place at the Central Coast Section Division 4 cross country race. 
"Going into [CCS], I had been getting second and third in my races, and I really did want to win, but I was also really excited because our team qualified for the first time in four years," Anna said. "It was really fun to be on the starting line with people and to just not be alone."
In addition to being with her teammates, Anna enjoys spending time with her friends. Natasha Yen (12), another close friend of Anna's, described Anna's fun side.
"She's a really bubbly person, really fun to talk to, and she has a silly side of her where she goes all out," Natasha said. "She's also very dedicated to her running, and I admire her so much for that because it's a lot of work and she puts in a lot of effort in everything she does." 
Anna's dedication and perseverance is not only evident in sports, but also in her academics. Upper school mathematics teacher Dr. Lola Muldrew, who has taught Anna in both her junior and senior years, noticed her diligent traits in the classroom.
"As I grew to know her over the year, time and again she would come back, asking questions, getting clarity, [and] working on being able to interpret things, but with authenticity." Dr. Muldrew said. "What I found is that she recognizes that she is the path to her success, and I think that's really special."
Besides working hard, running has also taught Anna to think less about winning specific races and more the experience as a whole. She found that her fear of not performing to the best of her abilities sometimes distracted her in races, and she learned to focus on what is really important.
"The competitiveness helps [me] by driving [me] forward and motivating [me], but it can also hurt [me] by psyching [myself] out," Anna said. "At the end of the day, [running is] just for fun, and it's just a race … there's so much more to life than that."
Anna has been running throughout quarantine locally while following safety guidelines to travel across the country and remain safe. In the future, she hopes to continue running throughout college.
"The longer I've been running, the more I love it. I feel like it's taught me so many life lessons, and it's always pushing me to be my best on and off the field. I do it everyday because I like it so much, but on top of that, you can be so much more. I'm still a student and everything, and [I have] a normal life," Anna said.
About the Contributor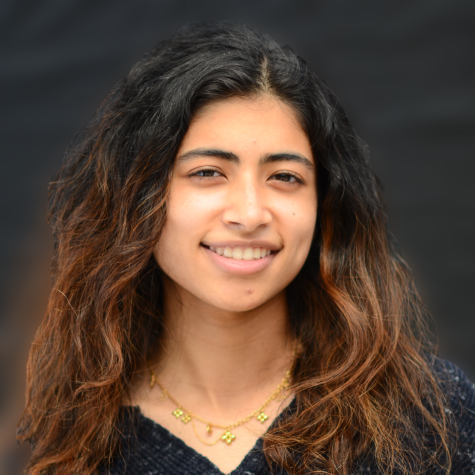 Anika Mani, TALON Co-Editor-in-Chief
Anika Mani (12) is the co-editor-in-chief of the TALON Yearbook, and this is her third year on staff. She enjoys traveling the world, trying out new restaurants...