Drop in emissions has occurred due to less travel during the pandemic
by Mark Hu, STEM Editor
November 10, 2020
The transportation sector is in decline in 2020 due to reduced travel during the COVID-19 pandemic. Air travel is projected to drop by 66% in 2020 when compared to last year's numbers, according to the International Air Transport Association (IATA), a trade association representing airlines from 120 countries, and in addition, surface transportation, modes of transport excluding airplanes, has decreased by more than 50% in over 50% of the world's population.
According to the Rhodium Group, an economic data research provider, the United States experienced minimal change in greenhouse gas emissions in the transportation sector in 2019, decreasing by 0.3% after a few years of growth. However, a study published in August for Nature Climate Change indicated that in 2020, country-level transportation emissions are within a 20% decline.
"Overall, the pandemic has decreased fossil fuel consumption by a lot," Jeff Sutton, upper school AP Environmental Science teacher, said. "If we can pivot into using less fossil fuels and jump right into solar and wind and renewable energies, we can continue to see a decrease in greenhouse gases that are being released through transportation."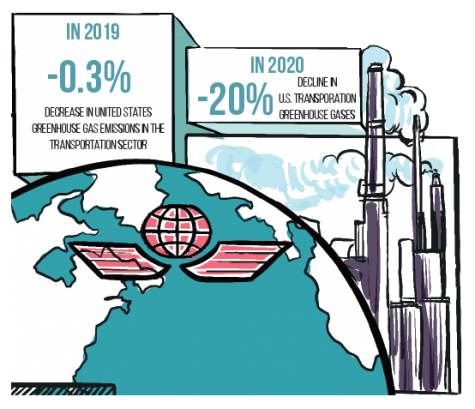 Transportation in the Bay Area is taking a toll due to the pandemic, as fewer riders have led to reduced operating hours and fewer buses and trains. Bay Area Rapid Transit (BART) has experienced an 84.7% drop in ridership from Sept. 1 to Oct. 15, compared to baseline values from last year. In addition, Valley Transportation Authority (VTA) buses are running on reduced service until further notice as ridership has decreased by a similar amount during the pandemic.
"As far as public or community transportation, it's disappeared [during the pandemic], and I think that when things start to get back to normal, it won't really change," Arthur Jakobsson (12), who took the bus to school before the pandemic, said. "There might be a negative effect of people taking less public transportation because they don't want to get infected."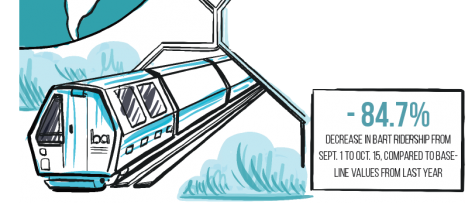 Intercampus shuttles that ran during the school year before school and in the afternoon have been halted, and bus service to Silver Creek, Fremont and Peninsula has also been paused as school continues in remote learning.