2019-20 yearbooks available at next distribution day
Yearbooks for the 2019-20 school year will be available for pick up during the next upper school distribution day on Nov. 7. Spring supplementals, which covered student life events, sports, organizations and academic events from March to June, will also be included with the yearbooks.
This year's theme, Emergence, reflects the TALON Yearbook staff's goal of capturing the changes that the Harker community has experienced in the new decade and positively reflecting on the last year.
"We chose [this theme] because we wanted to reflect on how at Harker, we're starting to become more present in the community around us and more confident in sharing our voices," said TALON co-Editor-in-Chief Shreya Srinivasan (12). "It's super exciting to finally get the book out into our community's hands because we've wanted everyone to see what we've been working on, and even though last year was a bit different than normal, there are definitely a lot of pages in the yearbook that people can look back on and realize that it was still a really good year."
Yearbook distribution is especially important for Talon because it is the culmination of a year's worth of effort.
"Yearbook distribution is always one of the best times of the year for us because we get to share the product we've been working on for the whole year. We're not like Winged Post where we release something every month or so, so its really exciting for us to see the community's reaction on distribution day," said Anthony Xu, 2019-2020 TALON co-Editor-in-Chief. "Of course this year it's not going to feel the same, but it's still nice to know we've given back to the Harker community, and I hope people will flip through the book and remember all the great memories we had last year for the time we got to spend on campus."
Though the shift to remote learning created challenges for the Talon staff, the team continued to persevere and find new ways to capture the school year.
"Every yearbook is special. Every year's book, in the moment, is nice. But a yearbook is something that gains in its value to each of us as the years go by because it reminds us of the memories that each of us created. When we look through the pages, it takes us back in time," said Ellen Austin, Director of Journalism. "This 2020 book is especially important because it's the object that talks about a time we all went through together, that tested us in a time of challenge and struggle. And yet we persevered, and we did it as a community."
The yearbook staff has also planned a special pickup day at a later date for the class of 2020 to receive their yearbooks. Check Harker Aquila for more information regarding specifics and logistics.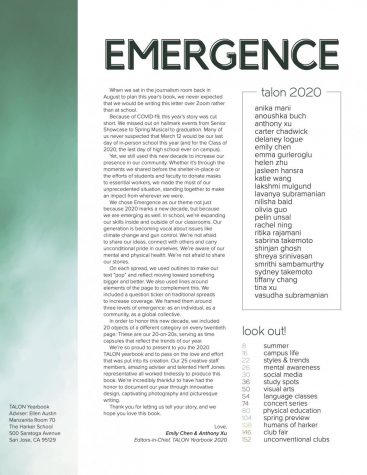 Nilisha Baid