Humans of Harker: Leading by connection
Bryan Zhang creates the small moments that matter
"I'm 6-foot-2 and scared of Disney movies."
When he needs a fun fact to introduce himself — whether to a crop of excited mentees at DECA launch, with his Link Crew advisory playing two truths and a lie or in a class filled with friends at the start of the year — that's the one Bryan Zhang (12) uses. 
He's also deathly afraid of bees. And roller coasters. In 2012, the supposedly-apocalyptic prophecy of the Mayan calendar. And, back when he was seven, the children's hospital that he was admitted to for three days with pneumonia.  
"I remember the day that they told me I needed to go get hospitalized. I sat by this bench of stuffed animals in my home and I just cried and cried and cried," Bryan said. "I saw these kids who were there long-term and just imagined, 'Wow, I've been here for six hours and I can't stand it … How can they be here for six weeks and still be okay and still be fighting?'"
Earlier that day, after a particularly frightening medical test, the doctors had placated Bryan with a stuffed teddy bear — dark brown, with "Annie's Friends Foundation" stitched in blue cursive on its right paw. 
"That made me feel really good, and it felt like people cared about me," Bryan said. "I wanted to give that same feeling to those other kids."
So a few years later, Bryan set up a nonprofit — World Toys for Children — with the goal of providing kids in hospitals with that same personal connection. To kick off fundraising, he invited every member of the Class of 2021 to his 11th birthday party, directing them to donate presents to Lucile-Packard's Children's Hospital and ultimately raising over $2,000 worth of toys and gift cards. 
"I remember coming home and looking through everything," Bryan said. "I felt really good because I was like, 'Yes, these kids are really going to love it.' Because I knew if I had been in their position, I would [have] love[d] it."
The organization has since evolved to encompass a variety of activities: book drives, care packages, even a summer trip to China to build mini-libraries. For Bryan though, the core mission — creating those small moments of joy and human connection — has remained constant.
For Bryan, it's the same mission that has driven him to spend countless hours serving the community, from teaching writing to elementary schoolers at the West Valley Library to volunteering with the FCSN Special Melodies choir early in high school.
"It's always been a part of me where I wanted to know a lot of people and help them out," Bryan said. "But in middle school and in ninth grade, I don't think I had the confidence to do that. I was really scared to interact with others because I didn't think they'd want to talk to me."
But at the end of sophomore year, Bryan challenged himself to go beyond small acts of service and become a leader on campus, endeavoring to touch every corner of the community like the upperclassmen he looked up to. 
He started by joining the Nanoseed organization, helping raise money through the benefit concert to offer scholarships to underprivileged children in rural China. He also became a DECA officer, serving as the director of written events for a year.
Ultimately, the turning point for Bryan came when he shot one-under-par to clinch the WBAL title against a tough Menlo team at Santa Teresa Golf Club, defending the boys golf team's streak of six consecutive league titles and earning his first varsity medalist honors. The following day, he ran for Honor Council, giving a Lightning McQueen-themed speech and winning the election. 
"I was a little bit hesitant because I've never really shown this side of me, this little funny side," Bryan said. "But just the applause after and then welcoming me and eventually voting me in gave me a huge boost of confidence." 
Those two days represented the culmination of a year's worth of work for Bryan — not only as a confident individual, but also as a golfer. Back in eighth grade, he had missed the cut at tryouts, failing to make the middle school team. 
"I saw him, he was crying in the parking lot because he missed the cut, and I went to talk to him," Ie-Chen Cheng, the golf coach for both the middle and upper school teams, said. "He [later] came out for high school golf … He was just grinding it out on the JV team, nothing spectacular, but he always had a really good mindset." 
The summer after his freshman golf season and continuing into 10th grade, he decided to focus on golf, continuing to improve. Eventually, he was appointed captain of the golf team as a sophomore, despite having never played a varsity match prior to that season.
"One of the reasons I named him captain — and I'm so glad I did — is that he's extremely inclusive; he's always looking out for others," Cheng said. "He'll make sure all the young ones are included. He'll invite them to his golf course and play matches with them, or practice with them, and he just takes real initiative. And you can't teach that."
Finally, near the end of that spring season, he began playing like the golfer he had worked so hard to become and clutched the league title with his performance in that Menlo match. But that's not his favorite golf memory. No — when you ask him that, he talks about the Palm Springs trip they took a few weeks before that match. They didn't play too well, but they shared an AirBnB and bonded as a team; and to Bryan, that's what matters most. 
"No matter which way I try and do it, whether it's doing different activities or something else, I want to get to know everyone," Bryan said. "I want everyone to know that I'm there for them no matter if I know you well or not."
It's those priorities that make Bryan such a good leader, an even better teammate and an amazing friend. Underneath the accolades and achievements, his true strength lies in his attention to detail and his ability to connect with those around him. 
"It's the small moments, which are hard to remember a year later, but you know they happened," close friend Andrew Sun (12) said. "It fills you with that same energy of empathy, of warmth and wanting to give back. It's incredible how he's so sincere … He knows why he does what he does."
It's those moments that Bryan's tried to create throughout his life — from his nonprofit to every seemingly insignificant daily interaction. 
"I only have one year left [at Harker], and I really want to take advantage of it. I know every single person has their unique story [and that] every single person is special in their own way, so I want to get to know everyone. In 20 years, I may not remember everyone, but whether it's someone I know well or not, just going to talk to them, having a quick laugh in between classes, those small moments are what I know I will carry on with me," Bryan said.
About the Contributor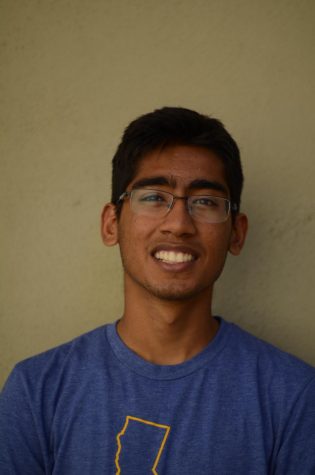 Aditya Singhvi, Managing Editor

Aditya Singhvi (12) is a co-managing editor of Harker Aquila. This is his fourth year on staff. Outside of journalism, he enjoys running and watching...