Humans of Harker: Someone to talk to
Emiko Armstrong (12) grows through healthy friendships and blended culture
A quiet excitement fills the crowd as the curtains open and the lights begin to shift from black to a blue-violet hue, illuminating the silhouettes of the dancers ready to perform in the Harker's annual dance show. As Usher's uptempo song "DJ Got Us Fallin' in Love" fills the theatre of the Rothschild Performing Arts Center, Emiko "Emi" Armstrong ('20) reaches towards the audience, executing perfect leaps and turns to the tempo of the music. Under the bright lasers shining on the dance floor, Emi feels at ease as she works through the familiar choreography. To many, dancing in front of such a large crowd can be nerve-wracking, but to Emi it feels liberating. 
"When I'm on stage I feel so much freer than I do anywhere else," Emi said. "Once the music starts, all the fear just goes away and I get to melt into the movement. Even if I mess up the dance a little, I know that I have people in the audience looking out for me no matter what."
Having started dancing at Harker in kindergarten, Emi has been on every one of Harker's dance teams: Dance Fusion, Showstoppers and Harker Dance Company. 
"I remember the first time I auditioned for fusion was in fourth grade, and I didn't make it. I always like going in after auditions to see what I can do better, so I went in for commentary," Emi said. "Ms. Gail, the choreographer, told me that I had the technique, but I needed to smile more. Not making it that first year really pushed me to work harder on my performance aspect, and to this day I make sure I'm always smiling."
Not only does Emi dance at Harker, but she also dances at an outside ballet and Chinese-based dance studio called "New Century Dance." She began Chinese dance because of her cousins but continued to pursue it even after many of her relatives left the studio.
"I really love Chinese dance because it's so unique," Emi said. "I've found that it can make a really cool talking point like everyone knows jazz and ballet but people always want to hear more about Chinese dance."
Many of the dances that she performs are inspired by traditional figures in Chinese history. Since every dance has a story that's unique to the dance, Emi connects with grandmother by learning about the unique histories behind certain dances. To Emi, connecting with specific cultural traditions is very important, and she tries to cater to all aspects of her heritage.
"Culture has always been a really weird thing for me because I'm Chinese, Japanese and Caucasian. One of my favorite times of the year is the Japanese Obon Festival in August where everyone comes together dressed in their traditional garments to dance and eat," Emi said. "At the same time, though, I do a traditional Thanksgiving and Christmas with my Caucasian family, which I also love. I feel like I get a nice mix during the year, which is something I very much appreciate."
Emi brings the same upbeat and outgoing mindset to her friendships. Though there were moments throughout high school where Emi felt alone, she overcame her unhappiness by creating healthy relationships and lending her friends support in their times of need.
"I was really drawn to her extroverted personality. She's really open and kind, and she puts a lot of effort into making connections with people," close friend Allie Lee ('20) said. "I really appreciate how she puts a lot of care into helping the people she loves."
Through this process of support, Emi has formed mutually-beneficial friendships. By building these relationships, Emi has found herself feeling more secure in herself as well.
"Everyone deserves someone to talk to. I've always felt supported by at least one person in my life. I always have people there to give me advice, and it's got me through some really difficult times. For someone to be there when I'm at my lowest, I find that to be really touching," Emi said. "If I can be the person that brings people that comfort, if I can have an impact on someone, I feel like I'm sharing the kindness that people have given me to them."
Emily Chen ('20), one of Emi's close childhood friends, also appreciates her encouraging personality.
"She's very passionate, and it's super inspiring to be around her. She's one of those people that is never shy about her opinions or ideas," Emily said.
Another way in which Emi forms connections is through her job at the Harker Box Office. After taking interest in the job in her freshman year, Emi began working there as soon as she could. 
"I get to interact with the community a lot more than I can from onstage. It's kind of funny, people come up to me and I start to recognize them from the shows they've been to," Emi said. "I enjoy getting to know people and if people come to a lot of shows they'll be able to recognize me as the box office girl. 
Though she works on many projects and extracurriculars, Emi never loses focus. When coming up with ideas, she always tries to maintain achievable goals. 
"Ever since I've known her she's been very bubbly and excited to share everything that she was experiencing," U.S. History teacher Carol Green, who has known Emi since her middle school years, said. "In class, she was always super organized and goal-oriented, and it was always so amazing to watch her thought process during projects and discussions."
At the end of the day, Emi emphasizes one simple idea that she's lived by through the ups and downs of her high school experience: to not only be a reliable friend but to surround yourself with some.
"I'm a firm believer in the idea that you need to have healthy relationships and healthy friendships in order to grow in order to feel confident in yourself. And part of that is understanding what you deserve and how you deserve to be treated, which is really hard, especially when you're going through high school," Emi said. "I think that if you surround yourself with people who are trying to and willing to help you grow and it's just a mutually beneficial relationship, you can get through almost anything that life throws at you."
About the Contributor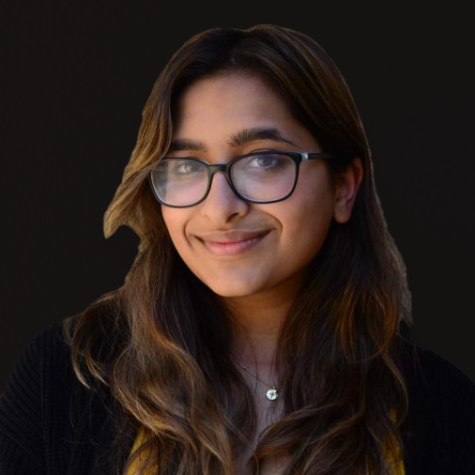 Esha Gohil, HoH Co-Editor-in-Chief and Aquila Photo Editor
Esha Gohil (12) is the co-editor-in-chief of Humans of Harker and the photo editor of Harker Aquila. This is her fourth year on staff, and this year she...