Oscar-nominated filmmaker Bing Liu speaks to members of Harker Journalism
by Lucy Ge, Assistant News Editor
May 25, 2020
The scene opens in a skateboarding park in Rockford, Illinois. A shirtless, scrawny teenage boy in blue denim jeans, black shoes and a pink belt attempts to land a kickflip onto a platform. When he fails, he throws down his skateboard in apparent frustration and then sits down, burying his head in his knees. 
In the next clip, Bing Liu lands the flip.
Years later, he incorporated this scene of his teenage self into his debut documentary "Minding the Gap," a film exploring themes of domestic abuse, class and race in Liu's hometown that was deemed by critics to be Oscar-worthy for its honest and vulnerable portrayals of human relationships. Released in 2017, the film was nominated for the Academy Award for Best Documentary Feature in 2019.
During class on May 11, Liu spoke to upper school journalism students via Zoom about his journey in producing this documentary, answering questions that students asked him about his filmmaking experience.
Liu, now in his early 30s, grew up in the town of Rockford, Illinois, a city with challenging economic problems and a racial divide. After attending college, he began pursuing filmmaking full-time at the age of 22 and worked as a camera operator on various shows and movies and as a director on the documentary series "America To Me," a film about equity issues in American education. 
Liu talked about his journey into the filmmaking industry and the vulnerability of "Minding the Gap."
"For advice, I'd say mostly it's about finding that feel for yourself, like: What is the story that you really have the tools to tell?" Liu said. "Talk to people. Show people your work. The more you interact with people and the more you try to understand who people are, you'd just only be a better storyteller for it."
Liu was previously interviewed by Winged Post managing editor Nina Gee last year, and her article can be read here. 
After the visit, journalism students reflected on their thoughts about Liu's filmmaking process and the overall interview.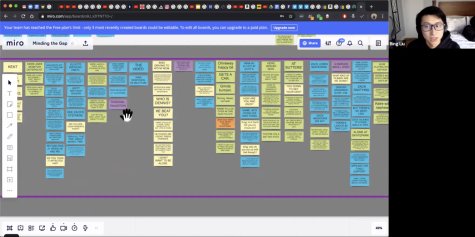 "I thought it was really amazing and inspirational to see how he started his film career in high school and how he was able to delve into his love for film without much initial support," Sarah Mohammed (9) said. "He definitely inspired me to keep creating, especially when it seems challenging."
Arely Sun (10) expressed similar views.
"Hearing him answer questions about the motivation behind his artistic choices and learning more about his background as an Asian-American unconventionally-trained filmmaker really inspired me to explore my own artistic passions," Arely Sun (10) said.
Liu also showed the website platform that he used to organize scenes of his documentary, which Michael Eng (11) appreciated.
"I enjoyed seeing the process that went on behind the scenes, specifically the very detailed story boarding aspect," Michael said.