Humans of Harker: Connecting confidence and compassion
Aditi Ghalsasi (12) guides her life with a confident attitude
When asked about Aditi Ghalsasi's (12) most defining characteristics, her friends and teachers have a few adjectives to offer.
Sassy — often said with a laugh. Driven. Motivated. Outspoken. Independent. Compassionate. Perceptive. Caring.
Most words revolve around one particular theme: confidence.
One of the most significant accomplishments Aditi made was making new friends for a second time, as she joined Harker in freshman year. Coming from a large school to Harker where most students have already known each other for several years was a challenge. But even more so, Harker has a distinct environment that emphasizes strong academics.
And to her credit, Aditi quickly accustomed to the new atmosphere, heavily influenced by her inner voice that exudes confidence.   
"When you go to a school like Harker, there's a lot of stress, there's a lot of academic pressure, there's a lot of extracurricular pressure. You're always trying to strive for the best and … you're constantly going for things that are out of your comfort zone. I undoubtedly failed so many times," Aditi said. "But [my] inner voice tells [me], 'You can be sad for now, but it's going to be okay. You're stronger than this.'"
Aditi's confidence and motivated spirit flow into her work with business and research. She strives to bridge the gap between the two industries, which came to life when she created 3D implants that can be incorporated into surgery and competed with the project at DECA State Career Development Conference (SCDC) in Anaheim. 
"She's just a good combination of work hard and play hard," Business and Entrepreneurship teacher Michael Acheatel, who has also mentored Aditi in DECA, CareerConnect and TEDx, said. "I think she's just grown into herself in terms of her own confidence and of trusting her abilities, [such as] her trust in that work ethic, trust in that motivational spirit that she has when she sets her mind to something, she can do it."
Confidence is one of Aditi's strongest qualities, but another is her thoughtfulness. Aditi believes that every little action matters in the world and one thing that she persists in doing is picking up trash.  
"I want my purpose in life to be to create lasting change. If, in the future, I'm able to take a piece of me and some research that I do and put it into a business — even if it doesn't become some ridiculously famous thing — if I can change one person's life with that … and have it be like a domino effect and create something else in the world, then I feel like everything that I've done, all the sweat, blood and tears that go into this kind of work, is all going to be worth it," Aditi said. "Because at the end of the day, the point is to make life better for somebody. I feel like my point would be to make a change for the better in the world."
Her compassion and emphasis on doing small yet significant things has certainly livened up her friends' days. Allison Jia (12) reminisces all the times Aditi goes out of her way to help a friend, such as grabbing Allison lunch on a busy day. 
"She's super caring. When I'm studying in the library at lunch and. . . she sees I'm still not done, she'll go to Manzanita, she'll get me food, and she'll wait outside the library, just so that she'll make sure that I'll eat something before I go to class," Allison said.
Her friends characterize her as the "mom" of the group. Close friend Nikhita "Niki" Karra (12) recalls the many mother-like qualities Aditi exhibits. One particular time, Aditi picked Niki up from the Blackford campus after Writing Mentor, waiting in line alongside the many middle school parents.
"She's literally the mom friend. If you need medicine or something, she has it. If you need water, she has it," Niki said. "She's like, 'please wear sunscreen every day.' She drives you everywhere, and she picks you up and drops you."
Whether it is picking up trash, caring for a friend or creating surgical implants, Aditi has already begun her domino effect — her impact on the world.
About the Contributors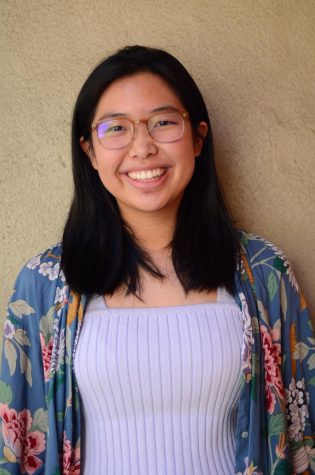 Gloria Zhang, Winged Post Editor-in-Chief
Gloria Zhang (12) is the co-editor-in-chief for the Winged Post. This is her fourth year on staff. She hopes to continue her passion for sharing stories...