Humans of Harker: Tennis and technology
Joshua Zhou (12) lives life with vigor
Walking through the lobby of the Tech Interactive, previously known as the Tech Museum, Joshua Zhou (12) points at an exhibit below, explaining his job there as a volunteer. As he travels further down the lobby, he animatedly gestures toward an exhibit on the floor above. Reaching the entrance to the displays, Joshua chats with the man in the ticket booth, who helped supervise him when he was volunteering at the museum on a regular basis. 
Despite time constraints due to college applications, Joshua still chose to attend events at the Tech Interactive during his senior year. 
"I find it super fun because I get to see a lot of cool technology like VR machines and a bunch of other cool stuff that I don't have access to at school or even at home," Joshua said. "Also, I get to introduce a lot of students who come from schools that don't have as many resources as Harker [to such technology]."
While his favorite subjects are computer science and physics as displayed by his coveted status as a Regeneron semifinalist, Joshua enjoys and believes in the importance of the humanities. 
"Even though we all grew up in the Silicon Valley, we're not all destined to go to do the same thing," Joshua said. "We don't have to become the next Steve Jobs just because we grew up here. We could be the next philosopher, a great historian or anything we want to be."
Alongside his academic interests, Joshua has played tennis since third grade and still plays with his sister, Emily Zhou (10). 
"[Tennis] also allows for a lot of individual freedom because for example, when you play singles, you're the only one on the court and the coach can talk to you between breaks, but during the games … you're out there trying to make decisions by yourself for quite a bit of time," Joshua said.
Beyond tennis, Joshua and his sister have a close relationship. This year, they both took Data Structures together, allowing them to support and help each other through the class.
"At home, we have this special kind of relationship where — usually with typical siblings, you hear they would fight a lot," Emily said. "But for us, it's less fighting … he just gives a lot of support to me." 
Since he joined Harker in freshman year, Joshua struggled at the beginning of high school and, at times, doubted that his abilities were enough, attributing his acceptance to Harker as good luck. 
"One thing that I felt when I got into Harker was kind of this imposter syndrome in that I didn't feel like I was supposed to be here," Joshua said. "Especially during the first few weeks of school when I was trying to settle in, and the classes were a lot harder than I expected, especially coming from a public middle school … so sometimes I felt like, 'Oh, I don't even belong in the school.'"
Despite his struggles, Joshua still made time to help his friends. One of his close friends, Ayesha Baweja (12), recalls Joshua accompanying her to office hours and doing physics problems with her even when it was not necessary for him to do so.
"Thoughtful is a good word [to describe him]. It characterizes him as a friend and as a student," Ayesha said. "On the surface level, people don't really realize the complexity that's there and in all of his passions. He does all this stuff that's not necessarily related, but he's able to find the connection between everything." 
Joshua's thoughtfulness extends outside of his friend group to actions within the community, such as greeting his teachers.
"It always brightens my day when I get to see Joshua," Anthony Silk, Joshua's math teacher last year, said. "Just walking by him, I always know that I'm going to get a 'hi' or a wave, and you can just see the joy on his face."
Instead of dwelling upon tough times despite his initial struggles with his academics at Harker, Joshua believes in focusing on future assignments. While he believes that students should be determined to succeed in school, he also believes in balance and avoiding the pursuit of grades to the detriment of other parts of life. Instead, Joshua spends his lunch and free periods playing games and hanging out with his friends.
"I try not to dwell too much on my past experiences, even if I didn't like them, I just try to move on," Joshua said. "I find that when you do move on, you come across better experiences, and those push the bad experiences out of your mind."
About the Contributor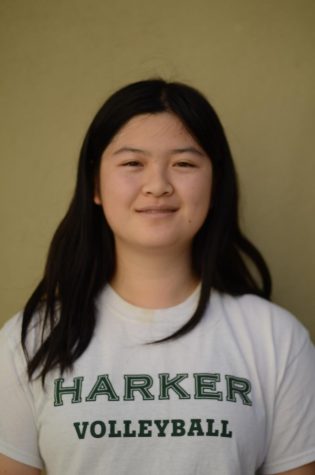 Catherine Feng, Asst. Copy Editor
Catherine Feng (10) is the assistant copy editor for the Winged Post. This is her second year on staff, and she hopes to improve her journalistic skills...