Humans of Harker: Fly fishing through life
David Feng (12) finds happiness in nature
The neon-yellow fly line whips forward, curling tightly with the abrupt change in momentum before dropping gently onto the film of the water with a near-imperceptible ripple. Following the line is an eight-and-a-half foot flexible fly rod, gripped at the contoured cork handle by a fisherman clad in Forest green waders, sunglasses, an Orvis fishing cap and a warm grey jacket. Standing knee-deep in the chilly winter waters of Sanborn Creek in the Santa Cruz Mountains, David Feng (12) casts his line, immersed in the fresh morning air, the serene babbling of the water and the lush greenery engulfing him.  
"I love being in the outdoors. It's something that I've loved ever since I was a kid trekking in the woods of Yosemite or walking trails in Yellowstone. I've always enjoyed basking in nature, and I found my calling when I started fishing," David said. 
As a third-grader at Garden Gate Elementary in Cupertino, David had the opportunity to venture on a class trip fishing for rainbow trout at a local pond. Disappointed after failing to catch a single trout, he persuaded his parents to take him fishing.  
"I went around going fishing all these different lakes in the Bay Area but I didn't catch any because I didn't really know how to fish," David said. "After a year of trying, my parents felt so bad for me they literally took me to a trout farm and made me catch fish there."
Since then, David has become an avid fisherman, fishing both locally in the Santa Cruz Mountains and wherever he travels, even creating an Instagram account to chronicle his fishing forays (@califishingadventures). He especially enjoys fly fishing, which uses a lightweight lure that resembles a fly or similar fish prey along with a weighted line to catch fish, particularly trout and bass. David recently began tying his own artificial flies, which are made of materials such as feathers, goose biots and thread and must be presented to the fish as imitating live bait. 
"To me, fly fishing and fly tying are almost like an art form that I really love, but also make for a lot of exploration and adventure. If I can't go out much, or if it's too cold or conditions aren't good, I always stay home and tie flies," David said. "No fish are trash fish."
From sneaking out behind his parents' back with a collapsible rod so that he could fish after school at the beginning of senior year to exploring the urban fisheries in Chicago over the summer with cheap Walmart lines and makeshift live bait, David has many fond fishing memories. His favorite state is Montana, which he describes as "a fly fishermans' heaven" and a place where "nature [is] right at your backyard." However, his most treasured memory remains fishing for Lahontan Cutthroat Trout on Pyramid Lake, located on a Paiute Indian reservation in Nevada.
"It's an experience that I'll never forget because the fish are so big and so abundant, but also the scenery around there is so beautiful, even if it is a desert. It was a really, really beautiful lake and I didn't mind being completely soaked by the rain because I was still fishing," David said. 
Another way in which David spends more time in the outdoors is through biking, whether heading to local streams to fish, or venturing out with his friends early in the morning to explore the Bay Area. 
"David on the road is a fearless man. I'm worried about my safety when I'm with David Feng. He took me biking [on Lawrence Expressway], and I don't really bike. I was scared out of my mind," close friend Anthony Xu (12) said. "It was really fun in the end. He's really good with directions, doesn't need a map at all." 
When he's on the upper school campus, however, much of the student body sees a different side of David. Perhaps they know him as ASB vice president, or an award-winning debater, or simply a hard-working, friendly classmate. As a leader on campus, David strives to create a "culture of compassion," drawing on his experiences as a new freshman to Harker. He specifically recalls his first Homecoming game — none of his friends attended, so he sat alone in the stands, simply watching football.
"I remember Isabella Spradlin ('18), she came up to me and started talking to me … I really felt at home because there was someone out there in the community who made me feel like I was a part of it, who made me feel like I was valued," David said. "Establishing that groundwork of compassion and love and caring is something that I want to do. I want to be the Isabella Spradlin to all the other people out there who don't feel as integrated or included."
As one of the congressional debate captains, David commits himself to building that culture, always willing to lend a hand to his teammates even when busy himself.   
"To me, he's been a mentor figure, he's always [been] a guy that I could talk to," fellow congressional debater Andrew Sun (11) said. "[Through debate,] I got to see his drive, and I could see he was willing to work for it which was really awesome and eye-opening for me and pushed me to work harder as well."
When speaking to David's friends and teachers, two words come up more than any others: "hard-working" and "humble." He leads by example; over the course of four years on student council, for instance, he spearheaded a plethora of projects, including the fundraiser for the Camp Fire in 2018 and the ping-pong tables last year. 
"He's willing to take charge when he needs to but, at the same time, he doesn't feel like he needs to occupy the spotlight. He's a behind-the-scenes kind of guy a lot of the times, getting the work done either way. But when people need him to, he'll step forward and take on the challenges that arise," Dean of Students Kevin Williamson, who has worked with David on student council throughout high school, said. 
No matter how much effort he devotes to his academic life, David always makes time to fish, bike, and explore nature, "enjoying every moment as it is."
"I've always been amazed by nature, and it's really hard to pinpoint [why]. Maybe it's the aroma of being in the woods. Maybe it's the appeal of being next to what primordial earth without civilization would have looked like. Maybe it's just being at peace with myself, relaxing and genuinely enjoying my time. But regardless, being outdoors feels like you're on an adventure, a journey, an exploration. I'm sure that there are creeks in the mountains that no one's ever fished before. Adventuring out there and being in places that very few people have touched – it's just something that's so cool to me," David said.
Leave a Comment
About the Contributor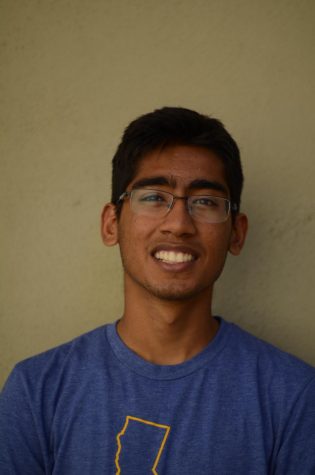 Aditya Singhvi, Managing Editor

Aditya Singhvi (12) is a co-managing editor of Harker Aquila. This is his fourth year on staff. Outside of journalism, he enjoys running and watching...