Harker Aquila's guide to the escalations between the U.S. and Iran
The U.S. killed Iranian military general Soleimani, and Iran retaliated with a missile attack. What happens now?
To clarify the time difference between Iran and California, all dates and times are reported in PST. Iran is 11 hours and 30 minutes ahead of California.
Prompted by U.S. President Donald Trump authorizing an American airstrike that killed prominent Iranian general Qasem Soleimani on Jan. 2, a major escalation in the conflict between the U.S. and Iran, Iran fired missiles at two military bases in Iraq where U.S. troops are currently stationed on Jan. 7. Iran's missile attack resulted in no casualties, according to Trump in his address to the nation on Jan 8.
Iran also shot down an Ukranian plane on Jan. 7, and has since apologized for the deaths of the 176 civilian passengers on board. The majority of the victims were either Iranian or Canadian citizens. In a press statement last Saturday, Canadian Prime Minister Justin Trudeau said that he expects Iran to take full responsibility for the shooting down of the plane and to cooperate in the investigation into the plane crash.
As tensions have soared in the Middle East, both Iran and the U.S. have expressed commitments to de-escalation to prevent a possible all-out war. 
Here is Harker Aquila's guide to the situation.
How did Iran react to Soleimani's death?
After the missile attack on Jan. 7, the Iranian foreign minister Javad Zarif said that Iran had "concluded" its retaliatory action against the U.S. in a tweet, further stating that Iran does not "seek escalation or war."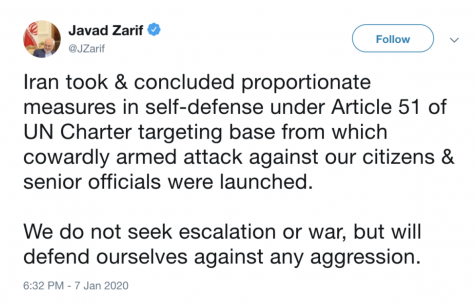 Iran also announced on Jan. 5 that its nuclear program would no longer follow the limitations in its production of nuclear fuel as proposed in the 2015 nuclear agreement between Iran and a group of world powers, including the U.S.
After Solemani's killing, people of Iran took to the streets to mourn his death, with the state television calling him a "martyr," according to BBC News.
Melody Yazdi (10) said that her Iranian grandparents, currently living in Mashhad, Iran, "called and [said that] they've never seen that many people come out into the streets."
Iran Supreme Leader Ayatollah Khamenei declared three days of mourning across Iran in a tweet on Jan. 2 and swiftly named Brigadier General Esmail Gha'ani as the new leader of IRGC Quds Force in another tweet on Jan. 3.
How are U.S. government officials reacting?
In response to the Iranian missile attack, Trump called for "additional punishing economic sanctions" on Iran but did not call for additional military action against Iran, saying that the U.S. "is ready to embrace peace."
In an address to the nation on Jan. 8, President Trump defended his decision to kill Soleimani. 
"In recent days, he was planning new attacks on American targets, but we stopped him [by assassinating him]." Trump said in his address. "Soleimani's hands were drenched in both American and Iranian blood. He should have been terminated long ago."
Reactions to Trump's decision to kill Soleimani mainly split along party lines, with many Republicans supporting the decision and many Democrats criticizing it. 
In a tweet on Jan. 2, House Minority Leader Kevin McCarthy (R-Calif.) called Soleimani "a terrorist" and said that Trump and American servicemembers "just reminded Iran—and the world—that we will not let attacks against Americans go unpunished."
Rep. Anna Eshoo (D-CA), member of the Democratic Party,  issued a statement on Jan. 3, saying that the strike "places U.S. service members, diplomats, embassies, and allied interests at high risk, creating strategic consequences. The strike was carried out without any Congressional consultation which is equally concerning."
Why did President Trump decide to kill Soleimani?
With tensions between the U.S. and Iran growing rapidly, the U.S. military killed Soleimani as a "defensive action," according to a statement issued by the Pentagon on Jan. 2.
"General Soleimani was actively developing plans to attack American diplomats and service members in Iraq and throughout the region," the statement read. "This strike was aimed at deterring future Iranian attack plans."
Trump has yet to provide evidence of Soleimani developing such plans.
Soleimani, called "the world's top terrorist" by Trump in his address to the nation, was the head of the Islamic Revolutionary Guard Corps-Quds Force, a unit that specializes in foreign missions and providing support to extremist groups. He and the Quds Force caused the deaths of hundreds of Americans and "orchestrated attacks on coalition bases in Iraq over the last several months – including the attack on December 27th," according to the statement.
"The attack on December 27th" refers to the rocket attack on an Iraqi military base which killed an American contractor and wounded American military members, according to New York Times. The U.S. blamed the attack on Iranian militia and launched airstrikes on militia bases in retaliation on Dec. 29, killing 24 people. In response, pro-Iranian protestors broke into and attacked the U.S. embassy in Iraq on Dec. 31. 
Trump faced criticism for choosing to strike Soleimani without priorly consulting Congress, with the House of Representatives's vote 224-194-13 on Thursday to limit Trump's power to take more military action against Iran. Lawmakers such as Senate Minority Leader Charles Schumer (D-N.Y.), member of the Democratic Party, questioned the legality behind Trump's decision as several feared the action would lead to war, which solely Congress can declare as per the 1973 War Powers Act.
Sasha von Olderhausen, an Iranian-American journalist working in New York, believes Trump should have sought the opinion of Congress prior to the attack in order to make a weighted and strategic decision. 
"I absolutely think he should have gone through Congress. You're talking about a major person in Iran. The sort of action that [Trump] performed in [calling the strike] was just extremely misguided … I feel like it seemingly came out of nowhere," Olderhausen said. "Yes, Soleimani absolutely has done horrible, egregious things, but those have been going on for quite some time, so for something like this to suddenly happen, it seems really sudden and misguided."
Will there be a draft?
The U.S. military has been volunteer-based ever since President Richard Nixon eliminated the draft in 1973 because of widespread opposition to the Vietnam War. President Trump and Congress will have to pass new legislation to bring back the draft. 
A law to bring back the draft would be unlikely to pass in either the Senate or House of Representatives, so the chances of a draft happening are low.
"I do not believe there will be another draft (barring some massive event), one reason being because having a draft prompts the public to mobilize against war en massive," Rep. Alexandria Ocasio-Cortez (D-N.Y.) said on her Instagram story on Jan. 5. "Not having a draft makes war politically more convenient."
Male high school seniors applying to college must register with the Selective Service System (SSS), the U.S. draft registry, in order to be eligible to receive federal student aid. Upper school senior Grant Miner, who registered with the SSS when he filed his Free Application for Federal Student Aid (FAFSA) form, does not think that the likelihood of a draft is high.
"In my conscious mind, I'm not that worried. But there's also a side of me that's like, 'what if something happens?'" Grant said. "There's a lot of things [I want to do]. If there was a draft and I was called, [the possibilities of achieving my dreams] could all be gone."
Upper school speech and debate teacher Scott Odekirk understands the unease around a potential draft, but hopes tensions will de-escalate before then with the use of strategic foreign policy.
"It upsets me that it's gotten to this point, and it scares me that some of the students on this very campus could be eligible for a draft should it come to that. My hopes are, however, despite the volatility of this administration, that we see a quick resolution of the issue and mutual efforts towards peace," Odekirk said. "The issue will not go away on its own — a top leader was killed — however, by emphasizing peace through talks of de-escalation, I believe the United States can solve this in a more strategic manner than resorting to all out war." 
Who is eligible to be drafted?
In the case that Congress and President Trump authorize a draft, the SSS will start calling registered men from ages 18 to 25 for duty. According to the SSS website, "the men will be called in a sequence determined by random lottery number and year of birth." 
Nearly every male in the U.S. is required to register with the selective service once he turns 18. Exceptions include lawful nonimmigrants and transgender men. If someone fails to register despite being required to do so, he may be prosecuted.
To verify registration, go here and enter information in the Online Registration Search grid. 
Currently, the selective service does not require women to register, so women cannot be drafted. However, during the Obama administration, all military jobs were opened up to women. In February 2019, a federal judge declared that male-only mandatory registration for the draft registry is unconstitutional, leading to speculation about whether or not women will be required to sign up for the draft registry as well. 
Sources
U.S. President Donald Trump's address to the nation on Jan. 8
Iranian President Hassan Rouhani's tweet on Jan. 10
Canadian Prime Minister Justin Trudeau's address on Jan. 11
Statement by the U.S. Department of Defense on Jan. 2
The New York Times' coverage of 2019 confrontations between U.S. and Iran
Final vote results for roll call 7 on H. Con. Res. 83
H. Con. Res. 83: Directing the President pursuant to section 5(c) of the War Powers Resolution to terminate the use of United States Armed Forces to engage in hostilities in or against Iran
Iranian Foreign Minister Javad Zarif's tweet on Jan. 7
Iranian Supreme Leader Ayatollah Khamenei's tweet on Jan. 2
BBC's coverage of Iran state television's response
National Archives' Selective Service Records
Selective Service System registration verification website
National Coalition for Men v. Selective Service System final judgement
House Minority Leader Kevin McCarthy's tweet on Jan. 2
Sen. Bernie Sanders' tweet on Jan. 2