Humans of Harker: Courage to question
Ellen Guo (12) challenges her challenges with an open mindset
Tucked beside a corner upstairs in Shah Hall sits the unassuming entrance to the Near Mitra Scholar Center with a sign on the door inviting those inquisitive students. Upon entering the room, the walls are stained with a hue of navy and decorated with frames of moments in history, from the photo of a kissing sailor to a black and white image of a basketball player leaping for the hoop. A tan bookshelf storing novels and records rests neatly against the subdued backdrop, containing a collection of miscellaneous thoughts. The space exudes a quiet elegance filled with volumes upon volumes of knowledge. And Ellen Guo (12) has every intention of diving in.
Dressed in dark combat boots to match her ripped jeans, she crosses one leg over the other as she flips through a book titled "Bisexuality and Queer Theory: Intersections, Connections and Challenges." Her long hair is dyed a striking teal, contrasting with her black bomber jacket. Ellen's style boldly displays her unabashed identity, and as close friend Jin Tuan (12) would explain, "she cannot not be herself."
Whether it be exploring DNA microchip technologies or fostering a cultural exchange program, Ellen's dedication to expanding her perspectives is perfect for the expansive content of the Near Mitra center. After researching various styles of critique for a literary theory on "The Scarlet Letter" during junior year, she discovered her interest in queer theory and decided to continue on the topic for her Near Mitra scholarship, specifically arguments about bisexuality and the influence of the AIDS epidemic.
"I'm always drawn to things that push my way of perceiving things," Ellen said. "I never knew that people could think in this way before I came across all this literary theory, and I was like, 'Wow, that's super cool.'"
Not only is she fascinated with the humanities, but as a self-described "stem kid," Ellen has participated in science research since diving into nano composites during her sophomore year. Unlike previous science classes, research required her to search for answers through experimentation, as opposed to simply consulting the textbook. Physics and science research teacher Chris Spenner, who first met Ellen during her sophomore year research project and currently teaches her AP Physics C and Advanced Research, noted her curious attitude.
"One of her research projects last year was to look at satellite data to try to identify if there was heavy metal contamination based on the satellite imagery," Spenner said. "It was interesting, because prior to that, she had done more biological and wet lab projects, but she pretty quickly realized she didn't like that kind of work. She was self-aware enough to realize that while it was happening and to kind of reflect on it and say, 'I have a better idea of what to do in the future.'"
From working through the unpredictability of test results to attempting to adhere DNA to a surface in straight lines, Ellen found a greater determination to overcome the obstacles rather than allowing them to detract from her interest in the project.
"Everything that she's passionate about, she goes after," said close friend Annabelle Ju, whom Ellen met as an incoming freshman after bonding over a Harry Potter shirt. "That's what's so inspiring about being her friend, is you see her doing this every day, and it's like 'Oh, I should be doing that same kind of [work].'"
Those topics that she delves into "with as much as she can" are not always conventional, but Ellen maintains her drive in questioning all that she can, despite challenging other viewpoints and previous modes of thought. For instance, with the hope of acknowledging that there is no definite right or wrong, she subscribed to conservative news stations, including Fox News, to include the diversity of opinions floating outside her "own bubble."
Ellen has exercised her tendency to critically evaluate information others might take for granted through public forum debate, which she began as a freshman. 
"I feel more proud about my debate experience when I'm reading an article online or in the news, and I'm like 'Hey, that doesn't seem so right,'" Ellen said. "Because I have all this debate knowledge, I know that I should be analyzing every piece of evidence with a grain of salt, because you definitely shouldn't take everything for certain."
Aside from compiling a range of perspectives for herself, Ellen connects others with far-reaching experiences through the International Outlook Foundation, a nonprofit organization she founded with Tiffany Zhao (12) which fundraises for underprivileged schools in rural China and links Bay Area high schoolers with international students in Shenzhen. From building a new well to building the tallest marshmallow tower and from fixing leaking roofs to riding virtual reality roller coasters, she has gained insight into a previously unknown lifestyle while providing a similar opportunity to others.
Resting against a feather gray seat, Ellen dwells over the quality that defines her impact as her own.
"My courage to do things that are not the mainstream, not what everyone else is doing, boils down to, I'm not afraid to ask questions and challenge what has been before," she said. "If you always just acknowledge that without asking, 'Does it have to be like that, can I improve this," not being afraid to ask those questions is really what I want to be remembered for."
About the Contributor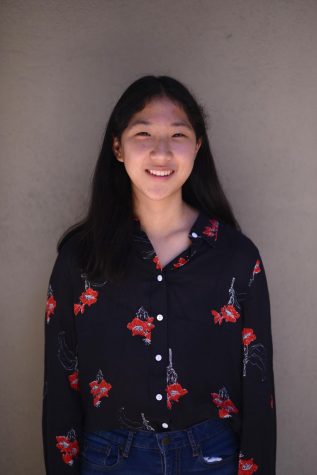 Nicole Tian, Aquila Co-Editor-in-Chief
Nicole Tian (12) is the co-editor-in-chief of Harker Aquila. This is her fourth year on staff, and she previously served as the opinion editor, co-lifestyle...